There have been 136 additional cases of Covid-19 and one further death reported to the Department of Health.
There has now been a total of 1,776 coronavirus-related deaths in Ireland and 27,676 confirmed cases.
This includes the denotification of seven previously confirmed cases.
Professor Philip Nolan, Chair of the National Public Health Emergency Team (NPHET) Irish Epidemiological Modelling Advisory Group, said: "The R-number is currently at or above 1.2.
"There are two concerns now, the number of new cases per day remains high and the pattern has changed from large outbreaks in specific settings to much smaller outbreaks widely distributed across the country.
"The measures announced this week, asking us to stay apart, aim to suppress Covid-19 in the community."
Professor Philip Nolan says the reproductive rate of Covid-19 here now stands at around 1.2. He adds that outbreaks have been brought under control "but we need to do better than that" | Live updates: https://t.co/6Pudx3qZcv pic.twitter.com/WFNfoExhUi

— RTÉ News (@rtenews) August 20, 2020
Prof Nolan said schools were safe places and the focus "needs to be on the community and households" around the school. 
He said: "Unlike influenza, schools are not a big driver of SARS-CoV-2 transmission, so the truth is, where we see children being infected is in households.
"We need to prevent adult to adult transmission of the virus. If you do that, you prevent it getting into households, you prevent kids being infected, so the attention is in the wrong place.
"Schools are a safe place and they are very well run by principals to ensure that infection does not occur. It's the households we need to concentrate on."
Acting Chief Medical Officer Ronan Glynn was asked if schools would be closed in the event of a local lockdown.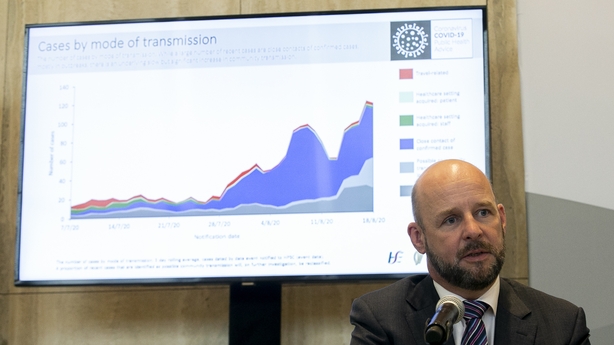 "I cannot say for sure that a school will or won't be closed given a particular set of circumstances. If there are cases in a school, they will be dealt with on a case-by-case basis by public health teams," he said.
The HSE has today published results of the study to investigate the prevalence of Covid-19 infection among the Irish population.
Using data from the survey it "estimates that that 59,500 people in Ireland in the age group 12 to 69 years had been infected with SARS-CoV-2 up to mid-July".
This was three times more than that detected through the surveillance of notified cases.
Dr Glynn said the seroprevalence study showed that "the vast majority of us have not been exposed to the virus, so we remain susceptible, which highlights the importance of us not congregating, keeping out distance and washing our hands.
"The virus is only waiting for an opportunity to be transmitted from one person to another. So it just reiterates the need to keep going with all of the measures."
---
---
The acting CMO said there were 1,311 cases notified to the HPSC in the past two weeks, giving a 14-day incidence rate of 27.5 per 100,000. Healthcare workers comprised 81 of these cases.
Of the 136 additional confirmed cases reported today, 57 are associated with outbreaks or are close contacts of a confirmed case, while 11 were from community transmission.
There were 54 men and 81 women infected and 78% are under 45 years of age.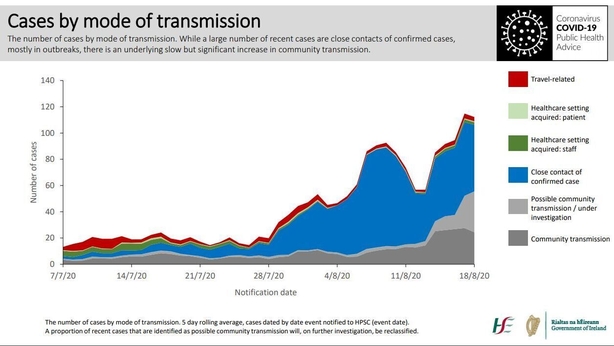 Dr Glynn said 51 originated in Dublin, 24 in Kildare, 12 in Kilkenny, 11 in Tipperary, seven in Cork, six in Limerick, six in Wexford, five in Meath and the remaining 14 cases are in Carlow, Cavan, Donegal, Galway, Mayo, Offaly, Roscommon, Waterford and Wicklow.
He told a press briefing tonight: "For the next three weeks, if you're having visitors to your house or garden, please don't have more than six.
"If you're meeting up with people outside in the park, please don't meet up with more than 14 other people, so 15 in total. We are asking people to be sensible and responsible.
"We need, as a country, for the next couple of weeks to massively cut down the level of congregation that we are engaged in to get this virus suppressed again, back under a reproductive rate of 1 and back into the really good position we were in a few weeks ago."
Chair of NPHET Epidemiological Modelling Advisory Group Professor Philip Nolan says in the last week, there have been over 20 cases per day as a result of community transmission | Live updates: https://t.co/6Pudx3qZcv pic.twitter.com/R1Lve5hk2V

— RTÉ News (@rtenews) August 20, 2020
Regarding clusters in residential care facilities, there have now been a total of 486, of which 274 are in nursing homes.
These have been associated with 7,661 cases across all of those settings, of which 5,886 have been in nursing homes.
There are 1,119 deaths associated with outbreaks in residential care facilities to date, representing 63% of all deaths.
Prof Nolan said there were around 100 to 113 new cases per day this week, a "significant increase" even on last week
Over the last few weeks the number of people in hospital and intensive care are "very, very low" he said, but that number stopped declining two or three weeks ago, and is now slowly increasing.
"We are confirming very few deaths ... fewer than one per week," he told the press briefing.
Chair of NPHET Epidemiological Modelling Advisory Group Professor Philip Nolan says the decline in numbers of people in hospital with Covid-19 has stopped, and the number is now slowly increasing | Live updates: https://t.co/6Pudx3qZcv pic.twitter.com/eIm1zbpwfP

— RTÉ News (@rtenews) August 20, 2020
Prof Nolan said there was a "very high level" of testing at present, around 7,000 tests per day.
The positivity rate of 1% to 2% remains low but is higher than it was, indicating there is a "significant level" of disease in the population.
Restrictions set to remain in place in Kildare
Elsewhere, the Cabinet will decide tomorrow whether or not to lift restrictions imposed on three counties two weeks ago.
Government sources have indicated that NPHET has recommended a lifting of restrictions in Laois and Offaly, but not Kildare.
However, there will be no decision on the matter until tomorrow afternoon following a meeting of NPHET today.
Restrictions were reimposed on the three counties on Friday 7 August following a spike in the number of cases there.
The restrictions had been due to be in place for two weeks. Kildare-based businesses today urged the Government to reopen their county.
Dr Glynn said it was now up to the Government to discuss NPHET's advice about these counties and decide what to do.
"I will not be discussing this further tonight," he said.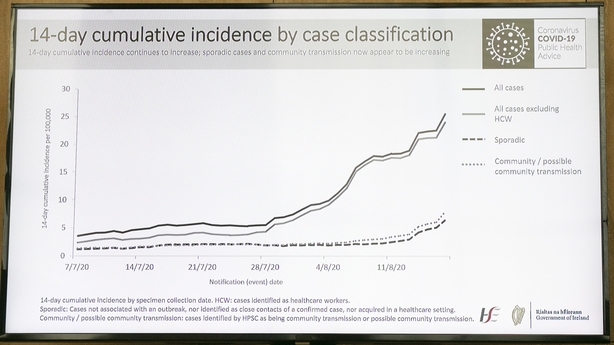 Overnight, the number of patients with Covid-19 in hospitals also reduced.
There are now 16 confirmed cases in hospital, down four on the previous day, according to the latest Health Service Executive figures.
Six of these patients are in intensive care units.
Updated figures show that one person with confirmed Covid-19 in intensive care has died in the last 24 hours.
Another 102 patients are in hospital as suspected cases, down 35 on the previous day. The hospital system has 62 intensive care beds free.
NTA monitoring public transport usage
The National Transport Association has said it will closely monitor the number of people using transport services over the coming weeks.
Earlier this week, the Government advised people to avoid public transport usage where possible in a bid to slow a spike in Covid-19 cases.
A spokesperson for the NTA has said if over-capacity becomes an issue it will seek to deploy vehicles from less heavily-used services.
The advice from the NTA has been that public transport should be used for necessary journeys, and that anyone who can get to their destination by walking or cycling should do so.
The NTA has reported a 95% compliance rate with regulations around the wearing of face coverings on public transport.
Meanwhile, capacity on school buses for secondary students has been reduced by 50% following NPHET recommendations.
Shop owners told not to engage with customers who do not wear masks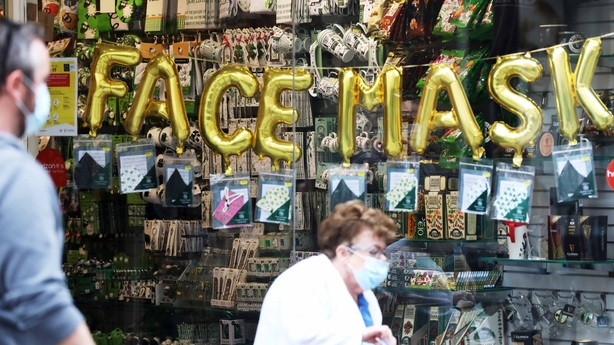 The chief executive of the Convenience Stores and Newsagents Association said he has advised shop owners not to engage with customers who do not wear face masks.
Speaking on RTÉ's Today with Sarah McInerney, Vincent Jennings said the onus is only on shops to clearly explain that masks should be worn.
He said that unlike public transport, shop owners and employees are not permitted to ask why someone is not wearing a mask, and some customers do have reasonable excuses for not using them.
---
The World Health Organization says data to date suggests 80% of Covid-19 infections are mild or asymptomatic; 15% are severe infection requiring oxygen and 5% are critical, requiring ventilation.
Generally, you need to be 15 minutes or more in the vicinity of an infected person and within two metres of them, to be considered at-risk, or a close contact.