The Department of Education has scrapped plans to run school buses for second level students at full capacity following advice from NPHET earlier this week.
It has been confirmed that buses for second level students will run at 50% capacity, like all other public transport.
However, it is not clear if the new restrictions will be in place in time for schools that are due to start reopening next week.
The department says that discussions are under way with Bus Éireann "in order to implement measures so that any services that can operate from the start of the school year at 50% capacity will do so".
In a statement, it goes on to say that "over the coming period all other post-primary transport services will be re-organised and additional services will be provided as required".
NPHET had advised that secondary school students on school transport should adhere to the same levels of strict distancing that are in place on public transport.
Until now, the Government was planning to fill school buses with the same numbers as usual, but with students wearing face coverings.
The decision to reduce capacity for second level students means the number of buses required to transport second level students to school may have to be doubled.
This will add considerably to the cost of transporting school students.
Buses catering to primary school children will not be restricted to 50% capacity.
The department said it would be issuing further communications to parents and children in the coming days.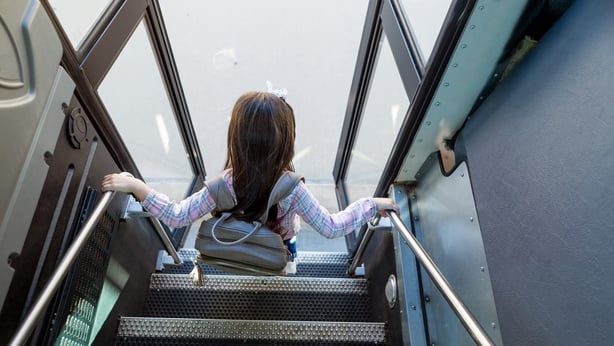 The original plan for school students did not enforce strict social distancing on dedicated school bus transport. 
The department said the Minister for Education would continue to work with the Minister for Health and other ministers to identify and consider the additional resources required to support the rollout of these measures.
Sinn Féin spokesperson on Transport, Darren O'Rourke, has said the revelation that school buses will not run at full capacity for secondary students illustrates how the Government has failed to properly plan for the safe reopening of schools.
"The Government clearly has no understanding of what it means to run a school bus. Better consultation with transport operators could have averted this chaotic last minute change.
"Operators have spent considerable sums of money getting ready, customers have already signed up and families have been making plans for the school commute.
"Now, just over a week before schools are due to reopen, this has been thrown into disarray," he said.