There have been no further deaths from Covid-19 and 68 additional confirmed cases, the Department of Health has said.
The death toll from coronavirus here remains at 1,772 with 26,712 confirmed cases.
Two of the new cases reported today are from community transmission while 41 are associated with outbreaks or are close contacts of a confirmed case.
There were 19 cases located in Kildare, 17 in Dublin, 15 in Offaly, 12 in Laois and five in Donegal. The latest cases include 37 men and 31 women with 82% under 45 years of age.
Acting Chief Medical Officer Dr Ronan Glynn said: "We continue to see cases linked to the outbreaks in counties where additional public health measures have been introduced.
"This was expected and we will continue to monitor closely.
"From tomorrow, face coverings will be mandatory in retail and other indoor settings like hairdressers, cinemas and museums.
"We know that most people are already wearing face coverings and we hope to see even greater uptake over the coming days."
Dr Glynn added: "Time and again people have shown their willingness to follow public health guidance in the interest of protecting each other from this disease.
"Wearing a face covering is just one more way in which people can demonstrate their solidarity with one another as we seek to suppress the spread of Covid-19."
---
Read more:
Three meat plants hit by virus will not reopen tomorrow
Dept preparing options to restrict non-essential travel
Latest coronavirus stories
---
In a statement today, Health Minister Stephen Donnelly said: "The HSE has put in place a range of additional supports for the Laois, Offaly, Kildare region for the coming weeks, including additional testing and public health capacity, and isolation accommodation for those who need it.
"Outbreak control teams are in place for all outbreaks.
"The HSE has also established a National Standing Committee to consider and address matters related to the food processing and construction industries more generally given the recent pattern of cases."
This committee was established last Friday and met on the same day.
It will examine existing protocols and compliance measures to identify any additional control measures required and will also consider and recommend a future testing policy for workers in the food processing and construction industries.
NEW: Minister for Health reaffirms support for counties affected by recent public health measures

A range of supports have been put in place to help contain further transmission of #COVID19 in Kildare, Laois & Offaly and to provide support to those affected.

— Department of Health (@roinnslainte) August 9, 2020
Earlier today the chair of the National Public Health Emergency Team's Epidemiological Modelling Advisory Group, Professor Philip Nolan, said community transmission of Covid-19 is the biggest concern facing NPHET.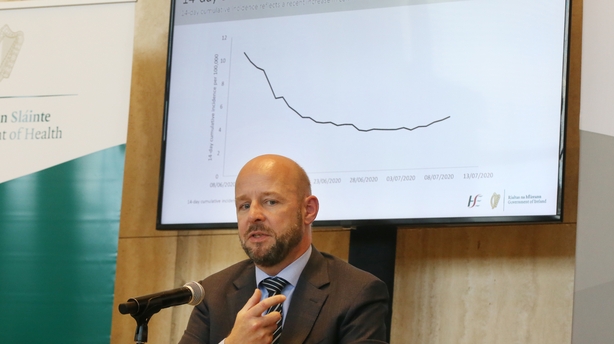 Speaking on RTÉ's This Week programme, he said he is "quite concerned" by the jump in Covid-19 cases in recent weeks.
Prof Nolan said the focus needs to be on the figure from the last 14 days. He said there has been a three-fold increase when you compare the last fortnight with the previous period. 
He said there have been "explosive outbreaks" in certain counties, and it is not uncommon to have 'superspreader' events. 
Prof Nolan said this is a warning sign that the virus can spread quickly. 
"While public health colleagues have moved quickly to track and manage it, and understand and contain them the thing to bear in mind is the virus spreads in a subtle way."
Meanwhile the chief rxecutive of the Health Service Executive has said it is always planning for different scenarios with regard to Covid-19. 
Speaking on the same programme, Paul Reid said there are three main scenarios, which include reacting to a second surge, watching out for peaks and watching out for any local and regionalised outbreaks. 
He said actions taken to reimpose restrictions in counties Kildare, Laois and Offaly relate to that third scenario. 
Mr Reid said they are always planning for whatever scenario emerges. He said testing is not a silver bullet to prevent transmission but it does help in how they manage and contain the virus. 
Defending the stance taken by the HSE and Government in response to outbreaks, he said "appropriate actions" were taken with each outbreak.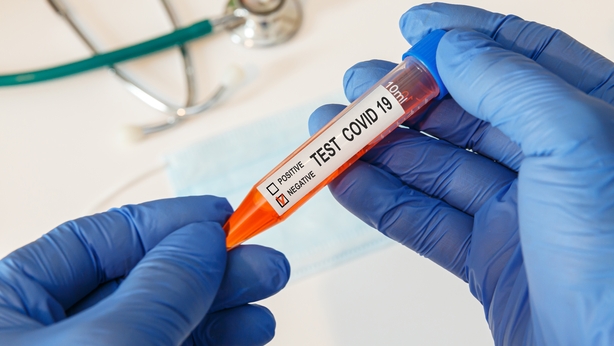 He said there is multi-agency and wider Government approach. 
"There are roles for many agencies in this process and the actions taken have been the right ones," Mr Reid said. He said it is about continuing a coordinated effort.
Separately, the Minister for Agriculture has said he could not guarantee that the restrictions reimposed on the three counties in the midlands would end after two weeks.
Also speaking on This Week, Dara Calleary said the authorities are doing huge work to suppress the coronavirus.
Social Democrats co-leader and Kildare North TD Catherine Murphy has said there is huge anger in the counties over the restrictions. 
She said people are questioning why entire counties are targeted instead of it being a certain radius around a meat plant that is subjected to restrictions. 
Ms Murphy said it runs the risk of "losing goodwill by not having a more sophisticated approach". She said there is frustration that the "Government has dropped the ball on high-risk locations" such as meat plants.
Meanwhile, the HSE has apologised to some users of Android phones for problems with its Covid tracker app.
The app was found to be draining the battery of some phones after it was downloaded.
Sorry to anyone that has had issues with #CovidTracker app this weekend. We have identified the problem that some users with Android phones are experiencing. Google are working with us to fix it as quickly as possible. pic.twitter.com/3NOEXb2Py0

— HSE Ireland (@HSELive) August 9, 2020
The HSE said it had identified the problem and Google was working to fix it "as quickly as possible".