Taoiseach Micheál Martin has said any spike in Covid-19 cases is concerning and the situation has to be watched and monitored very carefully over the next couple of days.
Speaking as he arrived at Dublin Castle for a meeting of the North South Ministerial Council, he said the Government will be looking to see if the rise is part of a "pattern" or related to specific clusters that have emerged in recent days.
He said what is "heartening" is the response of the testing and tracing apparatus here.
Mr Martin said he spoke with Acting Chief Medical Officer Dr Ronan Glynn last night about this and said the tracing and testing seems to be quite "intensive" in getting on top of this situation.
In relation to cooperation with Northern Ireland, Mr Martin said they are always seeking "greater alignment" and a greater joint approach in dealing with Covid-19.
The Taoiseach said the Chief Medical Officers in the Republic and in Northern Ireland are working well together and the challenge for both north and south is keeping the community transmission low.
"We are watching what is happening all over Europe. And so far in both the Republic and Northern Ireland we are managing to keep the level of community transmission low. I think that is the target and that is the objective."
On Covid-19, Taoiseach Micheál Martin said we have to watch what happens in the next few days, but added that the response of the testing and tracing system in Ireland is 'heartening'. | Read: https://t.co/5iUvQJVEiI pic.twitter.com/o4hDJNbeKg

— RTÉ News (@rtenews) July 31, 2020
Mr Martin also said he has made it very clear he wants children to go back to school in August.
He said he thinks the significance of today's North South Ministerial Council meeting is it will be a catalyst for follow-up meetings on a sectoral level between the respective ministers, particularly in health.
Not the time for 'knee-jerk reaction'
Earlier, Dr Glynn said the sharp increase in cases yesterday is "cause for concern" but reiterated that it is not the time for a knee-jerk reaction.
Speaking on RTÉ's Morning Ireland, he said cases are being watched closely and is hopeful that what is being seen is evidence that the contact tracing system is working "really well".
"We know over the past weeks there have been a number of clusters and what we hope is the numbers yesterday reflect the rapid testing of those clusters and the identification and isolation of those within those clusters."
Yesterday, 85 new Covid-19 cases were reported along with one more death of someone who tested positive for the coronavirus.
The overall death toll is 1,763 and the overall total number of cases here has risen to 26,027.
Dr Glynn said that up until earlier this week the Covid-19 trends monitored by the National Public Health Emergency Team (NPHET) were looking good.
He said they are never surprised when they see big clusters as they know the virus is really infectious.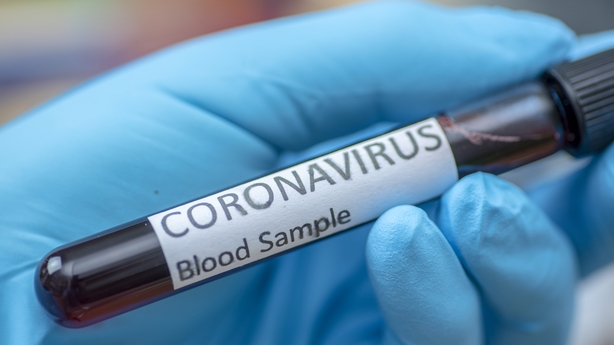 He said the high figure of cases yesterday is not a sign that anything was done wrong by people, as "even when people are doing the right things, the virus can spread".
He said to his knowledge all workers have been tested at the pet food factory in Co Kildare, where there was an outbreak, but it is more difficult to avoid spreading the virus if people are sharing living space.
"If a virus gets into the setting like that, it will spread quickly," he added.
Between 30 and 40 new cases are associated with workers at the factory in Naas, which is also connected to outbreaks at two direct provision centres in the midlands.
He said he understands all those living in direct provision centres are being protected and the clusters that were identified are being contained.
---
---
Dr Glynn said the challenge with household clusters is identifying them quickly and clamping down on them.
He said that "to do that we need people to come forward and put their hand up for testing" if they are showing symptoms or have been a close contact with someone who has tested positive for Covid-19.
He would not be drawn on the specifics of smaller clusters but said a number are linked to families, which he said is not surprising.
Dr Glynn advised people to limit their time spent with others and to take appropriate cautions when meeting up with others.
In relation to cases linked to travel, he said two of the cases yesterday are travel related.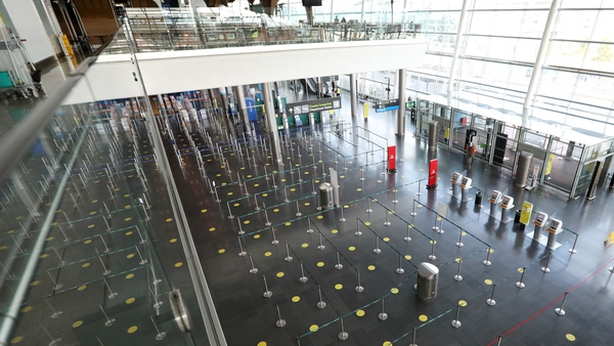 "We have had cases associated with travel and we will have more but they are the minority of cases. Ultimately what will dictate the course of this infection is the actions of everyone in the community."
NPHET concerned over situation in Europe
He said the situation in Europe is really concerning and NPHET needs to learn from what is happening internationally and avoid a similar scenario happening in Ireland.
He added that before NPHET even considers moving to Phase 4 of the lifting of restrictions, it needs to assess what will happen over the next 24 hours.
Yesterday, Dr Glynn appealed to the public to double down on all the basic measures to prevent the spread of Covid-19 ahead of the Bank Holiday weekend.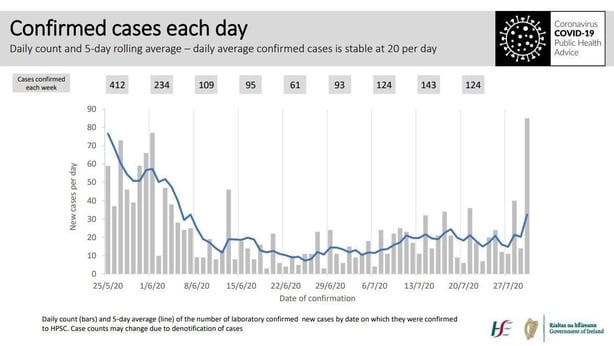 He said we are now at a crucial point and what happens next is in the control of everyone and urged people to double down on the basics, avoiding large crowds, physically distancing, wearing face coverings and washing hands regularly.
Virologist cautions against reopening of pubs
An Assistant Professor of Virology at Trinity College said the question to be asked now as a society is can we move quick enough to use interventions and efficiently curb Covid-19 transmissions?
Speaking on RTÉ's Today with Sarah McInerney, Dr Kim Roberts said she would be concerned if Ireland moved to Phase 4 with the current numbers.
She said that looking at other countries and taking examples from them, it would be "unwise" to move ahead with reopening pubs.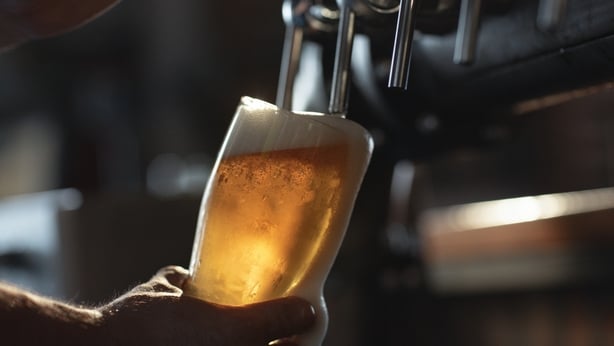 Dr Catherine Motherway, Intensive Care Specialist at Limerick University Hospital, said pubs are always going to be a difficult area and people will have to be careful when they reopen.
She said the focus now is on being able to find cases and control them, but the best way that people can control the virus is through their own behaviour.
Dr Motherway said most people in the healthcare sector are "extremely tired" and some have said to her they do not know if they could face it again.
"We will if we have to, but if we contain it within the community that will help."
Emergence of workplace clusters a concern

Meanwhile, a consultant in infectious diseases at St James's Hospital said the increase in cases is worrying.
Professor Clíona Ní Cheallaigh said it brings back memories of the pain and distress that the previous surge caused but added that there is a lot more understanding now about the disease.
Speaking on RTÉ's Morning Ireland, Prof Ní Cheallaigh said outbreaks can easily happen among those sharing accommodation with others.
"It is not rocket science to realise if you have settings in which multiple people, who are not part of the same family, are sharing living space, or sharing bedrooms, sometimes even sharing beds, for a disease like this which spreads so easily in close contact, that really is a recipe for disaster."
She said a lot of people who have Covid-19 have no symptoms or mild symptoms, so often it is too late when they realise they have the virus and it has already spread among those they are in close contact with.
She underlined the threat of the virus spreading in the workplace where break rooms and communal toilets are settings where the virus could spread from droplets landing on taps or door handles.
The World Health Organization says data to date suggests 80% of Covid-19 infections are mild or asymptomatic, 15% are severe infection, requiring oxygen and 5% are critical, requiring ventilation.
Generally, you need to be 15 minutes or more in the vicinity of an infected person and within two metres of them, to be considered at-risk, or a close contact.