The Taoiseach has confirmed that all schools will fully reopen next month.
Micheál Martin said a comprehensive plan will be brought to Cabinet on Monday detailing a package of measures and resources that will be needed.
He said it would be published after the meeting.
The Department of Education confirmed that a plan for reopening schools will be published on Monday and this includes detailed guidance for schools.
"The roadmap for school reopening has been prepared in line with interim public health recommendation provided by HPSC following extensive engagement with education partners," said a spokesperson for the Department.
"Reopening of schools is the Government's number one priority and a full return to school is envisaged."
Meanwhile, the ASTI teachers' union has called for a "large and comprehensive" investment programme from Government if schools are to reopen.
General Secretary Kieran Christie said there can be no compromise on the health and safety of students and staff.
Mr Martin said the plan, drawn up following intense consultation with unions and other interested parties, would be robust and resilient enough to ensure that schools stay open into the future.
It will include measures around the well-being of children who have been absent from classrooms for several months.
There will also be special measures for students with additional needs and plans for children and teachers with compromised immunity.
Mr Martin said: "The objective is that schools will be fully open, and to keep everyone safe."
He was speaking following a meeting with Minister for Education Norma Foley, who is to bring the plan to Cabinet on Monday.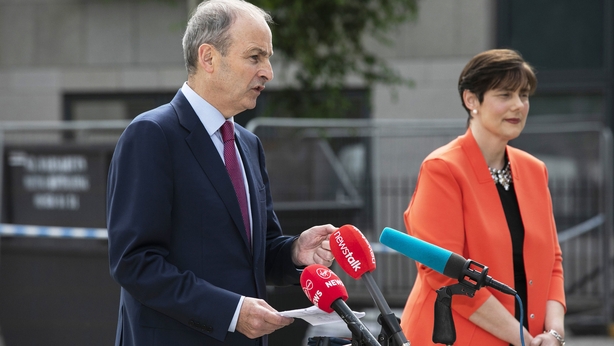 "The objective is the full reopening of schools. All pupils on campus, all teachers on campus," she said.
"There will be exceptional cases that will be catered for," Ms Foley added.
Schools have been shut since 12 March due to the coronavirus pandemic.
---
---
Speaking earlier on RTÉ's Morning Ireland, the Taoiseach said there is a key commitment Government-wide and across the education sector to open schools safely.
"There are challenges, we want to do it safely", he said, adding that "we are in a relatively good space". 
"I've repeatedly said the priority is the child in the classroom, the development of the child, we don't want to limit the life chances of children by keeping them out of schools for too long." Taoiseach @MichealMartinTD says he hopes to announce next week how schools will reopen pic.twitter.com/t2NcBupRjO

— RTÉ News (@rtenews) July 24, 2020
Green Party leader Eamon Ryan said the Government will set out arrangements for a return to school within the next two weeks. 
"When you come back from the Dáil summer break it will be September. Will all children be back in the classroom by then?"@EamonRyan: "Yes. And the Government will set out the details for those arrangements in the next week or two." pic.twitter.com/pIJkKHZVhc

— RTÉ News (@rtenews) July 24, 2020
Labour's education spokesperson Aodhán Ó Ríordáin said the reopening of schools "will not be cheap" and needs to be "properly financed and properly resourced".
Speaking on RTÉ's News at One, Mr Ó Ríordáin said "once again, the Department of Education are going to announce plans at the last minute".
He said it is to be welcomed that blended or remote learning appears to be ruled out.
Schools need to reopen with adequate staffing, adequate capacity, and to do so in a clean and hygienic manner, Mr Ó Ríordáin said.
ASTI seeks investment for schools to reopen
The Association of Secondary Teachers in Ireland has dismissed the €42m allocation for post-primary schools in yesterday's July Stimulus Package as inadequate.
It called for a "large and comprehensive" investment programme from Government if schools are to reopen.
Addressing his union's online conference today, General Secretary Kieran Christie described the additional monies provided to schools in the July Stimulus to adapt for the coronavirus as just "the tip of the iceberg", adding that preparing for schools to reopen would be a "mammoth" task.
"In truth, it is doubtful that this capital works package will be enough to meet the enormous challenges that are out there. I suspect they will have to dig deeper," Mr Christie told delegates.
He said the "penny-pinching" under-investment in schools had gone on for far too long, and the cuts had been too deep.
Mr Christie cautioned that if schools were to reopen, all public health advice must be implemented "in full and at all times" to ensure the safety of everyone in school communities.
He made particular reference to vulnerable members with serious underlying conditions and said schools would have to be "Covid-19 secure workplaces".
"I have no doubt that some of what emerges in terms of the arrangements for reopening of schools will not be entirely to our liking, but there can be no compromising on the health of teachers and students," Mr Christie said. 
The ASTI General Secretary outlined a massive "shopping list" to facilitate the reopening, including measures to support social distancing, additional teacher appointments and additional resources for supervision and substitution given the anticipated increase in sick leave.  
He also called for revised leave arrangements, in the context of an "inevitable" increase in absences, and to cater for high-risk vulnerable teachers.
Speaking on RTÉ's Drivetime, Mr Christie said many schools will need to have resources to procure extra space.
He said it remains the ASTI's objective to get children back to school to the "maximum possible extent."
"It won't be a "just make do so and take our chances" approach", Mr Christie said.
Mr Christie said the union is awaiting proposals from the Department of Education next week on the management of students and/or teachers who have underlying health conditions in relation to the return to schools.
He said he also expects "clear" guidance from the department next week on protocols on the action to be taken by schools should a student or teacher develop symptoms of Covid-19.
INTO 'hopes' schools can reopen fully
The Irish National Teachers' Organisation has said it hopes schools will be able to reopen fully if the virus is sufficiently suppressed in the community, and if public health advice supports a full reopening.
"However, we know that there are teachers and pupils with serious underlying health conditions, for whom a return to school may not be immediately possible. Supports will have to be made available for these vulnerable teachers and pupils," said a statement from the union.
"We eagerly await the outstanding guidance due from the Department of Education. If the increase in the minor works grant is a signal of intent from Government then it augurs well for our demands for a comprehensive financial package for schools to support cleaning and the delivery of public health materials and resources that are necessary for a safe return to school."
The INTO said it is "concerned that decades of underinvestment in primary education may create difficulties for schools to remain open throughout the winter".
"We have called on the department to ensure that adequate substitute cover is in place to cover all teacher absences."
It also said that the issue of Irish primary school class sizes being the largest in the EU is one that "must be addressed urgently".
"We have repeatedly sought a minimum of one leadership and management day per week for our teaching principals. The balancing act for a teaching principal is tough in normal times and it will be tougher still this year. It is imperative that a comprehensive package of supports, including the roll out of substitute supply panels nationwide, is announced next week," the statement added.
TUI says focus must be on health and safety
The Teachers' Union of Ireland said the "overarching priority of all concerned must be the health and safety of students, teachers and others in the school community".
"The clear preference of our members has always been, as much as is possible, a return to face-to-face, school-based learning, and this is particularly important for the cohort of students who have been disadvantaged by the online environment of recent months," said a statement from the union.
TUI said the reopening will require a "significant investment" to modernise or update infrastructure in schools.
"The announcement of Government yesterday as part of the July Stimulus Package is welcome as a start in this respect but is highly unlikely to prove sufficient on its own," it said.
"In addition to the capital budget required, an overarching need will be an enhanced teaching allocation to ensure that arrangements that are in line with public health advice can be put in place and to provide against circumstances in which schools find themselves short-staffed because of necessary absences as a consequence of underlying vulnerabilities."
Reporting: Ingrid Miley, Mary Regan