The Oireachtas Special Committee on Covid-19 has heard that the resumption of some day services for people with intellectual disabilities may not happen until December or January next year.
Inclusion Ireland, a national association which represents people with intellectual disabilities, told the committee that most families have been told day services will reopen in September.
The association's Community Engagement Manager, Mark O'Connor, said some will open in August. However, he said there are also indications that some services may not open until December or January.
He was responding to the Sinn Féin TD, Kathleen Funchion, who described the response as "shocking".
TDs have been hearing how family carers are suffering and how people with disabilities have been adversely affected due to the pandemic.
Disability Federation Ireland CEO John Dolan said that "services and supports to people with disabilities, were in a bad place before Covid-19 struck.
"The capacity to provide services and supports, in spite of the economy being fully recovered was going in the wrong direction pre-Covid."
Mr Dolan told the committee that the funding crisis has been exacerbated by Covid-19.
"Organisations have faced huge losses in fundraising and earned income due to the pandemic. Many organisations rely on fundraising income to survive," he said.
Enda Egan, Inclusion Ireland CEO, told the committee about a survey it carried out concerning Covid-19. It found mental health was the major issue for people with an intellectual disability, and that over a third of people with an intellectual disability felt far more lonely.
---
Read more coronavirus stories
No date yet for reopening intellectual disability day services - Varadkar
Screening postponement will lead to 'avoidable' deaths, Dáil committee hears
---
He told the committee families are on the edge of being able to cope with what has transpired over Covid-19, and that they are emotionally, mentally and physically drained in terms of their capacity to cope.
"There is another pandemic about to hit us and that is family carer burn out," Mr Egan said.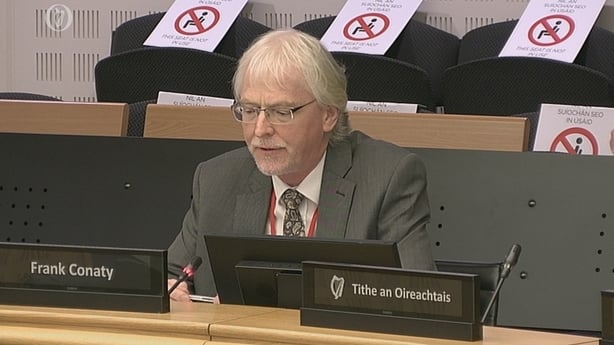 Dr Frank Conaty, Acting Chief Commissioner, Irish Human Rights and Equality Commission (IHREC) said it had concerns over how HSE guidance on how critical care should be prioritised during the pandemic in the event of excess demand.
"The commission has reviewed this guidance, and is concerned that there are potentially profound implications for the human rights and equality of people with disabilities, older people, and other vulnerable people," he said.
Dr Conaty said the IHREC is concerned there was not proper consultation in order for the State's obligations in terms of human rights and equality to be considered.
Citywest facility could be used for outpatients
The Health Service Executive has said Citywest, which was rented in March by the Government to be used as a step-down and self-isolation facility, could be used for some outpatient projects up to October when the contract is due to end. 
Liam Woods, the National Director of Acute Operations of the HSE, said they are looking at using it for a Mater Hospital glaucoma testing project.  
He was answering questions from Sinn Féin TD Louise O'Reilly, who asked if any patients had, as yet, used Citywest. 
Mr Woods said no patients had been admitted. 
He said any initiatives that will use Citywest will be staffed by current staff who are in the system and will be redeployed.