Three more people have died from Covid-19 in Ireland, bringing the overall death toll to 1,730.
Eleven more cases of the coronavirus have also been diagnosed in the Republic, bringing the number of confirmed cases to 25,414.
There have been no new admissions to intensive care units in the last 24 hours linked to Covid-19.
There have been three admissions to hospitals related to the virus in the same period.
Dr Tony Holohan says there are many countries that may be reporting low levels of transmission now, but their rates are increasing. This data will play into the decision on what countries to include on the 'green list' for travel, he says. | Read: https://t.co/6QkTwIWtF5 pic.twitter.com/VKRRnxbof2

— RTÉ News (@rtenews) June 26, 2020
Chief Medical Officer Dr Tony Holohan said figures for 14-day incidence of the virus show that many countries we have a 'holiday relationship' with have reported 14-day figures higher than Ireland's.
He said the percentage improvement, or the extent that the 14-day incidence has changed, shows the Irish improvement is one of the most pronounced in the EU.
Dr Holohan said he was "beyond nervous" about the return of international travel next month.
However, he said it makes sense to him that if travel is to happen it will be between Ireland and other countries where the level of incidence of Covid-19 is similar to or lower than it is here.
Dr Tony Holohan says he witnessed young people congregating outdoors 'as if there was nothing going on'. The data shows that young people are accounting for a higher percentage of cases, and he is concerned the message is not getting through. | Read: https://t.co/6QkTwIWtF5 pic.twitter.com/OsW3FsUYjU

— RTÉ News (@rtenews) June 26, 2020
There has been a continuing decrease in Covid-19 indicators since Phase 2 of the roadmap to ease restrictions began on 8 June, Professor Philip Nolan has said.
He said that all the indicators of Covid-19 are stable at very low levels, or are continuing to decline.
Prof Nolan said this week there was a decrease in the number of confirmed cases, with an average of nine confirmed cases per day between Wednesday 17 and Wednesday 24 June.
He also said the percentage of positive tests is at very low levels, with 0.4% of tests returning positive.
Prof Philip Nolan says that there is an increasing incidence of Covid-19 cases among young people, adding that young people are still vulnerable to this disease. | Read: https://t.co/6QkTwIWtF5 pic.twitter.com/iBtNVxiRx7

— RTÉ News (@rtenews) June 26, 2020
Prof Nolan said the reproduction number remains very low.
He said there are a variety of estimates of the number, suggesting it is somewhere between 0.5 and 0.7 over the last two weeks.
Dr Siobhán Ní Bhriain, National Clinical Lead, Integrated Care, HSE, said: "Although the incidence of the disease is very low in the community at present, we would urge people who develop any respiratory symptoms to contact their GP as soon as possible."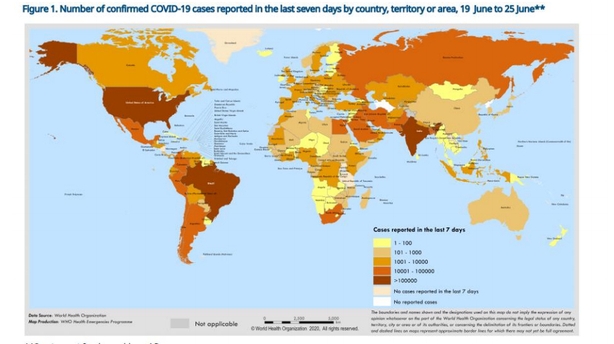 In Northern Ireland, there has been one further coronavirus death during the past 24 hours, taking the official Department of Health death toll to 548.
There are four new cases of Covid-19 in the region, taking the cumulative total to 5,748.
That figure now includes test results from a UK-wide initiative that gathered samples from regional testing centres, mobile testing units and home testing kits.
The figures were not previously included in the cumulative total for positive tests.
The Department of Health figure for positive test results yesterday was 4,874.
The new total is that number plus four new cases and 872 from the UK-wide testing initiative.
25 patients with Covid-19 in hospital
There are 25 people with Covid-19 being treated in hospitals in the Republic.
Latest operational figures from the Health Service Executive show that as of 8pm last night, 12 of these 25 patients are in intensive care, with a further four people suspected of having the virus also being treated in ICUs.
Eight of the 12 confirmed cases in ICUs are in Dublin hospitals.
At the peak of the pandemic in mid-April, there were 160 patients with Covid-19 in intensive care units.
Figures from the HSE also show that of the 355 critical care beds open in acute hospitals, 267 of them are occupied.
In a tweet this morning, Minister for Health Simon Harris cited the latest figures and said "your efforts and our national plan is working. Thank you to you all".
Good morning. As we approach the final weekend before Phase 3 of our country's reopening commences, some good #Covid19 news. Just 25 patients in hospital with a confirmed case of the virus this morning. Your efforts & our national plan is working. Thank you to you all pic.twitter.com/KiFb43iDFP

— Simon Harris TD (@SimonHarrisTD) June 26, 2020
For Covid-19, the World Health Organization says that data to date suggests that 80% of infections are mild or asymptomatic; 15% are severe infection, requiring oxygen and 5% are critical, requiring ventilation.
Meanwhile, Aer Lingus has warned the Government that a failure to clarify how the lifting of the 14-day quarantine requirement and travel restrictions will take place, prior to 9 July will undermine the initiative to re-open air travel.
Ireland currently insists on the 14-day quarantine period for arriving passengers from abroad, as well as further travel restrictions.
Yesterday, though, the Government announced plans to establish "air bridges" pairing Ireland with countries with similar levels of control of the virus from 9 July.
However, Aer Lingus stated: "No clarity will be provided until 9th of July regarding what countries will be 'Green' for [the] purposes of an 'air bridge' and what criteria will be applied to their selection."
---
Read more:
Archbishop urges worshippers not to rush to return to services
US, Europe battle fresh coronavirus surges
Physical distancing recommendations relaxed for summer programmes
---
Separately, the Director of Meat Industry Ireland said there are currently no active cases of Covid-19 in meat plants.
Cormac Healy said the sector had worked hard to deal with a number of outbreaks in plants.
There were 1,104 cases of Covid-19 confirmed among workers in the meat industry and almost 30 people were hospitalised.
Mr Healy said "the situation is greatly improved" and pointed to a range of measures implemented by management at meat plants.
He said it was important that the sector remained "vigilant to keep the virus out".
The issue of Covid-19 in meat factories has been felt globally, with the closure of large facilities in Germany affecting the export of pig meat from Ireland.
Additional reporting: Vincent Kearney, Fran McNulty