Aer Lingus has warned the Government that a failure to clarify how the lifting of the 14-day quarantine requirement and travel restrictions will take place, prior to 9 July will undermine the initiative to re-open air travel.
Ireland currently insists on the 14-day quarantine period for arriving passengers from abroad, as well as further travel restrictions.
Yesterday, though, the Government announced plans to establish "air bridges" pairing Ireland with countries with similar levels of control of the virus from 9 July.
However, Aer Lingus stated: "No clarity will be provided until 9th of July regarding what countries will be 'Green' for [the] purposes of an 'air bridge' and what criteria will be applied to their selection."
The airline said the lack of detail before that date regarding what countries are involved, and what criteria will be applied to their selection "...totally undermines the initiative".
"This further delay will be very damaging to the Irish economy and to jobs within it, eliminating the prospect of any inbound tourist and business passengers for at least the month of July," Aer Lingus stated.
"The level of success in containing and controlling the spread of Covid-19 in European countries is equivalent to Ireland's success. That is the case now ... and it should not take two more weeks to assess this."
Aer Lingus notes that on 20 May, the European Centre for Disease Prevention and Control (ECDC) and the European Aviation Safety Agency issued the 'Aviation Health Safety Protocol' in response to Covid-19.
The airline also states that on 11 June, European Commissioner for Home Affairs, Ylva Johansson, called upon EU Member States to lift all border restrictions within the EU by 15 June.
Aer Lingus warns that Ireland is now "significantly behind" other member states in not having done this, "...despite having equivalent success in containing Covid-19".
The company insists that based on "containment equivalence", its analysis revels that air bridges can now be established with Austria, Belgium, Croatia, Cyprus, Czech Republic, Denmark, Estonia, Finland, France, Germany, Greece, Hungary, Italy, Latvia, Lithuania, Luxembourg, Malta, Netherlands, Norway, Portugal, Slovakia, Slovenia, Spain, Switzerland, and the UK.
However, the airline accepts that it is too soon for air bridges to Bulgaria, Poland, Romania and Sweden.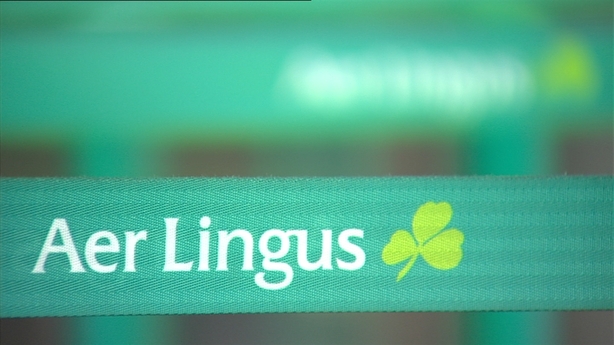 Meanwhile, Aer Lingus has issued around 250,000 vouchers to passengers whose flights could not operate due to the Covid-19 virus, according to its Chief Commercial Officer Dave Shepherd.
In a video message to staff today, Mr Shepherd declined to specify the value of the vouchers, saying only that they had "a very significant value".
He said issuing refunds and vouchers had been a considerable administrative and financial burden, and praised staff in contact centres who had experienced "challenging conversations in very difficult circumstances" with passengers.
Mr Shepherd told staff that the airline has established a task force to support the processing of both vouchers and refunds where customers have requested them, and is also working the technology team to develop a new robotic process automation to expedite processing.
Customers booked to travel in late July and August on flights that will not operate will also have the ability to take a voucher for future travel to the value of the booking.
However, Mr Shepherd stressed that initiatives undertaken by Aer Lingus did not change the reality that as an airline - and as an industry - they remained in a position "of deep crisis."
He reiterated the company's frustration at the government's failure to specify which countries will be exempt from quarantine and travel restrictions from 9 July.
However, he said the airline believes the time is right to test the market and reintroduce some flying.
The Aer Lingus executive confirmed that from 1 July Aer Lingus will recommence flying to seven airports - four in Spain and 3 other European cities "...albeit at a reduced frequency than that originally planned."
From 20 July, the company will increase frequencies to some of these airports, as well as adding some further European destinations "such as Berlin, Barcelona and Munich".
This flying programme will be announced over the next few days "along with a full marketing campaign including attractive pricing to support the routes opening.
Mr Shepherd said it was difficult to predict exactly what customer demand would be like, after it declined "like never before" over the last 3 months - with bookings below 5% of last year's levels at times.
He said that customers wanted flexibility, and would be able to change bookings with a change fee should the need arise.
He also noted that to get customers flying again and stay competitive, Aer Lingus has been adjusting pricing as well as creating new products and fare prices, reassuring passengers about safety as well as encouraging customers to consider upgrading products.