The Health Service Executive has said it aims to start testing nursing home staff and other healthcare staff in the week commencing 22 June.
The mass testing is to be done each week.
Around 30,000 private nursing home staff will be involved.
The HSE said it is due to meet Nursing Homes Ireland (NHI) this week to discuss the operating guidance for the mass testing of healthcare workers.
"The HSE will also contact all nursing homes to verify information on their staff so that the tests can be ordered on their behalf to ensure this is an efficient and smooth process as possible," it said.
It comes after NHI said it had been informed today that planned mass weekly testing of around 32,000 nursing home staff would not now begin until the end of June.
The plan to have weekly testing was announced earlier this month.
Meanwhile, new figures show more than 1,680 patients were approved for transfer from acute hospitals to private nursing homes before and after the peak period of Covid-19.
In March, the figure was 1,363 and in April it was 324, making a total of 1,687, according to data supplied by the HSE, in a written answer to the Special Dáil Committee on the Covid-19 response.
The patients were approved by the HSE under transitional care funding, for the Fair Deal Scheme, or for convalescence.
The HSE said that where a patient was approved, they may not have taken up the offer and an audit is under way to determine the number of patients who took up a nursing home placement during this period.
Between January and May, 4,073 patients were approved for transfer from acute hospitals to private nursing homes.
The breakdown was for January 1,118, February 980, March 1,363, April 324, May 288, for an overall total of 4,073.
The first confirmed case of Covid-19 in Ireland was at the end of February.
The peak number of cases reported on a single day was 1,068 on 15 April.
The written answer to the committee says that up to the end of May, there were 904 deaths linked to outbreaks in nursing homes.
Meanwhile, the number of patients in hospital intensive care units with confirmed Covid-19 has reduced further to 20.
The latest figures from the Health Service Executive also show that there were 11 patients in ICU with suspected Covid-19 and awaiting test results.
Overall, there were 62 patients in hospitals overnight with confirmed Covid-19, compared with 71 the previous day.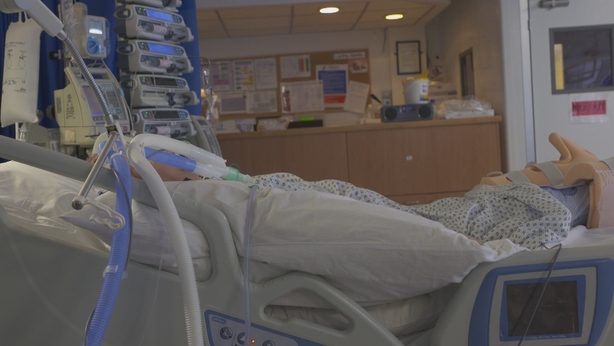 The hospital system now has 103 vacant intensive care beds.
However, there are no intensive care beds listed as free at St Vincent's University Hospital, Dublin, Midlands Regional Hospital Portlaoise, Mercy University Hospital Cork and Cavan General Hospital.
We need your consent to load this rte-player contentWe use rte-player to manage extra content that can set cookies on your device and collect data about your activity. Please review their details and accept them to load the content.Manage Preferences
The hospital system now has 449 vacant general beds as it deals with more non-Covid care.
Six hospitals have no vacant general beds: University Hospital Limerick, Tallaght University Hospital (Children's Health Ireland), Our Lady of Lourdes Drogheda, Cavan General Hospital, Wexford General Hospital and St Luke's Hospital Kilkenny. 
---
---
The Irish Nurses and Midwives Organisation said there were 107 admitted patients waiting for a hospital bed this morning.
The INMO's Trolley Watch figures show there are 78 patients waiting in emergency departments, while 29 are in wards.
The hospital with the most patients waiting for a bed is University Hospital Limerick with 37; there are 22 patients waiting for a bed at Cork University Hospital and 12 at St Luke's Hospital Kilkenny.
Meanwhile, a consultant in infectious diseases at Cork University Hospital said it would be best if we "all follow the same path" as efforts to suppress Covid-19 continue.
Professor Mary Horgan was reacting to calls from Independent TD Michael Healy-Rae to ease restrictions in Co Kerry sooner as the county has recorded 28 days without a new case of the coronavirus.
Prof Horgan, who is from Kerry, said it would be complicated to have some counties open more than others.
Things should be re-opening, she said, but lives and livelihoods must also be protected and a lot of this success will depend on personal responsibility.
Speaking on RTE's Morning Ireland, Prof Horgan said Kerry's success in recording 28 days Covid-19 free is significant and a reflection of the huge work that the people of Kerry have done in following the restriction guidelines.
She pointed out that Kerry is a large county with a widespread population and that many of the outbreaks have been in healthcare facilities.
Prof Horgan said that Kerry could potentially be spared restrictions in the event of a second wave of Covid-19, but added Ireland is "still a small island and it's hard to police county borders".
The World Health Organization says data to date on Covid-19 suggests that 80% of infections are mild or asymptomatic; 15% are severe infection, requiring oxygen and 5% are critical, requiring ventilation.