The Director of the National Virus Reference Lab has reiterated that face coverings should be worn when physical distancing cannot be maintained.
Speaking on RTÉ's Today with Sarah McInerney, Dr Cillian De Gascun sought to clarify how face masks should be used during the coronavirus pandemic.
He said face coverings do not need to be worn in the open air, or if you are driving in your car.
They should be worn when entering shops, or boarding public transport, he said.
"Where people can't maintain physical distancing they should be wearing a face covering. The problem with a scarf is that they may not wash the scarf regularly.
"They'll take it home, they'll hang it on a hanger and wear it again. In essence, these things need to be single use.
"What we want people in the community to do is if they're going to the shop or on public transport, when they get there, they put on the mask, sanitise their hands and do their shopping.
"When they come back out, whether to the open air or into their car they take off the mask, put it in a bag and sanitise their hands again. If it is a cloth one, you bring it home and you wash it at 60 degrees."
Referring to his appearance before the Oireachtas Covid-19 special committee yesterday, and the evidence on wearing cloth masks, Dr De Gascun said he "probably shouldn't have said not fantastic".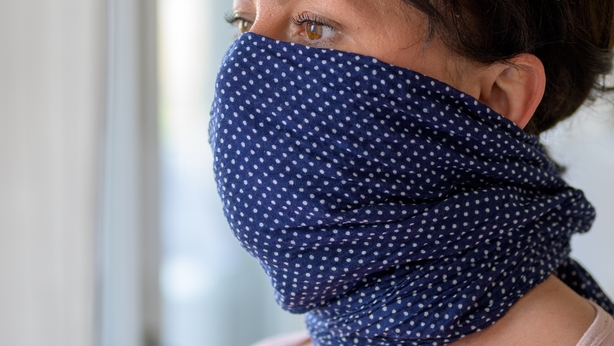 He said it was not his intention to reduce compliance.
"The evidence around masks in the community, I probably shouldn't have used the words 'not fantastic', but there is not a strong evidence base for it because a lot of the studies haven't been done.
"We are extrapolating from other viruses like influenza and other human coronaviruses and we believe there is a role to play for the use of fabric face coverings but only in the settings where physical distancing is not possible."
He said the absence of evidence does not mean it does not work.
"There is new evidence around asymptomatic and pre-symptomatic transmission. That means you go from a symptomatic person wearing a mask to the person who is not symptomatic wearing a mask.
"There is strong evidence that people who are asymptomatic can transmit infection, so we're saying the mask may be beneficial. We don't have strong evidence that a fabric mask is going to prevent transmission from that asymptomatic individual."
Dr De Gascun said it is "preferable" that medical grade masks are used where "there is a very high index of suspicion", like for people who are cocooning.
The National Public Health Emergency Team (NPHET) will discuss guidance from the World Health Organization guidance on medical grade masks tomorrow, Dr De Gascun said.
---
Read more: Latest coronavirus stories
---
"The higher the risk, the better grade mask you want to be wearing."
He explained that the expert advisory group made a suggestion to NPHET on 1 May, that people should wear medical masks in settings where physical distancing cannot be maintained.
"The availability of masks wasn't up to where it needed to be at that time and the priority was for our healthcare workers because they have accounted for 30% of our cases in Ireland.
"As we move to a situation where there is a low level of virus in the community, if we send out lots of disposable face masks there will be a waste issue," he said.
In relation to testing, Dr De Gascun said "in and of itself it is not a magic shield".
"Testing gives you information at a given point in time. It does not give a predictive value. If I'm tested today and virus is not detected it doesn't tell me that I'm not incubating the virus. So the idea of using testing as a barrier or at the point of entry into the country to suggest that if virus is not detected that you'd give people free reign to enjoy their holidays just doesn't apply."
It is unlikely that there will be a change to the 14-day quarantine rule "in the near future", Dr De Gascun said. 
"People will have to self-isolate for the next number of months at least. We still don't have a vaccine, we don't have an anti-viral therapy, the only measure we have in controlling this is to prevent the onward transmission. The whole idea of quarantining for 14 days is that that is the potential incubation period."
Meanwhile, a member of the WHO's Health Emergencies Programme said that based on the current evidence available, fabric face masks provide a certain level of barrier as source control, which means if the wearer is sick, then it prevents someone else getting sick.
Speaking on RTÉ's Drivetime, Dr April Baller said, however, that it is not known how much protection they provide in this case nor is it known what level of barrier is required to prevent the transmission of the Covid-19 virus.
She said if the wearer is using a fabric mask for prevention, which is now being recommended for vulnerable members of the population, there is not any evidence yet for how effective such a mask is in this case.
Dr Baller said the fabric from which the masks are made, whether it is cotton, nylon or polypropen can provide a different level of barrier, but while in cases this is high, the challenge is in the way it is woven, as this can affect its breathability.