The Director of the UCD National Virus Reference Laboratory has told the Dáil's special Covid-19 committee that the evidence around the use of cloth masks is "not fantastic".
Dr Cillian De Gascun told the committee the uptake of masks had not been very large, but added that there was not great evidence that the virus was stopped by non-medical grade or cloth masks.
He said that while medical grade masks worked very well, inappropriate mask use could be potentially harmful and could increase the risk of transmission.
He agreed with Labour TD Duncan Smith that it would be a good use of resources to supply masks to every household.
The chair of the NPHET Irish Epidemiological Modelling Advisory Group said the use of facial coverings "cannot replace other aspects of the strategy" to stop the spread of Covid-19.
Professor Philip Nolan told the committee that reducing the number of contacts, careful hand washing and maintaining social distance are "essential".
He said he did not have a crystal ball and it was impossible to say what the impact of the virus might be in six months' time. 
Prof Nolan said that "it is possible that we might have a significant resurgence of the virus at some point in the future" and urged the use of the term 'resurgence' as opposed to referring to a "second wave".
"We have learned a great deal in the last 100 days, which would have us better prepared for any significant resurgence. 
"The strategy would be different in nature because we have more knowledge and experience which would be applied to any significant development," he said.
Prof Nolan warned against thoughts that a 'Test, Trace and Isolate' strategy is a substitute for other things.
---
Read more:
Latest coronavirus stories
---
"We can test too soon. If I am a contact, there is no point in testing me today, or tomorrow. It will be three or four days before you will begin to shed the virus. We need to be very careful how we use Test, Trace and Isolate as it is not a supplement for all of the other control measures."
He reiterated that the only way to protect residents of care settings is to keep the virus "at incredibly low levels in the community".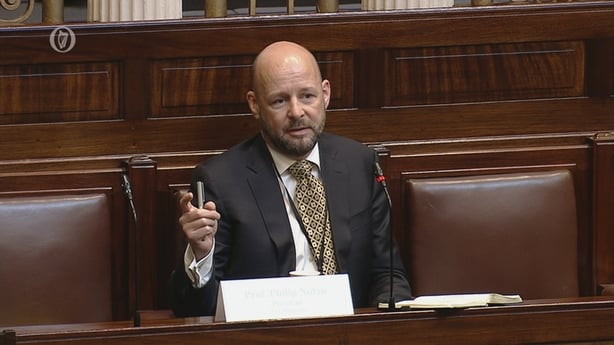 Prof Nolan said: "In announcements made on 11 March there was specific reference to sheltering the elderly, those with specific needs or those in long-term residential care. 
"I know it looks, because everyone was worried about ICU beds, and the acute hospitals, that the focus was on acute hospitals, but in fairness to NPHET, its focus was to suppress this is in the community, protecting our acute hospitals and protecting the vulnerable.
"It is always going to come back to this. You can take specific measures to protect people in congregated settings if the virus is wild in the community, but the only way to fully protect them is to have the virus at incredibly low levels in the community.
"If it is high in the community, despite everybody's best efforts, you will get some transmission into congregated settings and when it gets in there, tragically, it is very difficult to control and it is lethal. So in fairness to NPHET it was a tripartite strategy from the early stages."
Sound the alarm if 'R' goes over one
Sinn Féin TD David Cullinane asked Prof Nolan about when the virus would be deemed to move from a "manageable resurgence to an unmanageable resurgence".
Prof Nolan said that the aim was to keep the reproduction number as low as possible and to keep case numbers as low as possible.
He said that as soon as the reproduction rate is above one we encounter difficulty and the further above one it goes, the bigger the problem.
He said he would sound an alarm if it approached one and if it is above one he "would sound an even louder alarm".
In response to a question from Sinn Féin TD Pearse Doherty on an increase in the 'R' of the virus, he said the appropriate public health response would depend on why this happened - Was it a region where this happened, a set of circumstances or a set of workplaces or, worse still, that it was in the general community?
He said the difference between one and two metres comes down to particular activity and the size of droplets from coughing, sneezing or breathing.
He said larger ones will drop quickly (due to gravity), while smaller ones take longer to drop; they can stay in the air for a number of hours and they can be moved about by wind currents, so the further away you are the better, but this had to be look at in terms of what we can tolerate as a society.
Prof Nolan said the reason there is a very uneven distribution of the prevalence of this virus across the country at the moment is "because we froze the epidemic at a point in time" and we need to be very careful now as people start moving around again that we do not transfer it from one point of the country to another.
In relation to face masks, distancing and surfaces, he said all of that work is based on how droplets transmit, but "what we don't know is how likely it is to lead to infection".
Prof Nolan added: "There's a constant erring on the side of caution, it's not necessarily erring, but if you're going to make a mistake you need to make a mistake on the side of caution, not on the side of liberty".
Experts quizzed on use of face coverings
Fine Gael TD Fergus O'Dowd asked about additional steps needed to protect vulnerable people and in particular the World Health Organization advice that those aged over 60s should wear face masks.
Dr De Gascun said that direct contact, droplet spread or an aerosol-based spread in a hospital setting were the main ways the virus spreads.
He said that good infection control measures, such as use of Personal Protective Equipment, is important in all healthcare settings, including nursing homes.
Dr De Gascun said it "seems like a practical approach" for over 60s to wear face masks in some settings, but that NPHET is keeping the WHO recommendations under review.
He said that nursing homes can be more challenging to deep clean and disinfect as they are social settings and people's homes.
He suggested increased cleaning and a review of soft furnishings and said we should learn from the experience to date to ensure we are better prepared should there be a resurgence.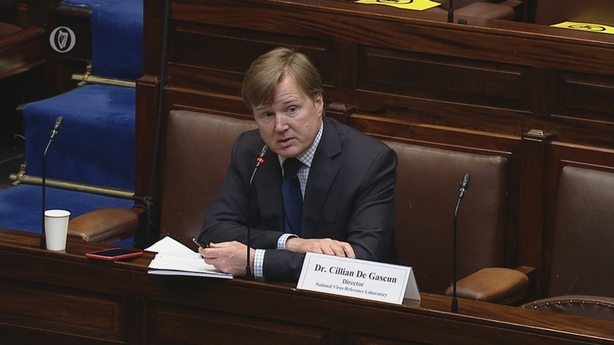 Dr De Gascun said he recommended all categories of society getting the flu vaccine this year.
Mr O'Dowd said we need to make sure that people who need face masks can get the correct ones and said that appropriate supply sources for masks should be identified.
Economic return and control of Covid-19 'in sync'
In response to questions from Mr Cullinane, Dr De Gascun said that the return of the economy and continuing control of Covid-19 are "in sync".
He said we have learned from what has happened abroad and can have confidence in our achievements locally as we move into the next phases of the road map for recovery.
He also said there is "no evidence to suggest" that those who attended Cheltenham Racing Festival earlier this year "were the only point of introductions of the virus" to Ireland.
In relation to testing and tracing capacity, Dr De Gascun said capacity was "built up since the beginning of March" to bring this to the current levels, and aims to reduce turnaround times to the lowest levels are still in place.
However, he warned that "testing is just one element of public health measures" and that people should be reminded that once symptoms are identified they should self-isolate immediately rather than waiting for the outcome of a test.
Testing in and of itself is not a protection against infection, he said.
He added that the ramping up of capacity required other members of public sector staff, who were drafted in on a temporary basis.
"Significant capacity for testing and tracing was put in place and based on system that seconded staff from other sections of the public sector, who will have to go back to work as we reopen Ireland. We still need to have those structures in place."
Dr De Gascun said that according to the evidence they have so far, the virus survives on surfaces such as plastic and steel for up to three days, but this applies to laboratory conditions and "doesn't necessarily translate directly into the real world".
He was responding to questions from Fianna Fáil TD Norma Foley.
He said a more regular cleaning regime might be required in schools and other areas, but it comes down to individual responsibility, for example on public transport, but he said he does not know if we will be able to eliminate risk completely.
He said if this virus and the flu "strike in tandem" later this year, then he said "it's certainly going to be very challenging".
Reporting: Sandra Hurley, Carla O'Brien, Niamh Nolan