Aer Lingus has said the Government has an obligation to drop the requirement for incoming passengers to Ireland to quarantine for 14 days.
In an interview on Nuacht a hAon on RTÉ Raidió na Gaeltachta, the airline's chief corporate affairs officer Donal Moriarty also said that the industry needed more clarity around travel advice to be able to open up to tourism again.
Mr Moriarty said that Ireland was doing well in the fight against Covid-19.
But he said the quarantine requirement should be dropped, and the example of other European countries should be followed as they reopen their economies to tourism.
"We don't think it's necessary. In other countries in the EU, tourism is starting up again, or they have certainty around dates when they can open again ... for example, Spain is opening at the start of July, and they have no quarantine.
"It's clear that we're doing well in the fight against the coronavirus and we have the statistics, they are strong, and they are comparable to other countries who are opening up again to travel and tourism.
"We believe that the Government has an obligation to change their (travel) advice, and to end the quarantine requirement, we don't think it's necessary anymore."
Mr Moriarty also criticised the lack of clarity around the Government advice on travel.
He said Aer Lingus thought that flights would recommence next month, but the airline is not able to name destinations due to the lack of clarity.
"Things aren't as clear as they should be, especially in terms of the Government advice on travel. They must change that, or give new advice, as regards international travel.
"There's no ban at the moment, but the advice is not to travel unless absolutely necessary ... and as well as that, we have the two-week quarantine for incoming passengers. So, we really need new advice from the Government before we can implement the new system for EU flights."

Testing at airports and ports is something that may replace the quarantine period.
Taoiseach Leo Varadkar said the Government is looking into this, but that it would cost €200 per person and would have to be paid for by the passengers.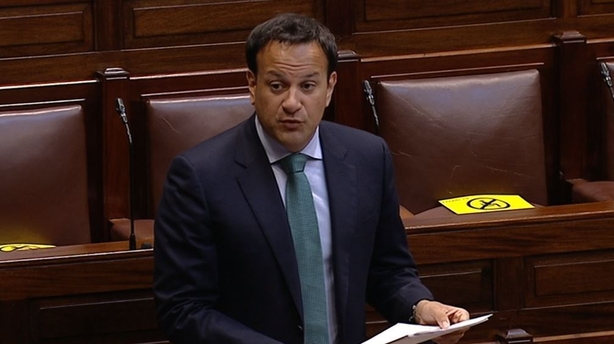 Meanwhile, Mr Varadkar has told the Dáil that "it is far too soon" for anyone in Ireland to book foreign holidays but he said that "summer is not lost yet".
He said he hoped that international air travel would resume "in the first instance" through air bridges with countries that have suppressed the coronavirus to a similar extent, but this is "some weeks away."
The group representing travel agents in Ireland said the prospect of air bridges is a small step that could help to repair some of the damage caused to the travel sector by Covid-19.
Irish Travel Agents Association (ITAA) CEO Pat Dawson said: "Naturally, the safety and well-being of our customers is our top priority.
"However, the introduction of air bridges would allow for safe, controlled travel both in and out of Ireland and would help to revive the Irish travel sector."
Taoiseach Leo Varadkar says he hopes travel restrictions can be eased this summer to countries that have suppressed the virus in the same way Ireland has. | Follow live updates: https://t.co/xlUZbU0Toa pic.twitter.com/ZynumSoM3B

— RTÉ News (@rtenews) June 4, 2020
One travel agency, Click&Go, has reported an increase in passenger bookings in the past seven days.
The agency's office has been closed since March and its CEO Paul Hackett said business is down by about 98%.
He said the volume of bookings is low, from a younger audience of people, and are for both later this year and next year.
Mr Hackett, who is also on the board of the ITAA, said that some resorts in EU destinations are planning to open up from 15 June and that tourism boards, the hotel industry and airlines are working together to make this safe for customers.
"I think we will see very low levels of travel in July and it will build through August and build into the autumn.
"What we are seeing is bookings beginning to return, some for this year some for next year, but consumers are keen to travel and get away. We have all, after all, been locked up for quite some time. So that audience that wants to travel are going to look to travel as soon as it is safe to do so."
We need your consent to load this rte-player contentWe use rte-player to manage extra content that can set cookies on your device and collect data about your activity. Please review their details and accept them to load the content.Manage Preferences
Portugal expects Irish quarantine rule to be relaxed
Portugal's Secretary of State for Tourism has said she believes the 14-day self-quarantine rule for Irish people who travel abroad will be revised soon.
Speaking on RTÉ's Morning Ireland, Rita Marques said: "I trust that rule in Ireland will be revised soon. That is the information I have."
She made the comments as Portugal prepares to resume activity in the tourism sector, including the opening of hotels and beaches.
Ms Marques said that flights are restarting and that, next month, there will be 25 weekly services between Ireland and Portugal.
"So we believe those rules will be gradually revised. And that all the conditions will be favourable so that Portugal welcomes Irish people in July and August."
She said her country has held talks with several European Union member states and she believes the European Commission will have a coordinated approach in reopening borders.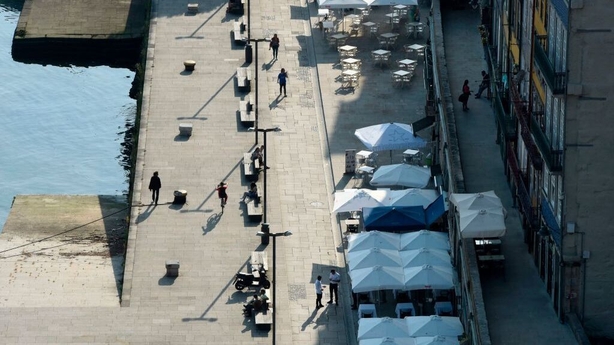 The minister also outlined the protocols and precautions being taken in Portugal as bathing season officially begins this weekend.
"Everyone is being asked to wear masks and physical distancing (of 1.5 metres) should be mandatory."
Ms Marques said there will be a traffic light system at the entrance to beaches.
"So people will know if the beach has a low occupancy rate, the light will be green.
"If it's red, that means a high occupancy, however, it is up to the people to decide whether they want to continue to enter the beach or not.
"You are not recommended " to do so, she said.
There is no quarantine period in Portugal and people can travel freely within the country.
---
Read more:
Over 1,000 Irish citizens remain stranded overseas - Coveney
Latest coronavirus stories
---
Additional reporting Laura Hogan