The Peter McVerry Trust says the next Government needs to rethink the approach to housing and homeless people following Covid-19.
The housing charity has suggested that lessons learned from the pandemic need to be used to address the homeless crisis.
In the second of two reports, Social Affairs and Religion Correspondent Ailbhe Conneely examines the impact of Covid-19 on homeless services in the capital.
---
"We're never leaving."
The words of two homeless people as they make their way to the lifts in a Dublin city centre hotel.
They are among almost 90 people cocooning in the building over the last number of weeks after they were moved from hostels and shared accommodation to keep them safe from Covid-19.
It's a success story for the Peter McVerry Trust with the backing of funding from the Government.
Swift action has meant the service has not been hugely affected by Covid-19. Many other residential settings have not been as fortunate.
Darren, a former business owner, is among the hotel residents.
Four years ago, Darren ended up in hospital for six weeks following an unprovoked attack.
While he was concentrating on teaching himself to walk and talk again, he lost his business.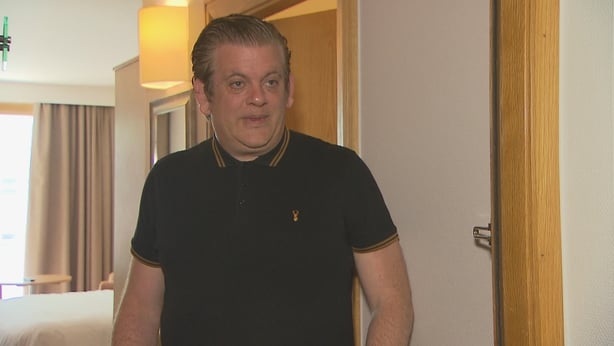 He couldn't pay the rent and for a time he tried to "wing it" in B&Bs.
Eventually, he turned to the Peter McVerry Trust, which has been working with him to get his life back on track.
Part of that process has centered around Darren working "from home".
That's difficult in shared accommodation, so he is thankful for the hotel room where he has his own space to work and is less exposed the virus.
"When you are put in a small room with three others you've no privacy", he said. "There have been tough days but the staff of Peter McVerry have been fantastic."
He's now hopeful to move onto Housing Assistant Payment accommodation after the restrictions are lifted.
Also moving to HAP accommodation is John.
Unfortunately for him, he got the keys the day the Taoiseach announced the restrictions, but he is grateful that he has something to look forward to.
John is over 70 and has COPD (chronic obstructive pulmonary disease), so he is vulnerable to the virus, but he was in shared accommodation with 14 others.
Once he moved to the hotel, he got a radio and "stuck with the rules and regulations".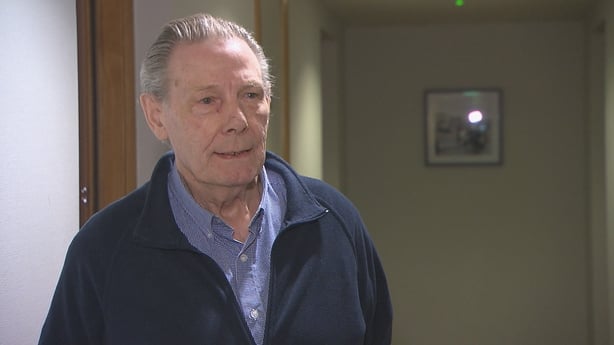 He hasn't found cocooning mentally difficult - if anything, memories have been flooding back.
Music from the 1960s and events that happened in the past have returned while he's been in his own company.
A former footballer, he has found ways to maintain his fitness.
"I've had a regime in the room. Running on the spot and up and down ten times."
Since the restrictions lifted to 5km, he has gone outside for a few walks while keeping socially distant.
John may be happy in his own company, but he loves to talk. He is a wonderful storyteller and Peter McVerry staff members based on site are beneficiaries.
For John, the interaction is invaluable.
"When you meet the staff a couple of minutes to talk, it is like a million dollars," he said.
The surge in Covid-19 cases didn't come in the way those in the Peter McVerry Trust expected.
It was "a silent player" when the virus hit Irish shores, according to its CEO Pat Doyle, thanks to the partnership with the Dublin Regional Homelessness Executive, Dublin City Council and the Department of Housing.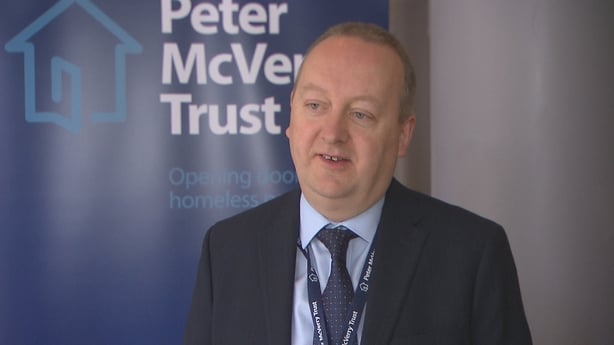 It has not come without a cost to the taxpayer.
They secured the rooms at a reduced rate of €80 per room per night including meals, but Mr Doyle believes most would view that as money well spent.
"We've had very few cases. Only two in our service have ended up in hospital from the pandemic and no one is in ICUs."
What about the two clients who declared at the lift that they don't want to leave?
Where will they go?
Mr Doyle said there's now an opportunity for the next government to rebalance matters.
He says the Covid-19 crisis has shone a light on how the property market has been used in the past and believes it's time to prioritise.
"We've had a load of apartments and spaces around the city being used for short lets or AirBnB-type lets for tourism, while we've been putting families who were homeless into hotels," he said.
"We need to put tourists in hotels, families into apartments and single people into one-bed apartments. That way we can move people out of homelessness quicker."
We need your consent to load this rte-player contentWe use rte-player to manage extra content that can set cookies on your device and collect data about your activity. Please review their details and accept them to load the content.Manage Preferences