A nursing home in Co Clare has come up with a novel way of keeping residents in touch with their loved ones during Covid-19.
Carrigoran House in Newmarket-on-Fergus has launched a weekly online talent competition with the residents themselves judging the winning entries.
This award-winning nursing home is never short of ideas to improve the quality of life care. Before the pandemic there were pedometer challenges with residents competing to record the highest number of steps taken daily.
Music, laughter and exercise are key to patient centred living. And the fun continues during lockdown.
But with restrictions in place during the current pandemic, activities have been pared back. Now though there's a new initiative taking place with the launch of a weekly talent competition.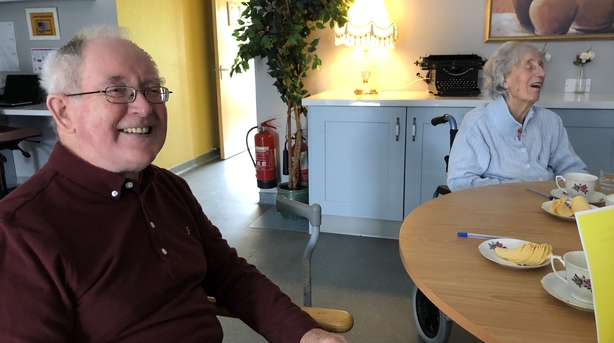 And the residents have once again stepped up to the mark by forming a judging panel.
Jack Sheehy is 75 years of age and said the quality of entries was top class. He thanked everyone for their efforts and said the residents were thoroughly enjoying watching the online videos.
It is the brainchild of Veronica Callinan, who co-ordinates activities at Carrigoran House.
She set up Carrigoran's Call for Talent, inviting people to upload a one minute video showcasing their singing, dancing, musical talents. A €5 entry fee goes towards dementia services in the home and winners receive vouchers of up to €100.
Michael O'Toole was diagnosed with advanced dementia at 64 years of age and is a resident of Carrigoran House.
The former band member had a breakthrough moment when his wife a posted a video of him singing a number of years back. He pointed at the screen and said 'that's me' before singing along and tapping out the beat on his knee.
His wife Jackie said the power of music in connecting with dementia patients was unparalleled.
She said her husband rarely engaged anymore and described his reaction to the video as very touching and emotional.
This week's talent show was a win/win for competitors and residents alike. The response to the Carrigoran Call for Talent has been very positive and for now the show goes on.