The Department of Health has said 59 more people have died after being diagnosed with Covid-19, of which 45 were laboratory confirmed.
It brings the total number of people who have died following a coronavirus diagnosis in Ireland to 1,159.
Most of the 59 deaths reported today occurred in recent days, including 19 deaths on Sunday, 26 April.
The Department of Health has also announced there have been 229 more confirmed cases of the virus, meaning 19,877 people have been diagnosed with Covid-19.
A total of 153,054 tests have now been carried out.
Over the past week, 41,470 of these tests were carried out and of these 5,335 were positive, with a positivity rate of 12.9%.
Following a meeting of the National Public Health Emergency Team (NPHET) today, Chief Medical Officer Dr Tony Holohan said he would not currently be in a position to recommend an easing of restrictions introduced to try stop the spread of the virus when they lapse on Tuesday, 5 May.
He said this would be considered further ahead of another meeting of the NPHET on Friday.
Dr Holohan said while a lot of good work has been done by the Irish people to help slow the spread of Covid-19, he cautioned we could "lose it at the end" and undo that work.
He acknowledged patience was wearing thin among the public, particularly for those cocooning and those who do not have gardens, but he said we have to do as much as we can as a society.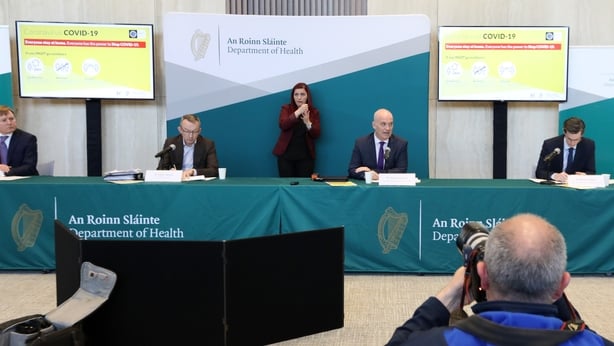 Dr Holohan said there is a huge level of compliance and positive work on the part of the public and it is important to keep it in place.
However, he said the levels that we are at compared to other countries is "just not where we want to be".
In response to media reports that coronavirus was present in Ireland two weeks before the first case was notified to authorities, Dr Tony Holohan said there was no confirmed Covid-19 case before the first one on 29 February.
---
Read more:
Latest coronavirus stories
---
Dr Tony Holohan, @CMOIreland, has said he sees a huge level of compliance from the public with regards to #coronavirus restrictions. However, in terms of containing the spread of #Covid19, we are not yet where countries that are easing restrictions are. | https://t.co/7tJXaAh2tB pic.twitter.com/E1AdZmZsPC

— RTÉ News (@rtenews) April 28, 2020
The Director of the National Virus Reference Laboratory has said plans to increase the testing capacity for Covid-19 to 100,000 will be in place later in May.
Dr Cillian de Gascun said the current capacity is 60,000 and that will be increased to 70,000 next week.
He said the target of 100,000 a week, which was promised by HSE Chief Executive Paul Reid, will be in place on the week starting 18 May.
Testing this week will prioritise certain groups, including people with chronic medical conditions, hospital workers and those who are household contacts of confirmed cases.
He said he would anticipate the criteria to be broadened out from next week.
Dr Holohan said there was an alert put out from the World Health Organization on reports of an increase in cases of Kawasaki disease among children around the world.
He said they will be increasing awareness in clinical settings, although there have been no reports in Ireland as yet.
He also said it is not inevitable we will have more mask use but it is something that will be considered along with everything else. He said they want to protect health-grade masks for people who work in healthcare settings.
Report published on NPHET membership
Elsewhere, the Department of Health has tonight issued a report detailing the membership and role of the National Public Health Emergency Team and its eight sub groups.
It gives expert advice and guidance to the Government on the overall response to Covid-19.
The team's meetings are held behind closed doors and the minutes have not been published since March.
It has led to calls from a number of opposition politicians for more information on how decisions are made, with claims that there is not enough transparency.
The department said it was working to finalise the minutes of its meetings, bearing in mind the pace of the crisis it is dealing with.
Dr Holohan said yesterday that said the delay in publishing minutes was "just a work load issue".
He said that NPHET was "not resiling from its commitment to transparency", but that publishing the minutes was a "huge job".
Dr Holohan said that NPHET holds a four-hour meeting twice a week and there was a "bit of a log jam", including that some of them are sitting on his desk waiting to be cleared.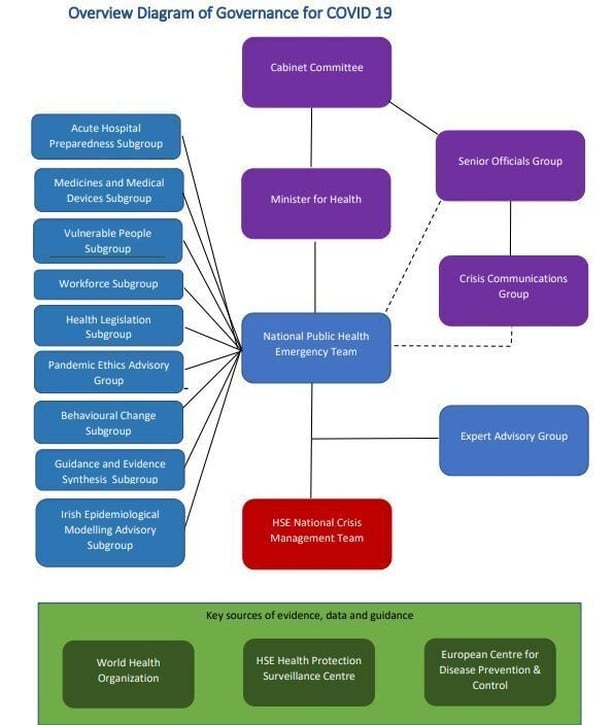 ---
The Health Protection Surveillance Centre has said that as of midnight on Sunday 26 April, 58% of cases were female and 42% were male.
The median age of the 19,383 confirmed cases at that point is 49.
It said 2,638 cases had led to people being hospitalised. Of those, 358 people were admitted to intensive care units.
There are 5,414 cases associated with healthcare workers.
162 (45%) of the 358 people who have been admitted to ICUs to be treated for Covid-19 have been discharged.
141 people remain in intensive care.
There have been 55 deaths among people who were treated in ICU, accounting for 15.4% of all of those admitted.
There were reports of underlying conditions in almost 83% of everyone admitted to ICU to date, and the median age of patients being treated there is 60.
The figures also show that residents in long-term residential facilities account for almost 60% of all Covid-19 deaths.
There have been 680 fatalities in these settings, 530 of which are laboratory confirmed, accounting for 59% of all deaths.
This 680 figure includes 579 deaths among nursing home residents, of which 445 are laboratory confirmed.
This means that nursing home residents account for exactly 50% of all deaths.
---
Meanwhile, Northern Ireland has seen its biggest single daily increase since the outbreak began after 20 people who were diagnosed with Covid-19 have died there.
Health authorities said 329 people have now died in hospitals in Northern Ireland. The figure does not include deaths in nursing homes or other non-hospital settings.
Around 80% of cases of Covid-19 will be a mild to moderate illness, close to 14% have severe disease and around 6% are critical.
Generally, you need to be 15 minutes or more in the vicinity of an infected person and within 2 metres of them, to be considered at-risk, or a close contact.
Separately, the Taoiseach has told the Cabinet that as of today there are no indications that virus levels are low enough to allow any easing of restrictions on 5 May, according to a Government spokesperson.
This view was echoed by Minister for Health Simon Harris to his ministerial colleagues.
NPHET will consider the current restrictions further this Friday in advance of a Cabinet meeting later that day.
Elsewhere, the number of people arrested for suspected breaches of the Covid-19 regulations has more than doubled in the past week.
Gardaí said 76 people were arrested for failing to comply with gardaí policing the pandemic while other legislation was used in 760 cases.
They said they were spat at or coughed at 31 times and there were also several similar such attacks on shop and transport workers.
Gardaí launched Operation Fanacht today, which they say will see more than 2,500 officers on patrol at any one time ahead of the bank holiday weekend.