The number of people arrested for suspected breaches of the Covid-19 regulations has more than doubled in the past week.
Gardaí said 76 people were arrested for failing to comply with gardaí policing the pandemic, while other legislation was used in 760 cases.
They said they were spat at or coughed at 31 times and there were also several similar such attacks on shop and transport workers.
Garda Commissioner Drew Harris defended the garda use of anti-spit hoods, which have been deployed 15 times, but never on children.
He said gardaí needed a way to protect society.
The commissioner also said gardaí had consulted the Government before the regulations restricting movement came into force and they were aware that they did not apply to people from Northern Ireland or outside the State before they were signed by the minister.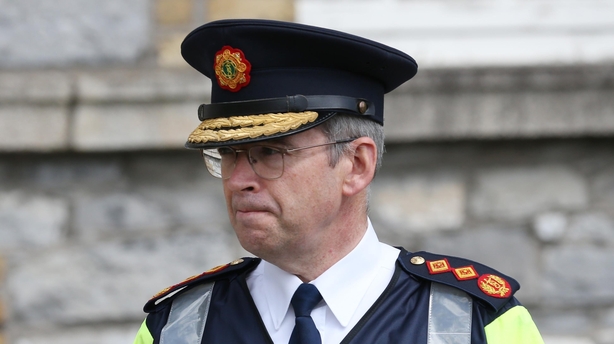 Commissioner Harris said he did not believe the regulations could be amended to apply to people living outside the jurisdiction because they were based on the 1947 Health Act and any such amendment would require a change in legislation.
The commissioner said gardaí were involved in the drafting stages and the issue was identified then.
He said there was an awareness of the loophole in the legislation, but the regulations are underpinned by the Health Act and cannott extend further
Commissioner Harris said they are a product of the act and therefore only apply to people who are in some form resident in the jurisdiction.
He also said it was facetious to suggest, as has been done on social media, that members of the Orange Order could come to Dublin and walk up and down O'Connell Street.
"Similar regulations apply in Northern Ireland," he said.
"If we learned of a mass movement to Northern Ireland that was non-essential we would deal with that as I'm sure would the PSNI."
The Commissioner said a small number of people were openly flouting the regulations, but that the need for enforcement was very limited.
He said enforcement was not a big feature of the thousands of hours gardaí put in.
Mr Harris' comments come as a new garda policing plan to ensure the public adheres to the Covid-19 public health guidelines began today.
According to Mr Harris the plan, Operation Fanacht, is the largest mobilisation ever carried out by An Garda Síochána.
More than 2,500 gardaí are on duty at any one time deployed on high-visibility policing, mobile patrols, on thousands of checkpoints on major and minor roads and at beaches, parks and beauty spots all over the country.
Ignoring guidance could have 'potentially devastating consequences' - PSNI
In Northern Ireland, police and health authorities say they are concerned that an ongoing debate about travel restrictions could encourage people to breach regulations introduced to limit the spread of coronavirus.
In a joint statement, the PSNI and Department of Health warned that ignoring the guidance on travel could have "potentially devastating consequences".
Unlike the Republic, which has announced specific movement restrictions, the Stormont Executive has not imposed stipulated limits. Instead, the regulations state that no one should travel without "reasonable excuse".
It is up to the police to determine what is reasonable and that has resulted in claims that some officers have interpreted the rules too strictly.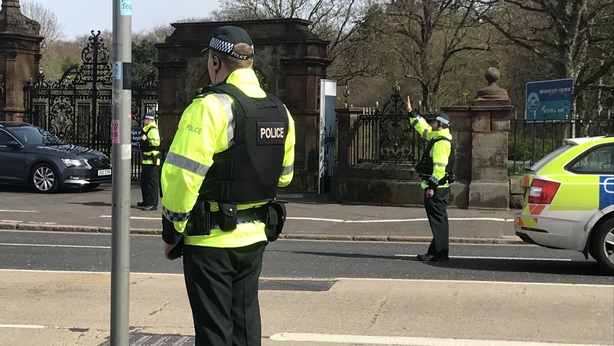 The PSNI issued 358 penalty notice fines between 30 March and 24 April.
In their statement, the PSNI and the department acknowledge that "there will inevitably be some shades of grey".
"The overriding principle in applying any reasonableness test is not what may be reasonable for people to want to do, but what is reasonable in achieving the aim of preventing the spread of the Covid-19 virus, balanced with other risks and considerations," they added.
"Officers applying discretion are a regular feature of modern day policing. Discretion is by its nature case specific."
The statement said the vast majority of people are cooperating with the emergency measures.
It also noted that people will be given the option of complying with any requirement to return to their home without any penalty being imposed.
"We are deeply concerned that the current discourse may serve to undermine public confidence in the overall regulations, and encourage some people to ignore the strong guidance from the NI Executive with potentially devastating consequences," it added.
No evidence of Covid-19 border spillover, says NI chief medic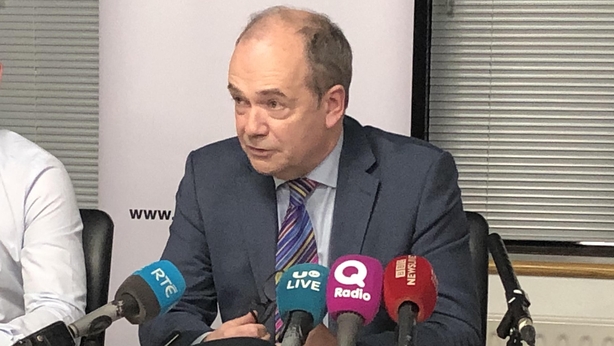 Northern Ireland's chief medical officer has said there is no evidence to suggest there has been a "leakage" of the Covid-19 infection across the border.
Dr Michael McBride was responding to data showing a relatively high prevalence of the disease in a number of border counties in Ireland compared to other rural areas in the country.
"I don't think that relates to spillover across the border one way or the other," Dr McBride told Stormont's Covid-19 briefing.
Outlining his reasoning, Dr McBride said the public across the island had been adhering to social distancing rules and the spread of the epidemic had been "broadly similar" in both jurisdictions.
"So I don't believe that there is leakage of infection across the border for those reasons, there's absolutely no evidence to suggest that," he said.
A regional breakdown shows 627 cases of Covid-19 in Cavan and 385 in Monaghan.
Co Cavan had the highest incidence rate of Covid-19 in Ireland per 100,000 of the population, followed by Dublin and Monaghan.
Ireland's Chief Medical Officer Dr Tony Holohan has already said he does not think that relatively high incidences of the virus in border counties was linked to people with the infection travelling from Northern Ireland.
---
Read:
Latest coronavirus stories
---
Public health physician Gabriel Scally said there have been more cases of Covid-19 in border counties than may have been expected, which he described as "worrying".
Dr Scally, who is the president of the Epidemiology and Public Health section of the Royal Society of Medicine, said that to find out the cause of the higher numbers would require a great deal of cooperation with authorities in Northern Ireland.
The Memorandum of Understanding, signed a couple of weeks ago between the two jurisdictions, comes into play in this situation, he said.
However, proper investigation of this specific virus pattern is a problem, according to Dr Scally, because in Northern Ireland the available data is "quite poor" and testing for Covid-19 is not as widespread as in the Republic.
This is a problem in dealing with "what looks like an unusual pattern of cases" in the border counties, he said.
Speaking on RTÉ's Today with Sean O'Rourke, Dr Scally said there could be a so-called "super spreader" in the region, which is the cause of the high numbers of Covid-19 cases, but this will not be known until investigations and comprehensive tracing are carried out.
He said in his opinion "there is no way out of this without an all-island approach".
Additional reporting Vincent Kearney, Sinéad Hussey, PA