Economic stimulus packages for hibernating economies hit by the Covid-19 pandemic need to be linked to climate change and biodiversity measures, a leading scientist has said.
Speaking on RTÉ's Morning Ireland, Director of Earth Observation Programmes with the European Space Agency Josef Aschbacher said he hoped recent declines in air pollution attributed to the Covid-19 shutdowns translated into a "rethink of the activities that some of us are doing".
Mr Aschbacher's comments come as data from the Copernicus Sentinel-5P satellite shows that air pollution, specifically nitrogen dioxide emissions, have declined. This coincides with countries locking down economic and social activities because of the Covid-19 crisis.
"We now realise that it is actually possible to pollute less compared to some weeks ago. Nobody would have thought a year ago that you can reduce pollution at that level," Mr Aschbacher said.
We need your consent to load this rte-player contentWe use rte-player to manage extra content that can set cookies on your device and collect data about your activity. Please review their details and accept them to load the content.Manage Preferences
"Now we know that we can do it but it is very painful and very drastic. Nobody wants the economy to come to a halt. Everyone wants the economy to pick up again.
"I think that the important message that many people will take out of this Covid crisis is that when we go back to a more normal life, can we do it in a more sustainable way?
"Can we pollute less but still have a very active economy?
"These stimulus packages that are now being put together by governments, in my opinion, have to be very strongly linked to environmental parameters - climate change and biodiversity in order to make a better planet and not just do the same as we have being doing for more than one hundred years.
"It is important that the trillions of euro are linked to sustainable measurements … so that you are not just stimulating the economy but you are stimulating your environmental thinking," Mr Aschbacher said.
Irish scientist Hannah Daly, a lecturer in energy systems modelling at University College Cork, agreed with Mr Aschbacher's comments.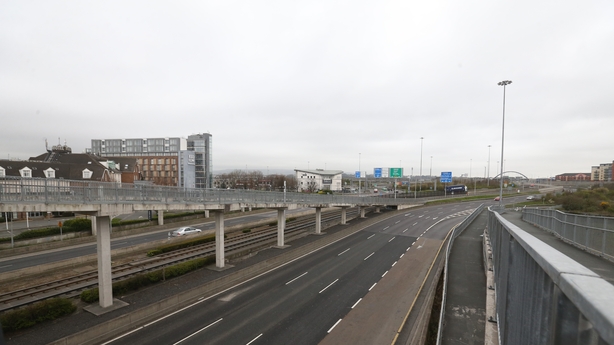 Ms Daly is part of a research group that showed traffic volumes have declined sharply in Ireland since the Government advisory on 12 March to shut down universities, cultural institutions, creches and schools.
Within two days, the average number of cars counted at each site nearly halved to 12,000 a day.
After more stringent travel restrictions were introduced on 28 March, including limiting people to exercise within 2km of their homes, traffic cameras observed even fewer cars, with about 5,000 cars passing a site in a day.
According to the study, this implies that car travel has fallen by around three-quarters as a result of the lockdown.
"What we are seeing is a big reduction in air pollution as a result of the reduction in traffic," Ms Daly said.
The Environmental Protection Agency (EPA) also said there appears to be an emerging trend of decreasing levels of nitrogen dioxide particularly towards the end of March and beginning of April coinciding with the introduction of the restrictions on movement relating to Covid-19.
In relation to linking stimulus money with environmental issues, Ms Daly said there is a "lot of discussion at European level to tie" bailout and stimulus money to climate change and biodiversity and green measures.
"I think it is that level of investment in transport infrastructure, in home renovations and in renewable and sustainable fuels that will really make the difference in this," Ms Daly explained.
Other experts monitoring air pollution in Britain have found with less people travelling to work the pandemic has reduced traffic flows to what it was in the 1950s and traffic emissions to a level last experienced before World War Two.
Dr David Carslaw at the University of York - who researches traffic and urban air pollution - also told Morning Ireland - the decline in traffic emissions acts as "a vision for what a future could look like".
"As we head towards electrifying vehicles then these are the sort of reductions we might see in maybe ten or 20 years' time. It does give us a look into what that future air quality climate will be," Dr Carslaw said.
Hannah Daly said what this showed is that we could save 400,000 tonnes of CO2 by working from home every year.
"That is about 5% of Ireland's transport emissions. It might seem small. But really when we want to go forward and reach our climate change targets the measure that we take are made up of many, many little measures like that.
"This would be equivalent to putting 50,000 electric vehicles on the road," Ms Daly concluded.