Global deaths linked to the coronavirus have now passed 200,000, while confirmed cases of the virus are expected to hit three million in coming days, according to a Reuters tally.
More than half of the fatalities have been reported by the United States, Spain and Italy. There have been 120,000 fatalities across Europe.
The first death linked to the disease was reported on 10 January in Wuhan, China. It took 91 days for the death toll to pass 100,000 and a further 16 days to reach 200,000.
By comparison, there are an estimated 400,000 deaths annually from malaria, one of the world's most deadly infectious diseases.
Earlier today, the World Health Organization said that there was currently "no evidence" that people who have recovered from Covid-19 and have antibodies are protected from a second coronavirus infection. 
In a statement, the United Nations heath agency warned against issuing "immunity passports" or "risk-free certificates" to people who have been infected, saying the practice may actually increase the risk of spread as they may ignore standard advice. 
Chile said last week it would begin handing out "health passports" to people deemed to have recovered from the illness. 
Once screened to determine if they have developed antibodies to make them immune to the virus, they could immediately rejoin the workforce. 
---
---
The scale of the pandemic has forced medical research on the virus to move at unprecedented speed, but effective treatments are still far away and the United Nations chief said the effort will require cooperation on a global scale.
"We face a global public enemy like no other," Secretary-General Antonio Guterres told a virtual briefing yesterday, asking for international organisations, world leaders and the private sector to join hands.
"A world free of Covid-19 requires the most massive public health effort in history."
Notably absent from the meeting were the leaders of China, where the virus first emerged late last year, and the United States, which has accused the WHO of not warning quickly enough about the original outbreak.
The UN chief's vaccine appeal came a day after US President Donald Trump prompted outcry and ridicule with his suggestion that disinfectants be used to treat coronavirus patients.
"Is there a way we can do something like that, by injection inside or almost a cleaning?" Mr Trump mused during a televised briefing. "It sounds interesting to me."
We need your consent to load this rte-player contentWe use rte-player to manage extra content that can set cookies on your device and collect data about your activity. Please review their details and accept them to load the content.Manage Preferences
As experts - and disinfectant manufacturers - rushed to caution against any such dangerous experiment, the president tried to walk back his comments, saying he had been speaking "sarcastically."
Mecca's Grand Mosque deserted
Across the Muslim world, hundreds of millions of faithful opened the Ramadan holy month under stay-at-home conditions, facing unprecedented bans on prayers in mosques and on the traditional large gatherings of families and friends to break the daily fast.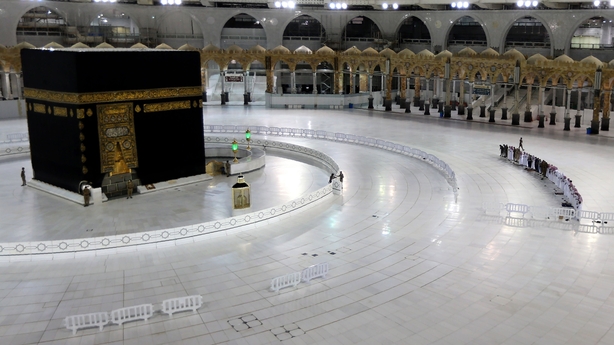 In the Islamic holy city of Mecca in Saudi Arabia, the Grand Mosque, usually packed with tens of thousands of people during Ramadan, was deserted as religious authorities suspended the year-round Umrah pilgrimage.
"We are used to seeing the holy mosque crowded with people during the day, night, all the time... I feel pain deep inside," said Ali Mulla, the muezzin who gives the call to prayer at the Grand Mosque.
Despite the coronavirus threat, clerics and conservatives in some countries including Bangladesh, Pakistan and Indonesia - the world's largest Muslim-majority nation - have pushed back and refused to stop gatherings in mosques.
Virus cases on docked Japan cruise ship near 150 
Almost a quarter of the 623 crew members on a cruise ship docked in western Japan have tested positive for the coronavirus, an official said. 
The Italy-flagged Costa Atlantica has no passengers aboard and arrived in the southern port of Nagasaki for repairs in January. 
Its operator first notified local authorities of suspected virus infections last weekend. 
All crew members have now been tested with another 57 testing positive today, raising the number of cases to 148, a local official told reporters. 
Some crew have been isolated in cabins but many also have to move around to maintain basic functions, the vessel's operator has told Japanese officials.