Adi Roche, the founder of Chernobyl Children International, has said it has been a "shattering blow" to hear that there is a Covid-19 outbreak at the charity's Vesnova orphanage in Belarus.
Speaking on RTÉ's Morning Ireland, Ms Roche described it as a "critical situation" and said some of the children at the orphanage are already getting "extremely ill".
She said they had taken a number of measures to try to keep the children safe from the virus, but she received the bad news yesterday.
She said at least 13 children have been confirmed with Covid-19 infections and ten staff members also have the virus.
Ms Roche said the children are extremely at risk as they have severe disabilities with a low immunity and a number of genetic disorders also.
"Their chances of survival would be very poor," she said.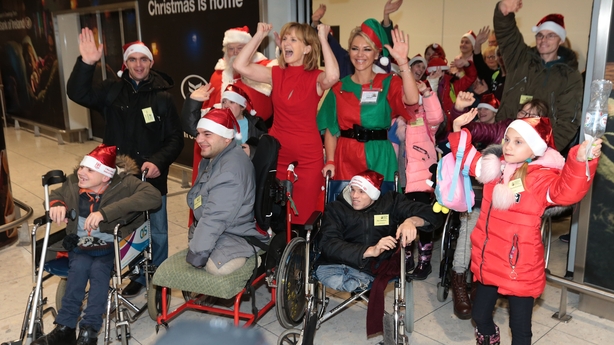 She said the chance to contain the virus is difficult as the children live in "dense conditions" in dormitory accommodation.
The Vesnova orphanage caters for 174 children and young adults.
Ms Roche also said the children are battling the virus with no medicine. The director of the orphanage has asked the charity for painkillers, cough bottles and sanitiser.
"There are no painkillers, no cough bottles. We are really worried and we feel we cannot abandon the children," she said.
We need your consent to load this rte-player contentWe use rte-player to manage extra content that can set cookies on your device and collect data about your activity. Please review their details and accept them to load the content.Manage Preferences
---
Read more
The legacy of Chernobyl - the children
Latest coronavirus stories
---
Children from Vesnova orphanage come every year to Ireland and Ms Roche acknowledged the support that the children of Chernobyl have received from Irish people over the years.
She said she was aware that "people in Ireland are in dire straits" themselves at the moment because of the virus.
Ms Roche said the response of the government in Belarus has been "somewhat unorthodox" and "out of step with international regulations" with no social distancing and no Personal Protective Equipment. 
"They (the orphanage) have not been provided with necessary requirements to keep the children safe other than locking the doors.
"Staff have to come in from the outside and because there was no regulation of physical distancing, the children have been vulnerable to staff coming in," Ms Roche added.
The news of this outbreak comes as the charity was preparing to mark the 34th anniversary of the Chernobyl nuclear disaster this weekend.
She said they fear for both the staff and the children at the orphanage who she said are "terrified". She said the "world has gone surreal" in a very short time.
The Vesnova orphanage caters for 174 children and young adults. The Chernobyl Children International has been funding it for the past 20 years and say it has been transformed into one of the country's leading childcare centres.