In Belarus the presence of a stork's nest close to your home is considered a sign of good luck.
When we visited the state-run Vesnova Children's Institution in that country recently, there was one very prominently at the top of a lamppost nearby.
It would be wrong to say that the children who call the orphanage home are lucky.
Most were abandoned by their parents - perhaps because the children either had a physical or intellectual disability.
Or perhaps because their parents had their own demons and couldn't cope with the challenges their child's disability presented.
Or may be because a disability is still considered an embarrassment in sections of society in the former Soviet state.
Either way, most of the children there have had a difficult start in life.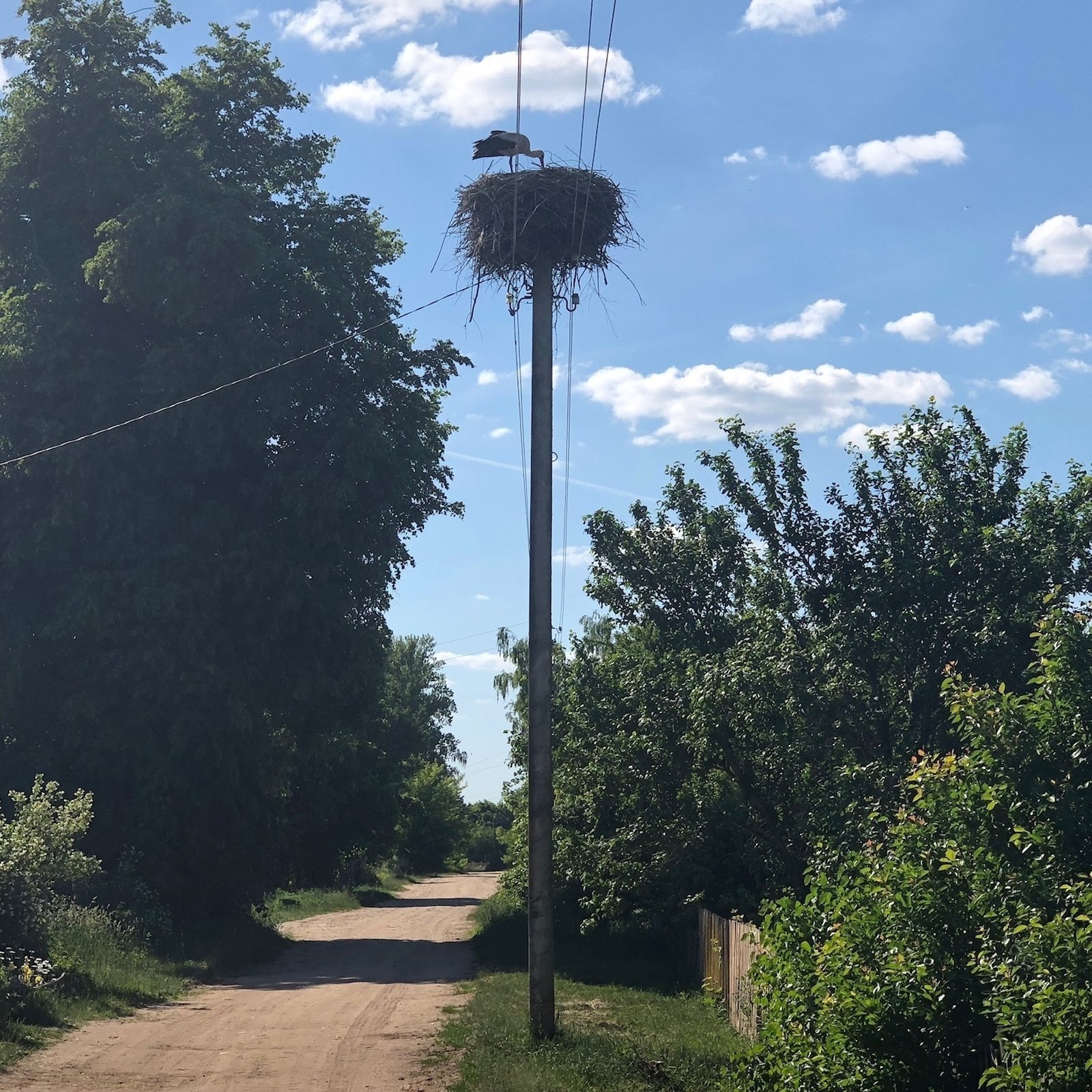 Yet despite this, arguably the luck of the stork was with them the day Adi Roche and other volunteers from the Chernobyl Children International charity she founded came through the doors twenty one years ago.
At that time, Vesnova was quite simply hell on Earth for the children who existed there.
"The only way I could describe it was that it was a place of death and dying," Adi Roche recalls.
The second I remember coming in to the foyer being overwhelmed by the all pervasive smell actually of death and excrement and urine. Children didn't know their names, they didn't know their ages.
"There were more children dying than surviving. Children were in straight jackets. Children were tied to radiators."
"Children were in shocking appalling conditions...and to be honest we were so overwhelmed initially that we didn't know where to start."
But start they did, and two decades on, bit by hard won bit, Vesnova has been transformed into a very different place.
It is still home to 170 children, many with severe disabilities and health challenges.
Like, for example, 6-year-old Ilya who lives in the High Dependency Unit.
He was born with hydrocephalus, but it wasn't treated properly at birth.
The consequence is that his tiny frame is dwarfed by a disproportionately large swollen head that weighs some 15kg.
He is in effect receiving palliative care.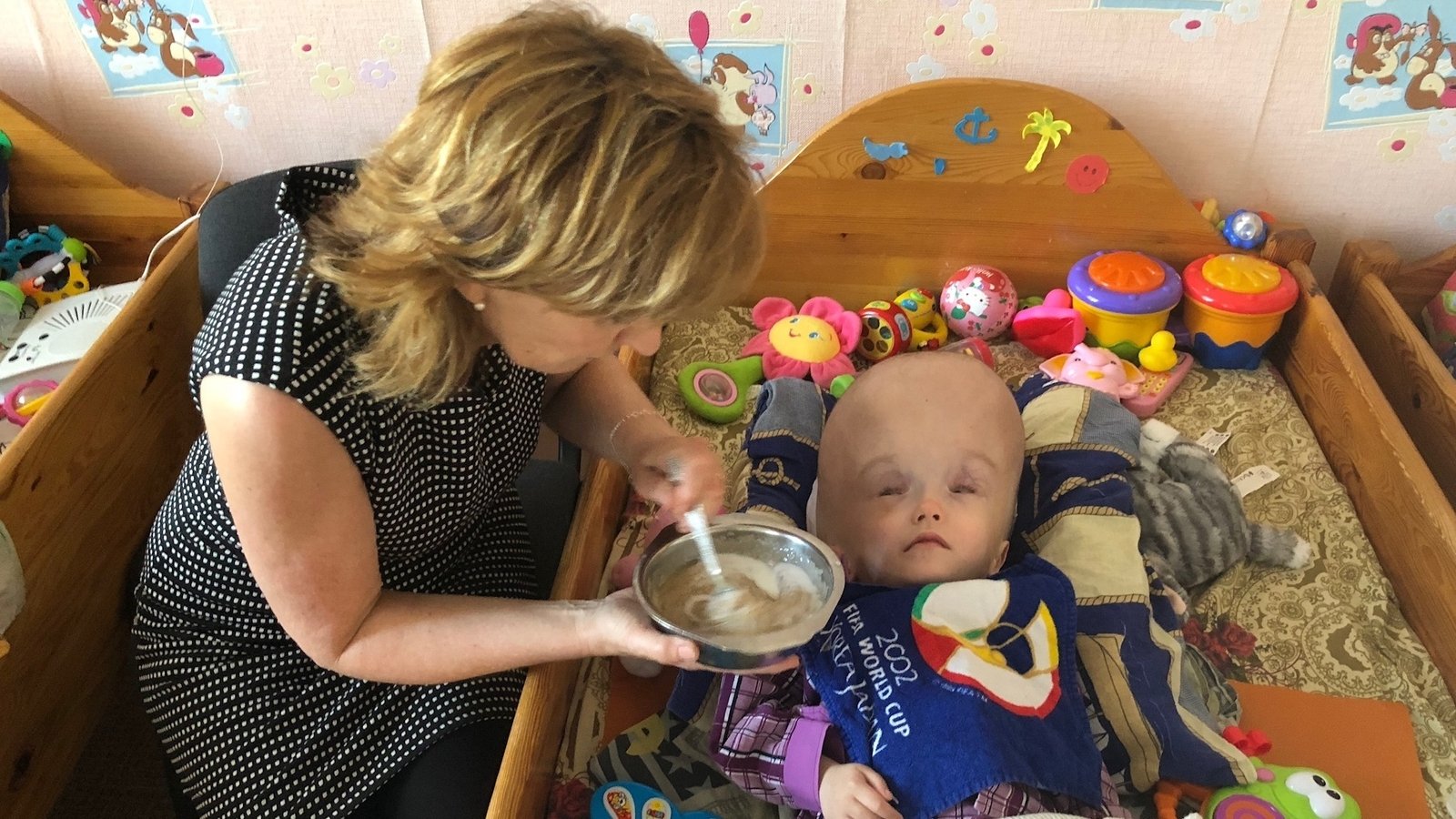 So too are Vasa and Victor - 16 and 17 year old brothers who were born with a genetic condition that has left them in a near vegetative state.
In the bed next to them is smiling Marina, who makes regular respite trips to Ireland where despite her severe disabilities rides on a tractor on her host family's farm.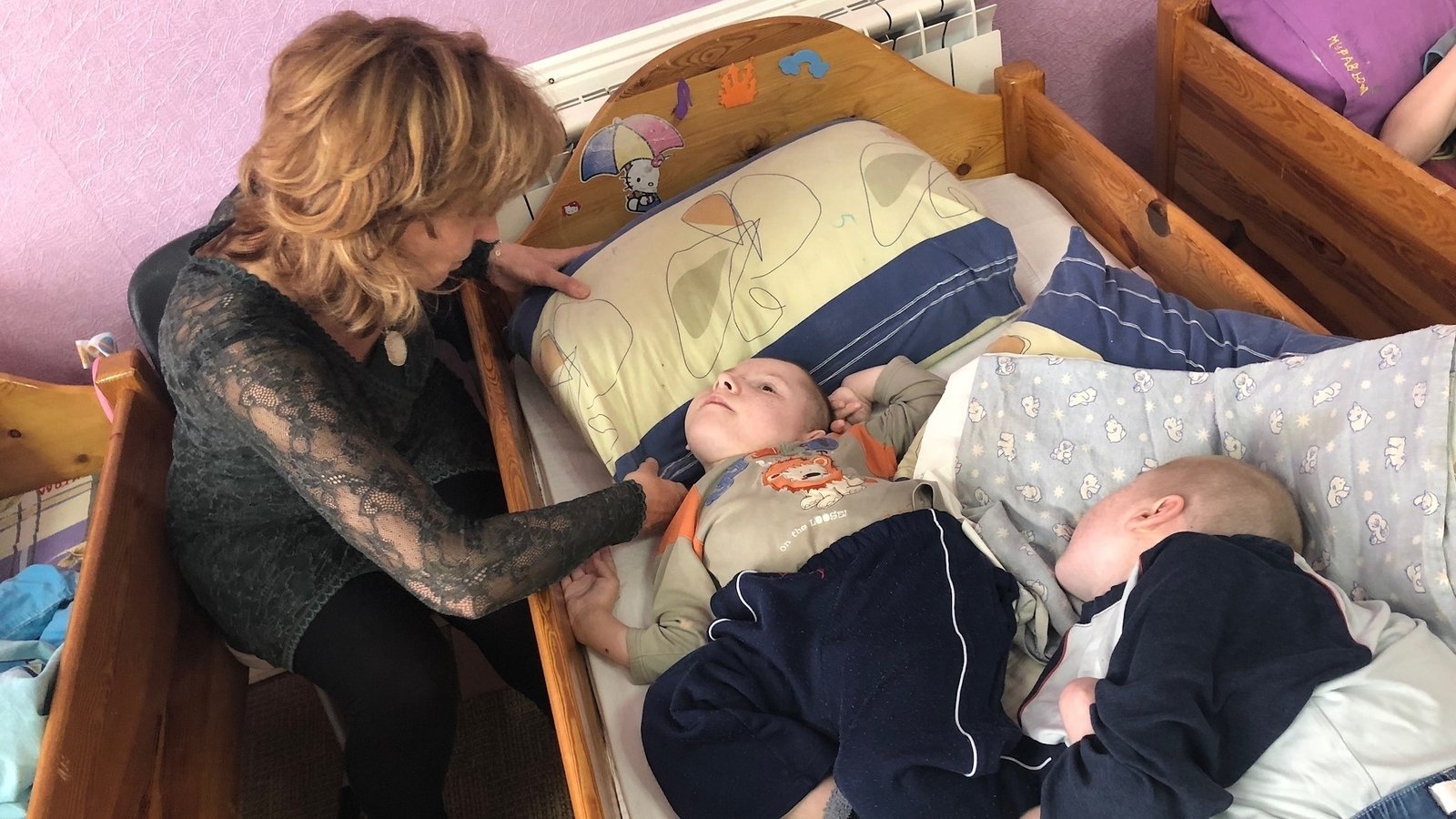 But the difference for Marina, Ilya, Vasa and Victor and all Vesnova's other residents now though, compared to the children the Irish volunteers met on that fateful day 21 years ago, is two fold.
First, they have more of the medical support they require.
Chernobyl Children International funds extra nurses and carers in the High Dependency Unit and elsewhere in the institution to ensure the kids get the care they need.
The charity also sends a volunteer medical team out to Vesnova once every month to ensure there is continuity of care.
They bring suitcases full of medical supplies - basics like nappies, Sudocream, Calpol, dressings - simple and often inexpensive necessities which would otherwise be in short supply.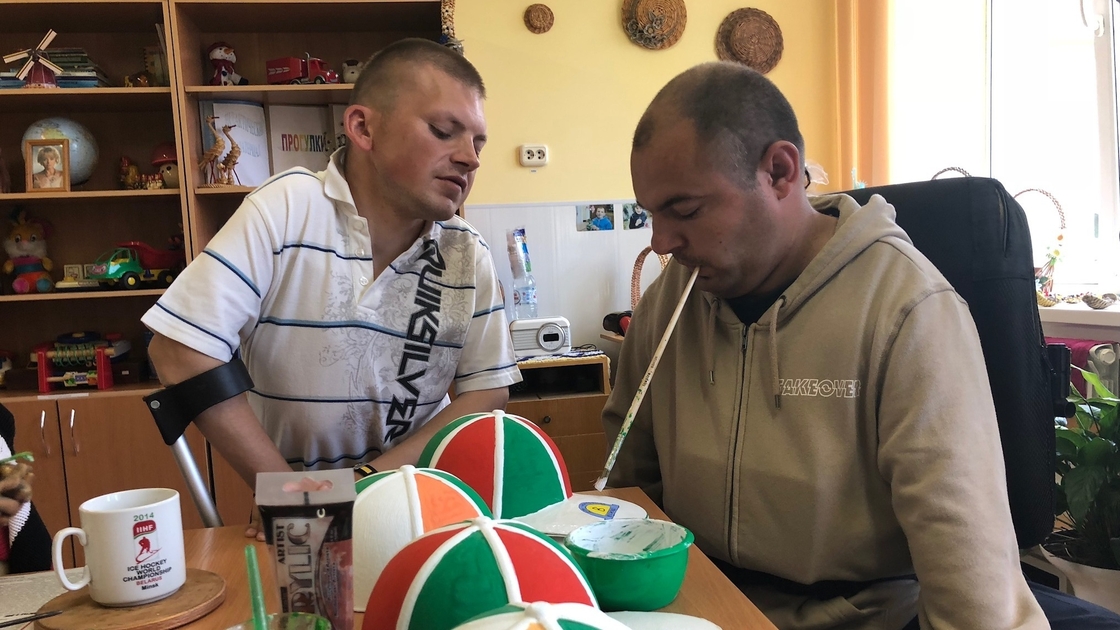 The second difference is the surroundings.
Over two decades, scores of Irish builders and volunteers have come to Vesnova to make it habitable again.
Painting, tiling, plumbing, heating, new construction, all done by volunteer tradesmen from Ireland, coordinated by Chernobyl Children International.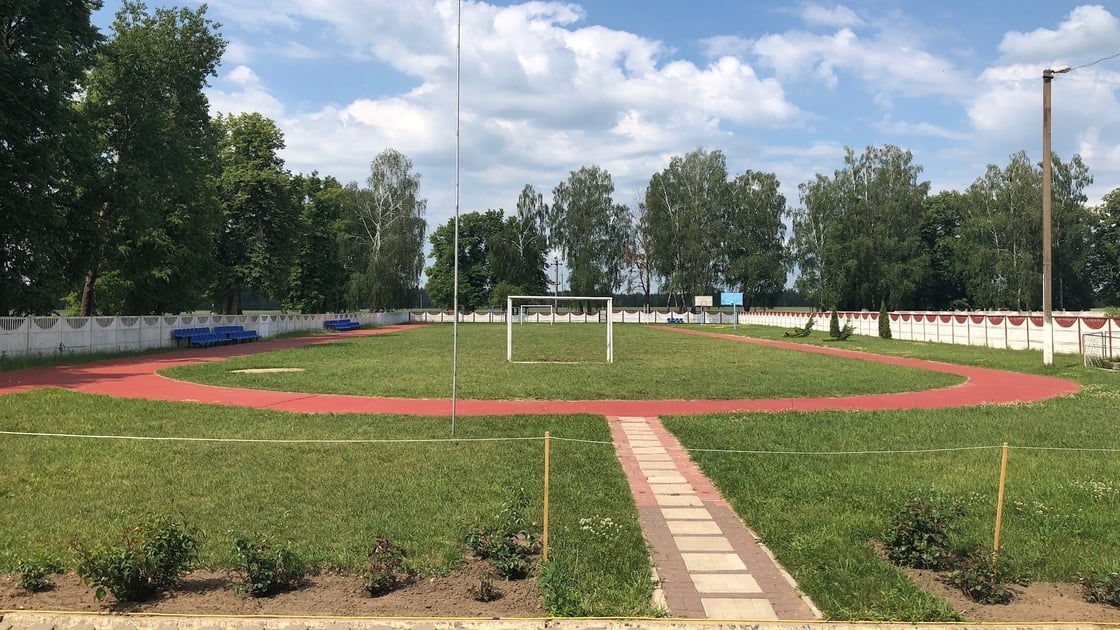 They also converted seven outbuildings into homes for boys who were reaching 18, and who would otherwise have had to move on to adult institutions - places which like the old Vesnova were generally considered to be devoid of hope.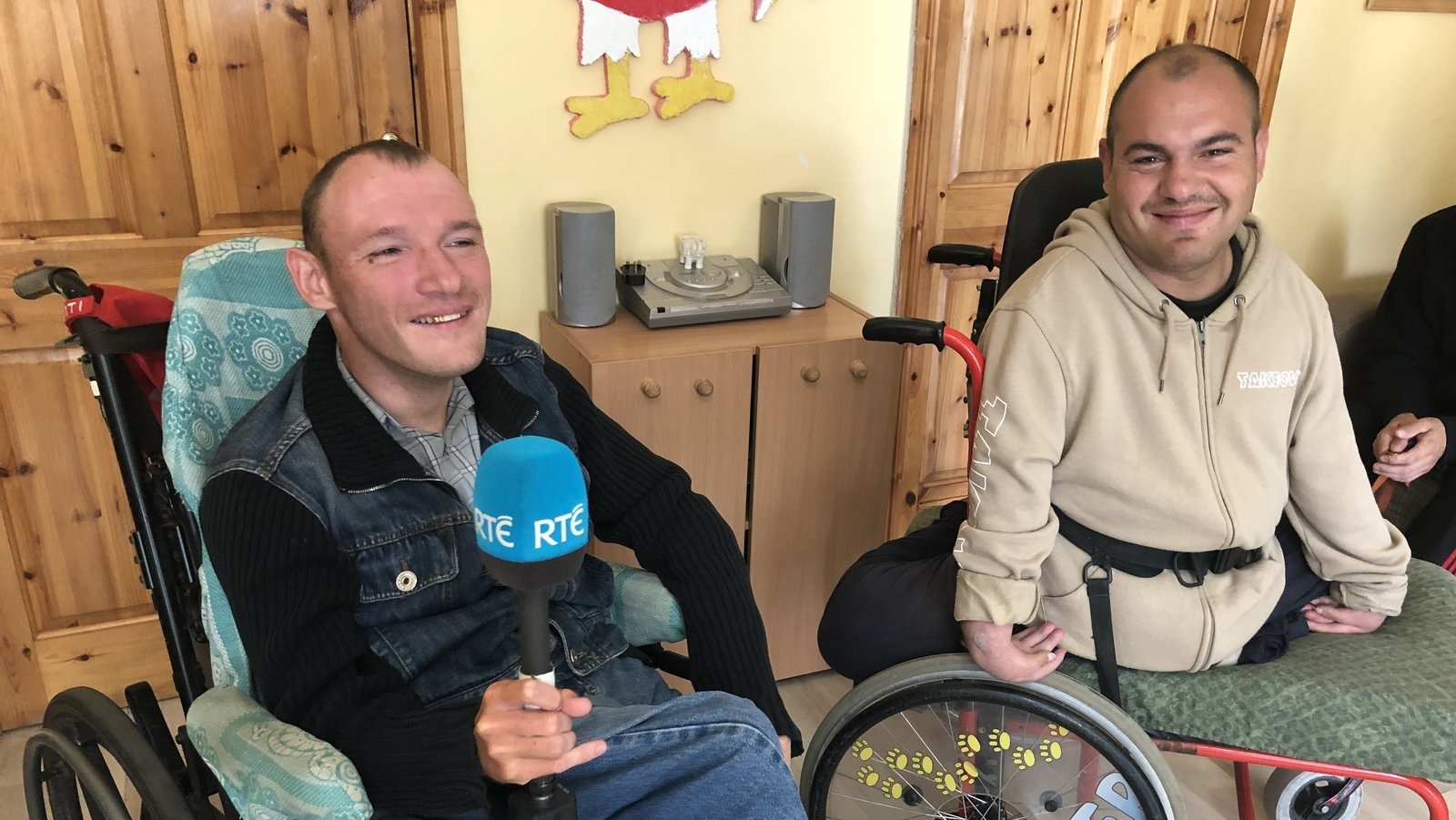 The new units, which had to be rebuilt a second time after they burned down when struck by lightning, allow the older lads to live with a degree of independence in the orphanage setting.
"I get everything what I want, so this is like home," Sasha Levkin tells me in broken but clear English he has learned from the visiting Irish builders and from his dozen or so respite trips to families in Ireland.
"I am very happy because I am safe."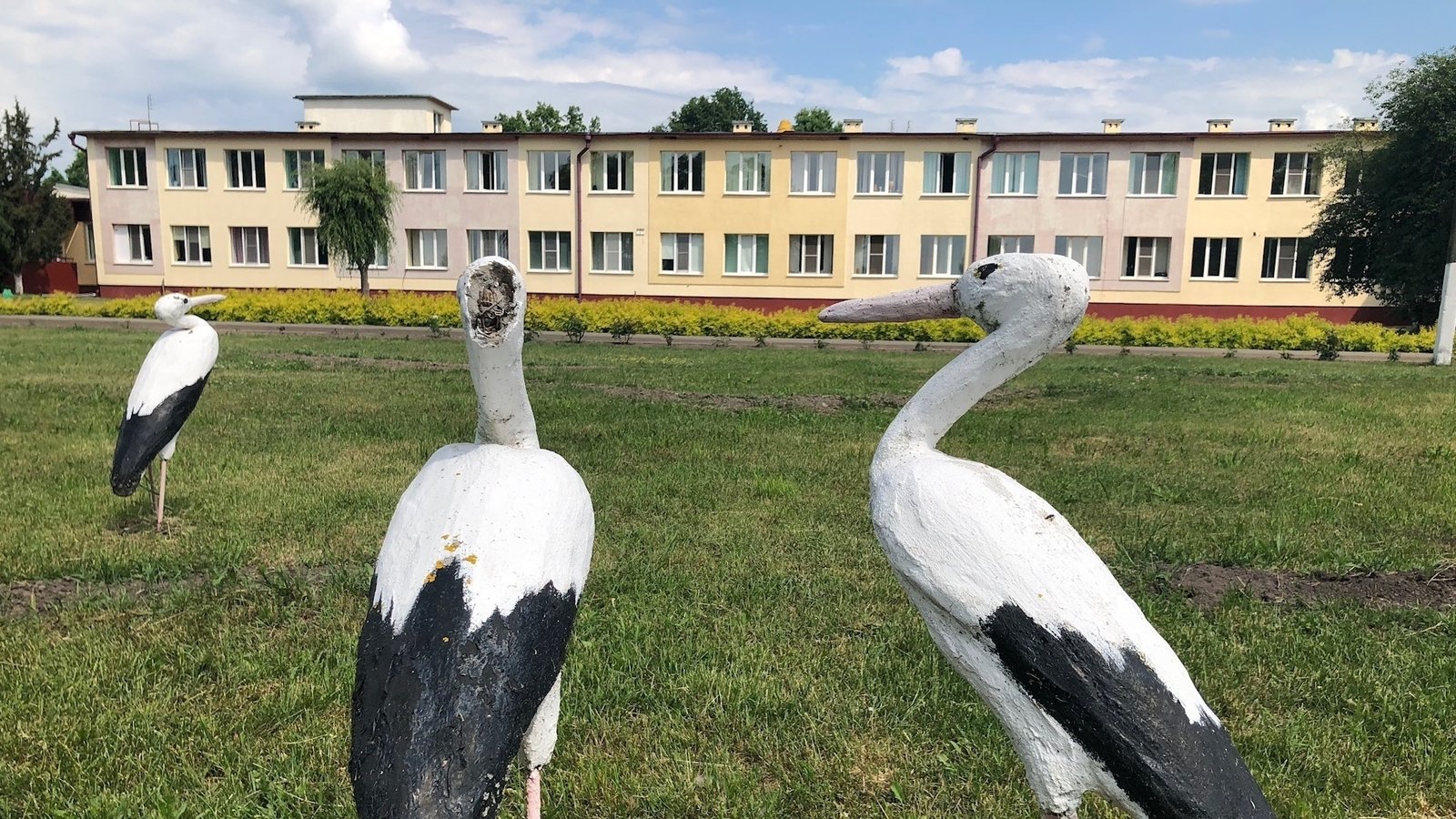 Upstairs in Vesnova are learning rooms, again kitted out by Irish volunteers, where the children receive basic education and life skills.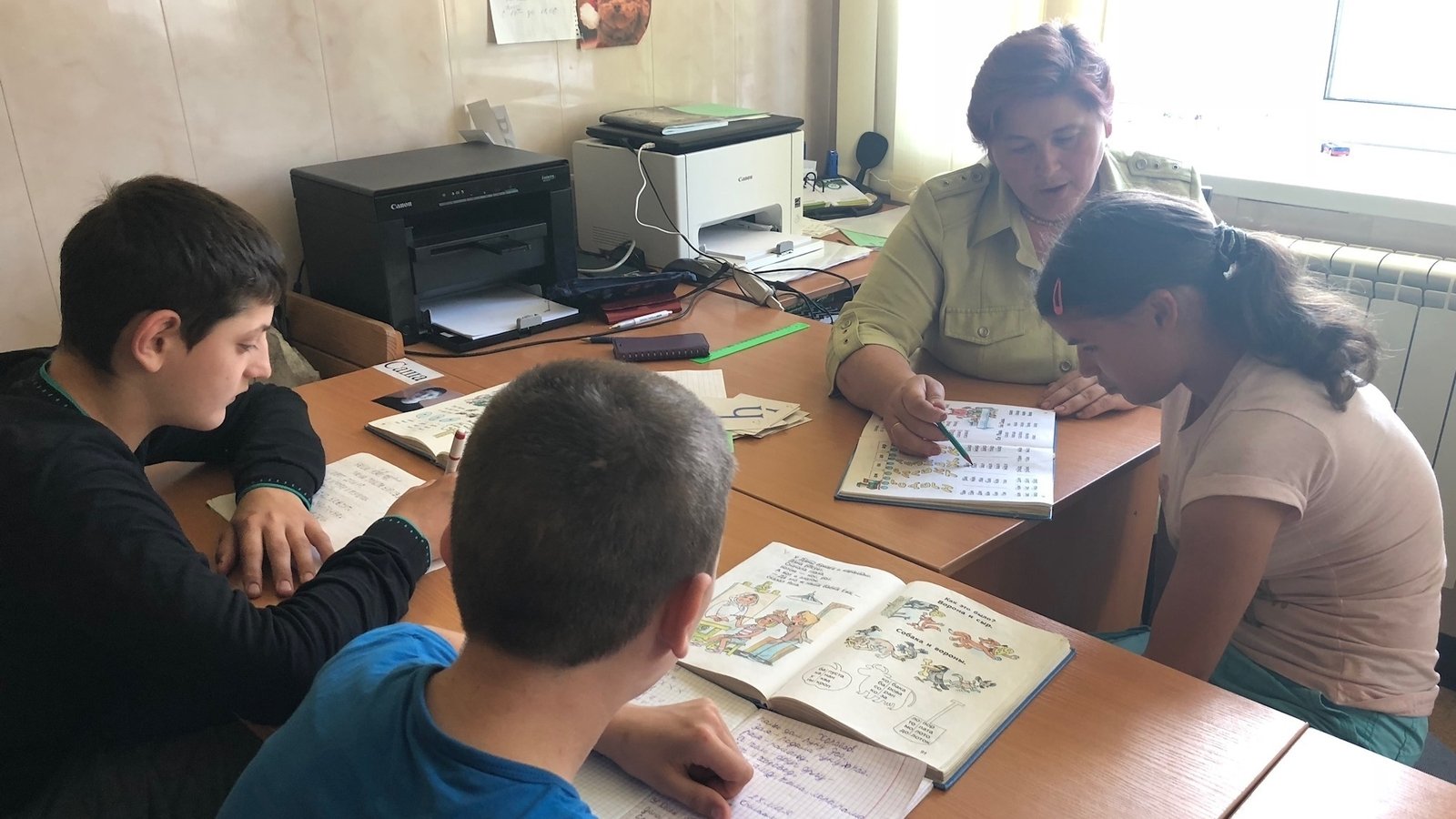 Chernobyl Children International wants as many as possible to be deinstitutionalised - to move back into the community where they can live a normal life.
To do this though they must be able to integrate and where possible work.
We visit a house in a nearby village where a group of lads live side by side with the community.
One is proud to be working as a cobbler. Another has aspirations to become a mechanic.
For now though they live together, with a minder, as they learn how to care for themselves, each other and their surroundings.
The charity would also like to reduce the number of children that have to enter orphanages in the first place.
To do this, it has bought 30 homes across Belarus with the assistance of Irish donors.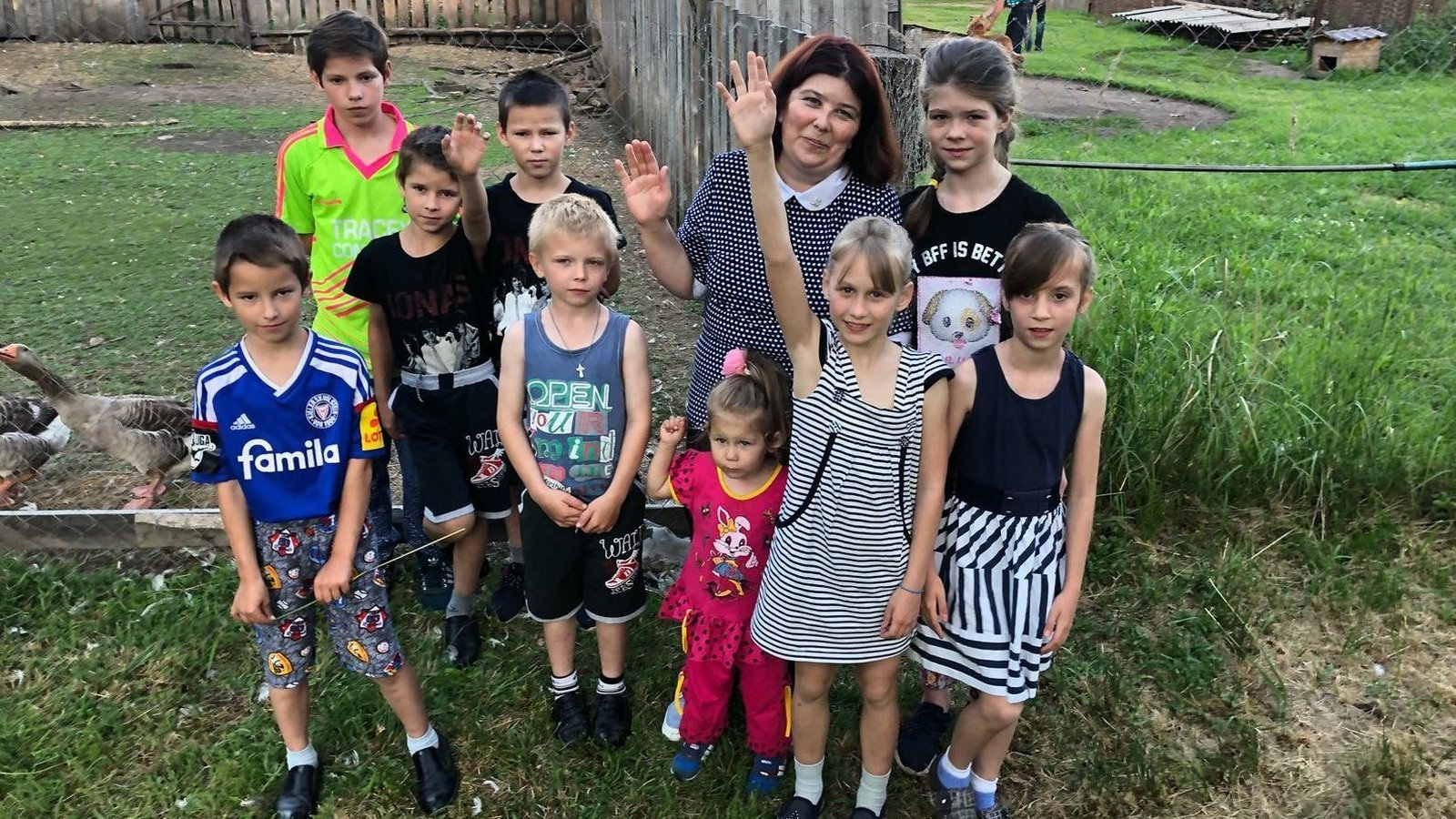 Couples are then let live in them provided they foster up to 10 children who are coming from troubled homes and who may have been the victims of physical or even sexual abuse.
In return the Homes of Hope programme gifts the house to the couple after 15 years.
"It is an incredible feeling when you feel that you help these kids, kids who don't have anything," foster mother Svetlana Kondaratenya tells me.
Their own parents don't call, don't even know how they are. You realise that you are not wasting your life. Your life has a purpose.
It has already proven a success. Chernobyl Children International says it has led to dozens of children, once living in turmoil, growing instead into stable adults within a family setting.
It has also, in effect, resulted in the equivalent of two of the 300 Vesnova-like institutions that are dotted around Belarus being shut down.
The extent to which the health and societal challenges faced by the children of Vesnova and other projects Chernobyl Children International operates in Belarus can be directly blamed on the Chernobyl accident aren't clear from any official data.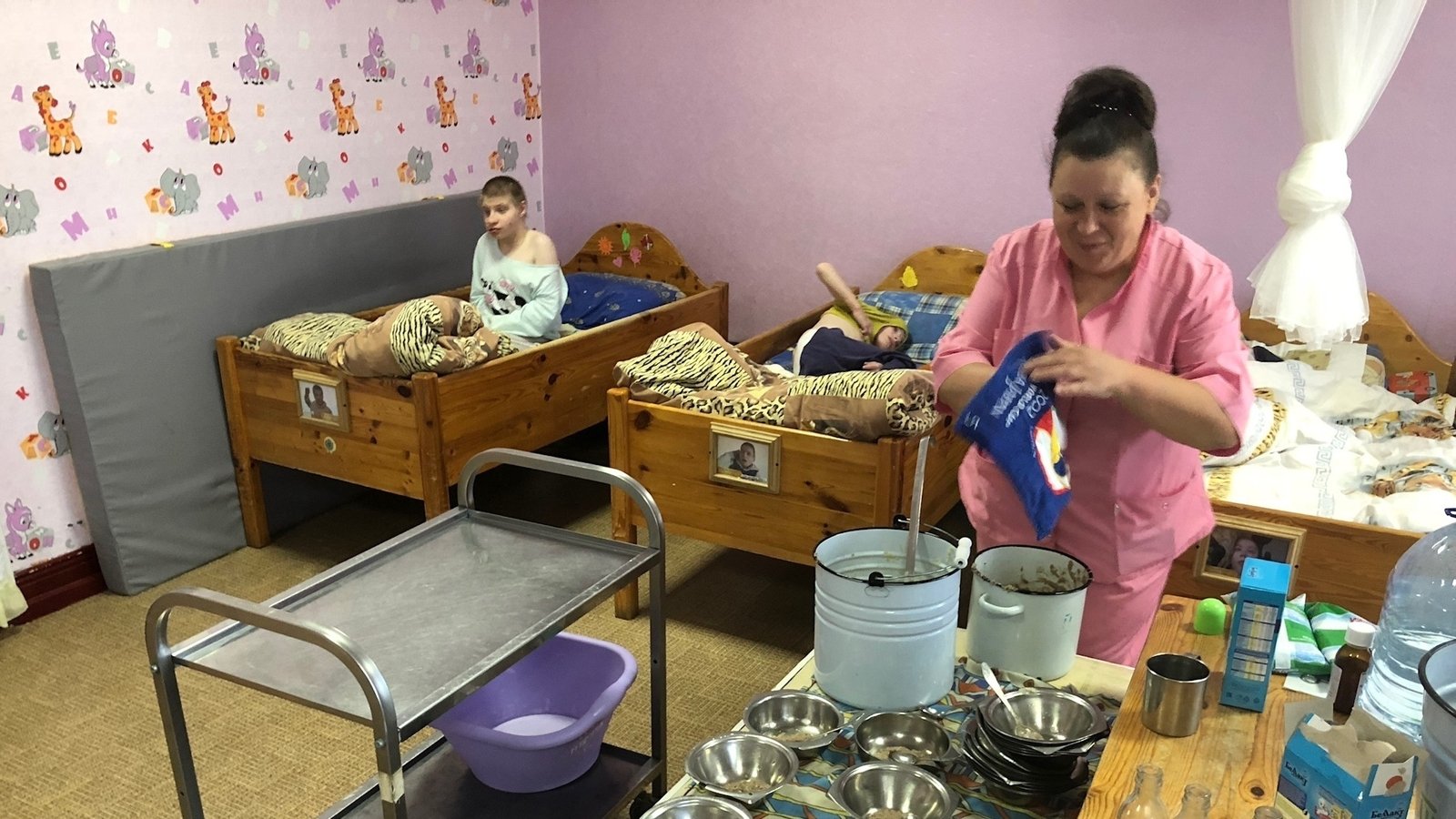 But Marie Cox, Medical Co-ordinator with Chernobyl Children International says there has to be a link.
"Per head of population here there would be a lot more illnesses," she says.
"That has a knock on effect on the whole system that is there and that the state can provide because there is just so many of them. They are overwhelmed."
It is hard not to be overwhelmed when you visit a place like Vesnova for the first time, especially when you see children the same age as your own.
CCI can only do so much, and it knows it.
Intervening in a state run system is fraught with challenges and the needs will always be greater that a group of volunteers from Ireland with limited resources can meet.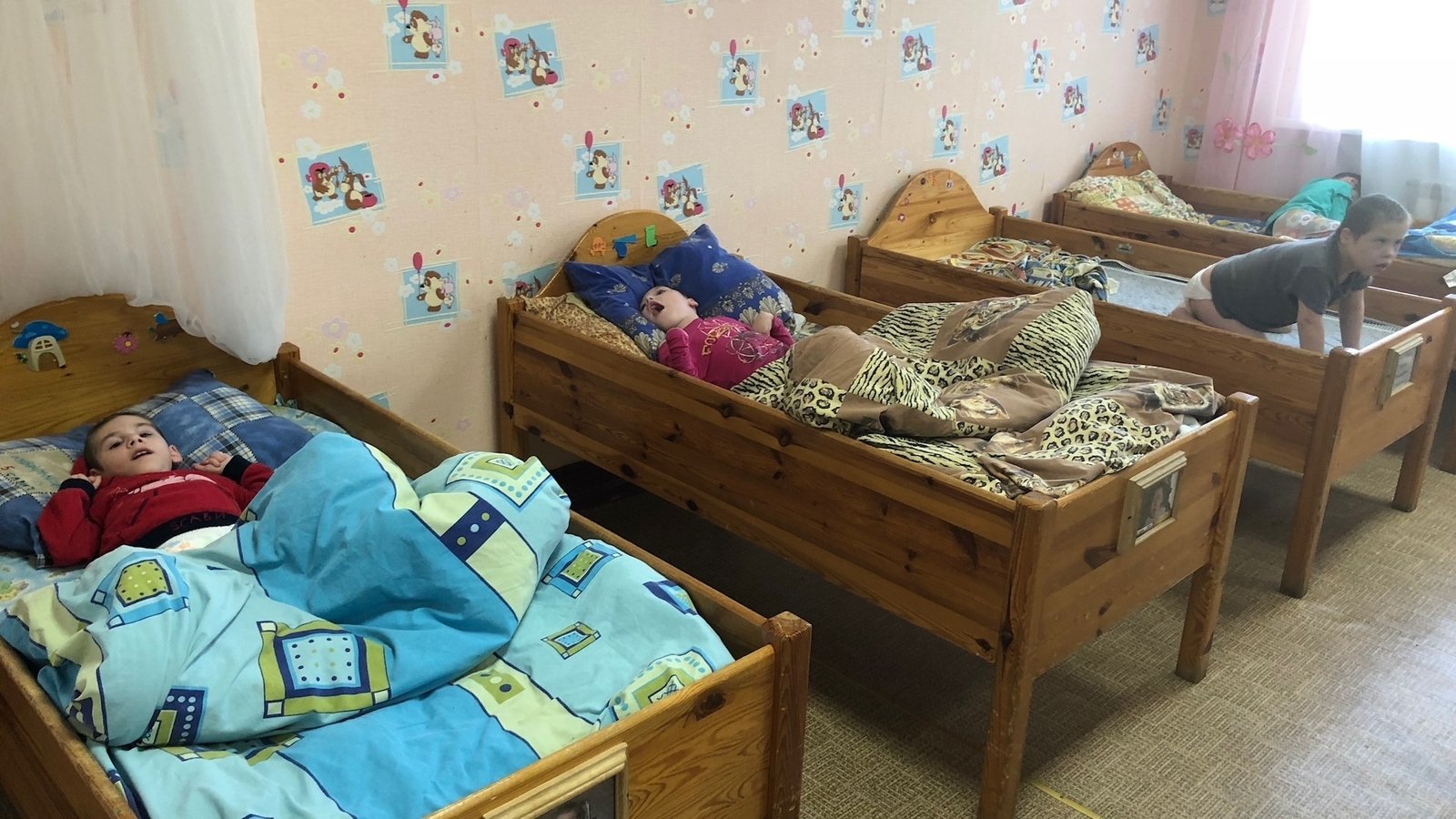 But either way, Adi Roche says the work will continue.
"While I suppose in a sense we can't undo the damage of what has happened, our engagement, our intervention is boundless actually," she claims.
"And that is what in a sense is what gives us great consolation. Because we can never prove, ever, how many victims there has been from Chernobyl or how many will be born in the future."
"These children are the third generation of Chernobyl, we call this Chernobyl legacy. It is not like it is a geometric proposition or a mathematical equation that can be resolved."
"And yet the tragedy is very very real. So in a sense we've stopped asking those question because this is what we see and this is what we experience."
And as long as there are children like Victor and Vasa and Marina and others, the people of Ireland will always be here. That generosity, that sense of that we have a responsibility to our fellow human beings really.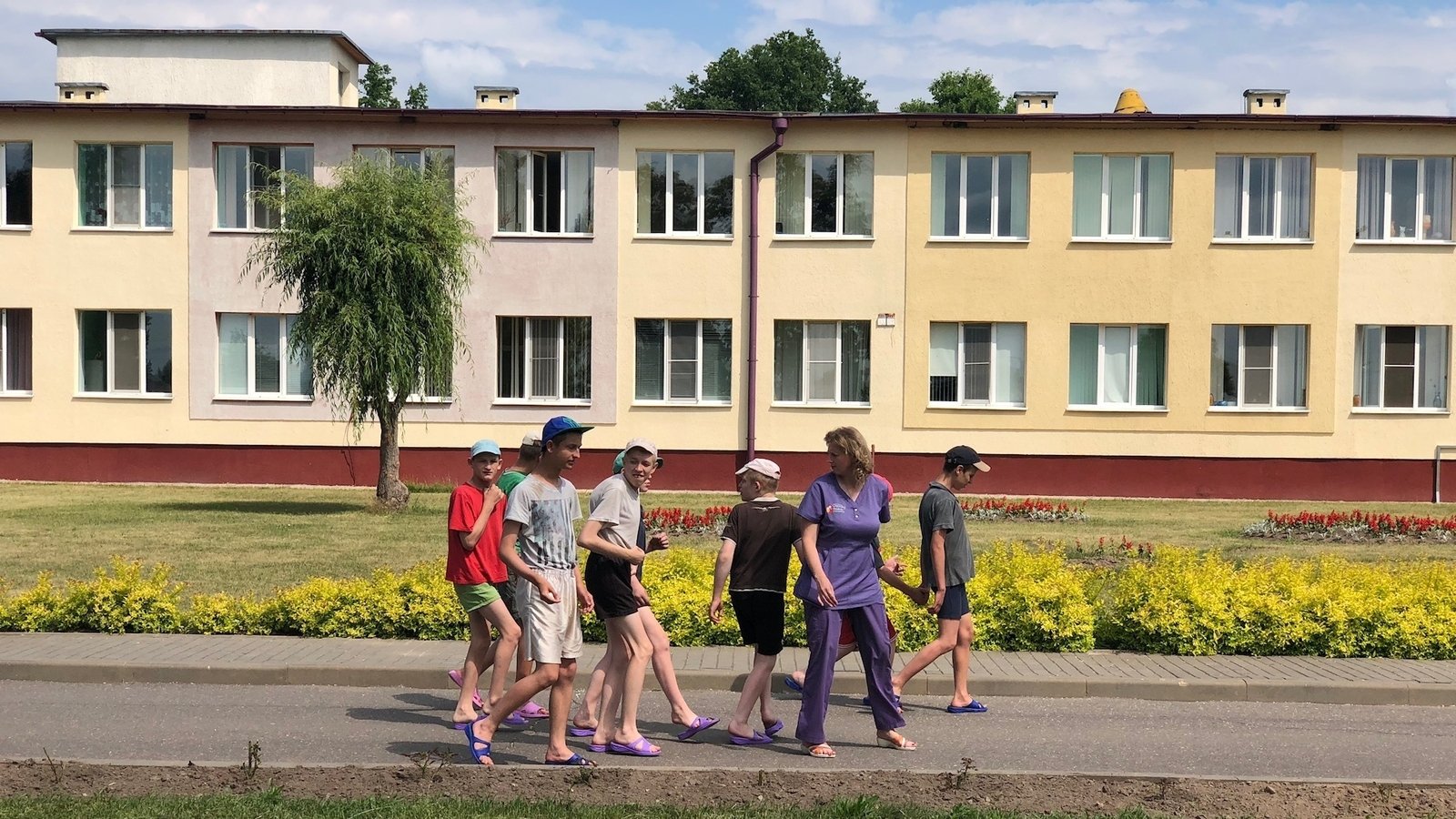 This report was supported by the Simon Cumbers Media Fund.