The Health Service Executive has said the capacity to test for the coronavirus will be doubled from this week, to around 4,500 tests a day.
A network of laboratories and 50 community test centres have been set up across the country.
The HSE has said it has managed to secure a supply of reagent, which is a crucial component in the testing process, despite a global shortage.
A German supplier is also now testing around 2,000 tests from Ireland a day.
Public health doctors have warned the next seven days are crucial to reduce the peak of the virus.
They have reiterated their call for people to stay at home where possible and to self-isolate if they display any symptoms.
The Vice-President of the Irish College of General Practitioners has said the first Covid-19 community assessment hubs, which are starting this week, will keep patients from overburdening the hospital system while being treated for their symptoms by healthcare staff.
Speaking on RTÉ's Morning Ireland, Dr Nuala O'Connor said that the HSE-run units will see GPs refer patients who have been recuperating at home but are continuing to have symptoms, such as shortness of breath.
They will be assessed by nurses and GPs at the community hub and a decision can then be made as to whether they need to go to hospital for oxygen and other supports or can continue to recover at home.
In some cases, recovery in a community isolation unit may be suitable for them, Dr O'Connor said.
She added that if someone is showing symptoms of Covid-19, it will be assumed in the absence of test results that they have the virus and will be advised to self-isolate in a room of their house.
---
Read more:
Latest coronavirus stories
---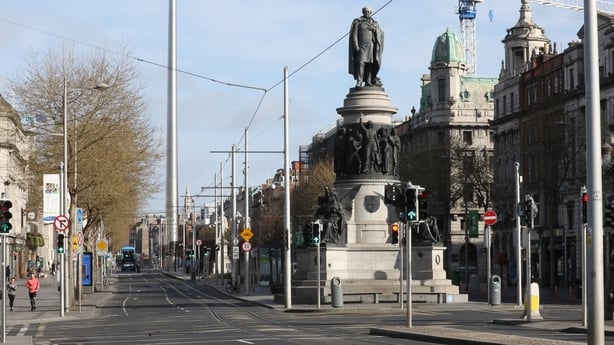 Meanwhile, Taoiseach Leo Varadkar has said he is concerned about people who have symptoms of other diseases who may not seek medical attention amid the virus outbreak, and said people should not be afraid to call their GP.
Speaking at McKee Barracks in Dublin, Mr Varadkar also said he understands the frustration of people over the age of 70 who are cocooning, but said the measures are working and saving lives and the number of cases has started to level off.
Mr Varadkar also said he has already completed a telephone session as part of his return to the health service working as a doctor yesterday.
Taoiseach @LeoVaradkar wishes @BorisJohnson the best in his recovery from Covid19 and says he will send him a message today @rtenews pic.twitter.com/YZbT06tKt4

— Aisling Kenny (@KennyAKE) April 6, 2020
Earlier, the Chair of Safeguarding Ireland said that nursing homes have been "struggling hard" to cope with the coronavirus crisis and that those who responded to the 'Call for Ireland' were mostly allocated to HSE hospitals and facilities.
Patricia Rickard-Clarke said nursing homes do not have the same level of qualified nursing staff and having a qualified person on duty every day has presented a problem.
Speaking on the same programme, she said that some staff did not turn up because of "fear and risk" and that there was a concern over infection control and protection for nursing home staff, who struggled to get Personal Protective Equipment.
She welcomed the package of supports announced by the Minister for Health, in particular the establishment of national and regional Covid-19 control teams specifically for nursing homes, adding that nursing homes need all the advice and help that they can get.
Ms Rickard-Clarke said Nursing Homes Ireland has arranged for school children to write letters to residents and said it was important for people to keep in contact with residents.
There are a total of 5,364 confirmed cases of Covid-19 in Ireland and 174 have died.
In Northern Ireland, 70 people have died and 1,158 cases have been confirmed.
Around 80% of cases of Covid-19 will be a mild to moderate illness, close to 14% have severe disease and around 6% are critical.
Generally, you need to be 15 minutes or more in the vicinity of an infected person, within 1-2 metres, to be considered at-risk or a close contact.
There are now 236 separate outbreaks of the coronavirus in Ireland, linked to 903 confirmed cases.
Cases from these clusters now account for 20% of all cases in the country.
These figures are based on data released by the Health Protection Surveillance Centre today.
According to this latest report, there were 4,443 confirmed cases of Covid-19 up until midnight on Friday 3 April.
At this point, 1,203 patients in total had been admitted to hospital, while 165 people had been treated in ICU.
By midnight on Friday, 151 deaths linked to the virus had been recorded.
Of the 236 clusters of infection, 57 of them were in nursing homes, which is an increase of seven from the previous day.
There are 43 clusters in hospitals, 26 in residential institutions and 14 in community hospitals or long-stay units.
The number of healthcare workers with the virus has also increased to 1,163 (26%) of all cases.
So far, those with the virus have a median age of 48.
Dublin remains the county with the most confirmed cases at 2,490 (56%).
Cork has the next highest figure at 343 (7.7%), followed by Kildare on 152 (3.4%) and Wicklow 132 (3%).
Additional reporting: Laura Hogan