Nursing home staff are to have their temperatures checked twice a day as part of new measures to tackle the coronavirus in these settings. 
The measures were announced by Minister for Health Simon Harris today. 
Forty clusters of infection have been identified in nursing homes so far - the majority in the east of the country.
According to the Health Protection Surveillance Centre, a cluster is three or more cases in an institution within a 72-hour period.
National and regional Covid-19 infection prevention and control teams are being set up, and advisers will liaise with each nursing home and homecare providers on this. 
Minister Harris said that equal supply of personal protection equipment (PPE) and access to oxygen will be provided to nursing homes and homecare providers. 
He said that movement of staff between nursing home settings needs to be minimised and that nursing homes do "active screening" of staff twice a day. 
The Government is recommending that the temperature of all staff is taken twice a day, to ensure that if any staff member is feeling unwell or developing symptoms of a fever that they can go home. 
Each nursing home will also have to produce a Covid-19 preparedness plan and allocate a team, or at least one person, to be their lead contact on the virus. 
Taoiseach Leo Varadkar and Mr Harris took part in the now weekly teleconference of medical leaders at the Department of Health this morning to discuss the situation.
Earlier this week the National Public Health Emergency Team recommended additional measures required to further support nursing home residents. A range of enhanced measures were recommended to assist residents and staff in nursing homes.
Mr Harris also said that in addition to these measures, a temporary Covid-19 financial support scheme is being introduced and will be established in the coming days, to support the critical services provided by nursing homes.
The scheme will provide a temporary assistance payment to support private and voluntary nursing homes in managing any outbreak that occurs. It is envisaged that the scheme will operate for a three-month period. It will be reviewed after the first month's operation.
Providing the financial supports to nursing homes actively managing an outbreak could cost up to €72 million over three months. 
Minister Harris said this would be the cost if every nursing home claimed the maximum benefit. 
---
Read more: 
Latest coronavirus stories
Infection rate of those with Covid-19 has dropped, figures show
Five positive things happening now
---
The first is a support payment per month, based on the number of residents on the Fair Deal scheme. 
This would be €800 per resident per month for the first 40 residents.
After this, it would be €400 per resident per month for the next 40 residents and €200 per resident per month thereafter. 
Nursing homes that are actively managing an outbreak of the virus can seek an enhanced assistance programme. 
This would be a maximum payment of €75,000 per month. This payment is available for April, May and June and will be reviewed after that.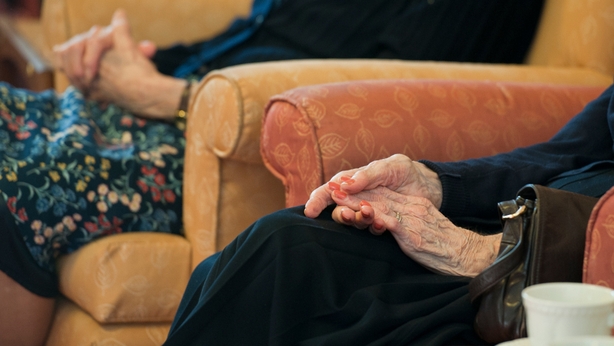 CEO of Nursing Homes Ireland Tadhg Daly said he welcomed that the focus has shifted to nursing homes.
Mr Daly said continued prioritisation for testing must be given to residents and staff in nursing homes and timely access to PPE must become the norm.
"We remain committed to working with the Minister and Government during this pandemic in providing the best possible care in difficult times for residents and staff," he said. 
"Engagement must be ongoing between nursing homes and their staff and we welcome the Minister's commitment today for ongoing engagement with the sector.
"Today's measures are an important step to support nursing homes to manage the unique challenges presented by Covid-19," he added.
Last night, the Chief Executive of the Health Service Executive Paul Reid said teams of senior nurses and public health doctors would be sent into nursing homes to support them in their efforts to control the virus.
He said they would also be ensuring that agency nursing staff would not be attending multiple nursing homes.
The medical personnel are being deployed in crisis response teams and their task will be to assist and advise staff on how best to contain and deal with infections.
Dr Cillian De Gascun, Chair of the HSE coronavirus group and Director at the National Virus Reference Laboratory at UCD, has said healthcare workers "across the board" are being prioritised for testing and this includes those in nursing homes.
Speaking on RTÉ's Saturday with Cormac Ó hEadhra, he said that nursing home staff "aren't being treated any differently" than healthcare workers.
Dr De Gascun also said it is "certainly possible" that we will have to live with some kind of restrictions until there is a vaccine for Covid-19.
Next seven days 'critical'
HSE specialist in public health medicine Dr Sarah Doyle has said that cocooning the over 70s is challenging and different but she said the measures are being done to protect people.
Speaking last night, she said: "You need to look it as a public health measure, we are still learning about the disease. It is crucial that people do get out and exercise." 
Dr Doyle added that there are supports out there for people who live alone and who are self-isolating. 
"People really want to help and it's just a matter of putting your hand up. If someone hasn't anyone to look after them, there are supports for them - supermarkets, GAA clubs and local authorities," Dr Doyle said. 
She said she does not think the Covid-19 restrictions will end rapidly
"It will be a slow lifting of measures, we need to remember the reasons why we are doing this," she said. 
"The next seven days will be critical."
Around 80% of cases of Covid-19 will be a mild to moderate illness, close to 14% have severe disease and around 6% are critical. 
Generally, you need to be 15 minutes or more in the vicinity of an infected person, within 1-2 metres, to be considered at-risk or a close contact.
But there are higher risk settings, where transmission is possible in a shorter time interval, where health staff are dealing directly with known or suspected cases in particular settings and may need personal protective equipment.
Additional reporting Orla O'Donnell