The Taoiseach has said it will be towards the end of next week before a decision can be made on the additional travel, work and social distancing restrictions announced by the Government last Friday.
Leo Varadkar was speaking after chairing a meeting of the Cabinet Sub-Committee on Covid-19, which was held to review the impact of the measures.
He said the surge has not yet come and is only starting now, adding that while progress is being made on flattening the curve, it is not enough.
The Fine Gael leader said the rate of increase in confirmed cases was falling from 33% to 10% now, although there was a slight uptick today. He said it was necessary to get the rate of increase down to 5% or less.
Mr Varadkar said 2,500 people are being tested for the virus per day, saying this is not where they wanted to be and that "ramping up" testing is a Government objective.
Briefing by Taoiseach Leo Varadkar following the meeting of the Cabinet sub-committee on Covid-19 | Follow live updates: https://t.co/pEIGg5h65m https://t.co/tSMCsCAcJx

— RTÉ News (@rtenews) April 2, 2020
Mr Varadkar also said ten flights carrying personal protective equipment have arrived to date. He said this PPE is being checked by senior clinicians before being distributed.
The Taoiseach said that the supply chain for food and goods is "looking good", saying there were no particular concerns at the moment.
He added that the Government hopes to be in a position to provide childcare in the home for healthcare workers in the coming days, but said this is still being developed at present.
Mr Varadkar said Ireland would be affected by the imminent global recession. He said he hoped to avoid a period of austerity but rather try to stimulate the economy back to growth.
The Taoiseach said the economy was in hibernation, but was preparing for recovery and would be roaring again in a few months.
He said he was not sure whether Minister for Health Simon Harris had signed the regulations giving extra emergency powers to gardaí and he would have to check.
Mr Varadkar also said the State examinations would still go ahead and plans were being drawn up to ensure both the Leaving Certificate and Junior Certificate exams would happen.
---
Read more:
Plane carrying medical supplies lands at Shannon
Economic cost of Covid-19 could top €16 billion - Donohoe
513,350 people claim jobless benefits, wage subsidy
Latest coronavirus stories
---
The Sub-Committee meeting comes as the death toll in Ireland from the virus has risen from nine just one week ago to 98 today.
So far, 134 confirmed Covid-19 cases have been admitted to intensive care units in hospitals, which is up from 39 a week ago.
In addition, a significant number of seriously ill people, suspected to be suffering from the virus but who have not yet tested positive, have also been admitted to intensive care units.
Earlier, Tánaiste Simon Coveney said the highly restrictive measures put in place last week to slow the spread of Covid-19 may well be extended beyond the initial deadline of 12 April.
Minister Harris confirmed that the new isolation and step-down facility for Covid-19 patients at Citywest Hotel on the outskirts of Dublin, with 1,100 beds and over 700 rooms, is already up and running.
The first 15 patients starting arriving there yesterday from hospitals in the Dublin area, and similar facilities are due to be opened in other parts of the country in the coming weeks.
In a short time we have scaled up on, testing centres, testing kits, contact tracers, nbr of Labs, hospital beds, ICU, ventilators, PPE, staff.
Our current major issue is "reagents" for labs. A worldwide shortage. We are working hard to fix this. Bear with us @HSELive #COVID19

— Paul Reid (@paulreiddublin) April 1, 2020
HSE Chief Clinical Officer Dr Colm Henry said that testing for Covid-19 infection would be ramped up significantly in the next ten to 14 days as supplies of key laboratory chemicals required for the tests are delivered.
HSE CEO Paul Reid has said the HSE is currently involved in a "chase around the world" for reagents, which are essential for the testing process.
He added that the HSE has put in place three interventions in order to speed up the testing process for Covid- 19.
Speaking on RTÉ's Today with Sean O'Rourke, Mr Reid said some testing will be processed abroad to help address the queue of those waiting for tests and focus on priority groups, such as healthcare workers and patients in hospitals.
He said some sources of reagent have been found in China and in addition, he said, work is being done with Irish pharma companies and labs in order to ramp up production of the reagent.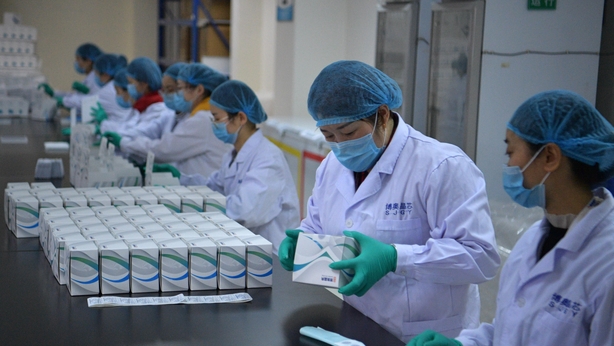 Matt Moran of BioPharmaChem Ireland said that a Clonmel-based company has secured 700kg of the product from Switzerland and the industry hopes to use this to manufacture the reagent on an industrial scale and make it available to the HSE.
He said the product has been approved by hospitals and could make enough reagent for at least half a million swab tests before the end of April.
The raw material is used to break open a sample cell and allows analysts to check for the genetic makeup of the virus.
Additional Reporting George Lee