The United States has surpassed 200,000 coronavirus cases, according to a tally kept by Johns Hopkins University.
The pandemic has claimed the lives of at least 4,361 people - higher than the toll in China - and the US leads the world in the number of confirmed infections with 203,608, according to the Johns Hopkins count.
A six-week-old infant is among those who have died, according to the governor of Connecticut.
Ned Lamont tweeted that the newborn was "brought unresponsive to a hospital late last week and could not be revived.
"Testing confirmed last night that the newborn was Covid-19 positive," Mr Lamont said.
"This is absolutely heartbreaking. We believed this is one of the youngest lives lost anywhere due to complications relation to Covid-19."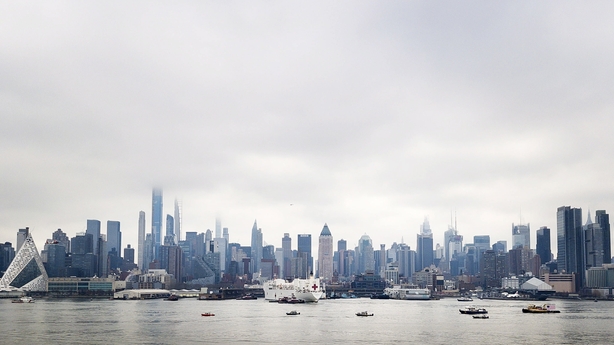 Emergency field hospitals have been set up in New York's Central Park and at the home of the US Open tennis tournament in the city.
The pandemic has killed more than 1,700 New Yorkers and US President Donald Trump, a native of the city, warned in Washington of "a very, very painful two weeks" to come for the entire country.
Already the hardest-hit area, America's financial capital is in a race to ramp up hospital capacity before cases peak.
Around a dozen tents, equipped with 68 beds and ten ventilators, have been put up in Manhattan's iconic park, with Covid-19 patients expected to start arriving.
New York state has seen far more cases and deaths than any other since announcing its first infection on 1 March and quickly emerging as the epicentre of the US outbreak.
The state's almost 20 million residents have been told to stay at home, unless for essential activities, until mid-April, a date that is likely to be extended with the peak of the pandemic expected at the end of the month.
New York is by far America's worst-hit state, accounting for almost 2,000 Covid-19 deaths out of around 4,361.
---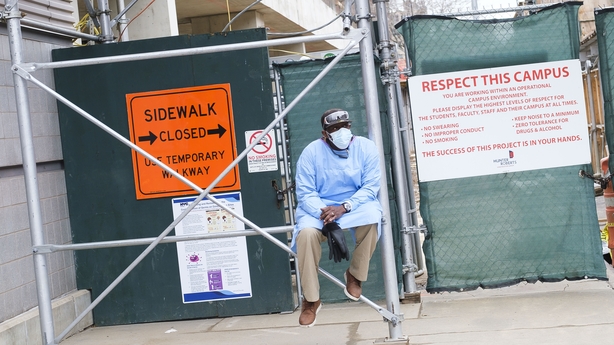 More than 83,700 declared cases have been declared across the state, out of almost 200,000 across the country.
Mr Cuomo has told police officers to get "more aggressive" in enforcing social distancing as he closed the city's playgrounds and basketball courts.
He said he was shutting the facilities because youngsters were failing to comply with guidelines designed to contain the coronavirus outbreak.
"You still see too many situations with too much density by young people. Compliance is still not where it should be.
"Use the open space in a park, walk around, get some sun. Great. No density, no basketball games," Mr Cuomo said.
---
Read more:
Latest coronavirus stories
---
He has ordered the closure of all playgrounds in New York City and called on the city's police officers to do more to break up public gatherings of residents.
"The NYPD has to get more aggressive. Period".
Mr Cuomo's comments come after Mayor Bill de Blasio said earlier this week that New Yorkers could be fined up to $500 for failing to practise social distancing.
US Navy evacuating virus-struck aircraft carrier Roosevelt

The US Navy is evacuating thousands of sailors from the nuclear-powered aircraft carrier USS Theodore Roosevelt in Guam after its captain warned that a coronavirus outbreak was threatening the lives of the crew.
With dozens of Covid-19 cases discovered, a senior official said the navy was rapidly arranging hotel rooms on the Pacific island for many of the 4,000-plus crew, while organising a skeleton team of uninfected sailors to keep the ship operational.
Pentagon officials admitted the Roosevelt's plight was a challenge for military readiness, noting that defence forces worldwide are equally confronted by the pandemic.
"The plan at this time is to remove as many people off the Teddy Roosevelt as we can, understanding that we have to leave a certain amount of folks on-board to perform normal watch-standing duties that keep the ship running," Rear Admiral John Menoni, commander for the Marianas region, told reporters in Guam.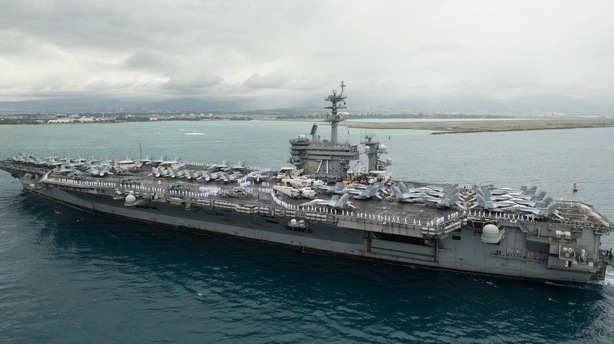 Earlier this week the captain told the Pentagon that coronavirus was spreading uncontrollably through his ship and called for immediate help to quarantine its crew.
"The spread of the disease is ongoing and accelerating," Captain Brett Crozier wrote in a letter to superiors.
"We are not at war. Sailors do not need to die," he pleaded.
"Removing the majority of personnel from a deployed US nuclear aircraft carrier and isolating them for two weeks may seem like an extraordinary measure," Captain Crozier said. "This is a necessary risk."