US President Donald Trump warned of a "very painful" two weeks ahead as the United States wrestles with a surge in coronavirus cases.
"This is going to be a very painful, a very, very painful two weeks," he told a press conference at the White House.
Mr Trump described the pandemic as "a plague."
"I want every American to be prepared for the hard days that lie ahead," he said.
Health experts said that the decision to maintain strict social distancing was the only way to stop the easily transmitted virus, even if this has caused massive disruption to the economy with three quarters of Americans under some form of lockdown.
"There's no magic vaccine or therapy. It's just behaviours, each of our behaviours translating into something that changes the course of this viral pandemic over the next 30 days," Deborah Birx, coronavirus response coordinator at the White House, said.
Ms Birx displayed a chart at the press conference charting a range of 100,000 to 240,000 deaths in the United States, when current efforts at mitigation are taken into account.
Infectious diseases specialist Anthony Fauci told the press conference that "mitigation is actually working" and that authorities are "doing everything we can to get it (the death toll) significantly below that."
Earlier, the captain of the US aircraft carrier Theodore Roosevelt told the Pentagon that Covid-19 is spreading uncontrollably through his ship and called for immediate help to quarantine its huge crew, two US newspapers reported.
Captain Brett Crozier wrote in a four-page letter that they had not been able to stem the spread of the Covid-19 virus through the 4,000 crew members, describing a dire situation aboard the huge vessel now docked at Guam.
"We are not at war. Sailors do not need to die," Mr Crozier wrote, according to the San Francisco Chronicle.
"The spread of the disease is ongoing and accelerating," Mr Crozier wrote, referring to the ship's "inherent limitations of space".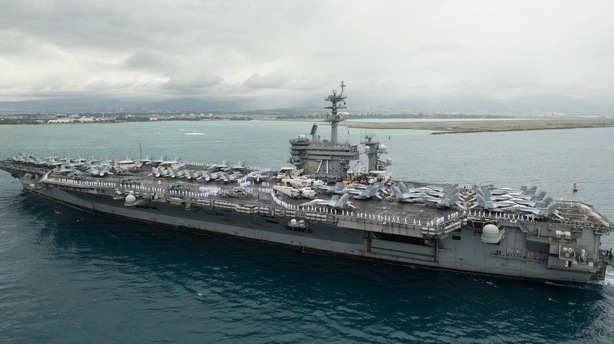 The US now has more than 165,000 confirmed coronavirus cases, the most worldwide, and the US death toll has surged past 3,400, exceeding China's official toll.
Scenes previously unimaginable in peacetime, such as a field hospital set to open in Central Park, shook frightened New Yorkers hunkered down in an eerily quiet city.
Mr Crozier asked to be able to quarantine nearly the entire crew onshore at Guam, saying keeping them all on board the ship was an "unnecessary risk".
"Removing the majority of personnel from a deployed US nuclear aircraft carrier and isolating them for two weeks may seem like an extraordinary measure," he said. "This is a necessary risk."
The Chronicle said that more than 100 aboard the warship had been confirmed infected with Covid-19. Mr Crozier asked in the letter for quarantine facilities for the entire crew on Guam.
"If we do not act now, we are failing to properly take care of our most trusted asset - our sailors," he wrote.
The US Navy did not confirm the contents of the letter, which were also reported by The New York Times.
In a statement a Navy official, under condition of anonymity, said that Mr Crozier had alerted his Pacific fleet leaders on Sunday of the problems aboard the warship.
"The ship's commanding officer advocated for housing more members of the crew in facilities that allow for better isolation," the officials said.
---
---
Brother of New York governor tests positive for coronavirus
CNN anchor Chris Cuomo, whose brother Andrew is the high-profile governor of New York state, said he has contracted coronavirus and will keep broadcasting from self-isolation in his home.
"In these difficult times that seem to get more difficult and complicated by the day, I just found out that I am positive for coronavirus," Mr Cuomo said on Twitter.
"I have been exposed to people in recent days who have subsequently tested positive and I had fever, chills and shortness of breath," he added.
"I just hope I didn't give it to the kids and Cristina. That would make me feel worse than the illness!"
March 31, 2020
Mr Cuomo, 49, presents his own weeknight news show on CNN, "Cuomo Prime Time." He said he would keep working from his basement, where he is quarantined away from his family.
"I will do my shows from here. We will all beat this by being smart and tough and united!"
The New York governor, who has ribbed his younger brother during interviews, mentioned the family situation during his daily press briefing, calling the CNN reporter his "best friend".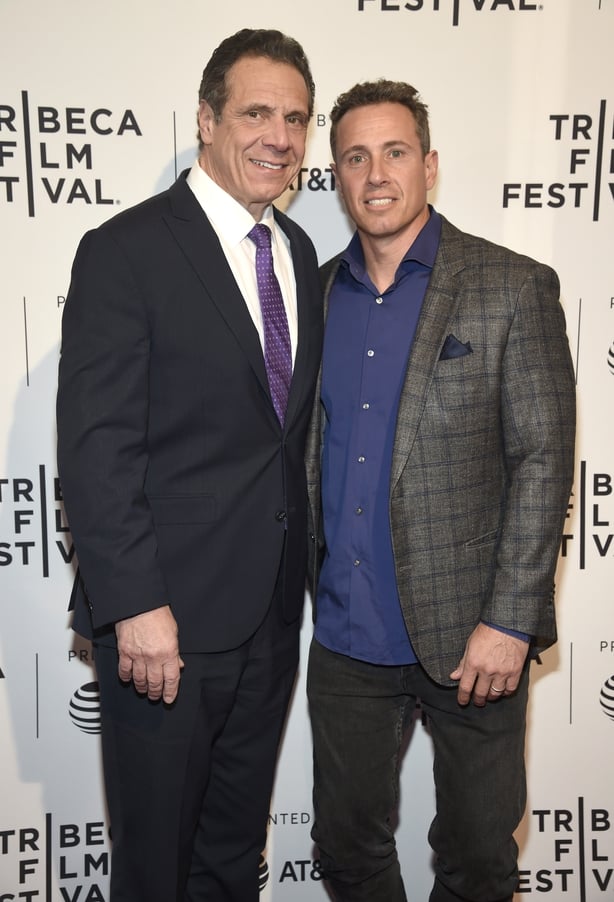 But he could not resist a bit of good-natured teasing, saying: "He's young, in good shape, strong - not as strong as he thinks, but he'll be fine."
Obama suggests Trump team 'denied warnings' of pandemic
Former US president Barack Obama took a veiled swipe at his successor Donald Trump, chastising those who have "denied warnings" of a deadly coronavirus pandemic and cautioning against ignoring the consequences of climate change.
The popular two-term Democrat took to social media as the Trump administration finalised a controversial rollback of Obama-era vehicle fuel economy and greenhouse gas emissions standards that were aimed at slowing global warming.
"We've seen all too terribly the consequences of those who denied warnings of a pandemic," Mr Obama posted on Twitter.
"We can't afford any more consequences of climate denial. All of us, especially young people, have to demand better of our government at every level and vote this fall."
We've seen all too terribly the consequences of those who denied warnings of a pandemic. We can't afford any more consequences of climate denial. All of us, especially young people, have to demand better of our government at every level and vote this fall. https://t.co/K8Ucu7iVDK

— Barack Obama (@BarackObama) March 31, 2020
The Republican leader's government has faced stark criticism for failing to heed early global alarms about the virus outbreak, after death tolls began to spike in places like China and Italy.
Mr Obama's tweet included a link to a story about the Trump administration's new rules.
In a statement, Transportation Secretary Elaine Chao said the Environmental Protection Agency and the Department of Transportation were rolling back "costly, increasingly unachievable fuel economy and vehicle CO2 emissions standards".
The stringency of those so-called CAFE standards will now be increased by 1.5% annually through 2026, substantially less than the roughly 5% annual increases issued in 2012, the EPA said.
Los Angeles virus patients isolate in mobile homes
A mobile home park near a Los Angeles beach, usually home to holidaymakers with an ocean view, has become an isolation zone for Covid-19 patients.
About 100 white caravans are lined up side by side at the Dockweiler RV Park, with mask-wearing guards blocking entrances as health workers in protective gear move in and out of the trailers.
The park is one of five shelters, including motel and hotel rooms, commissioned by Los Angeles County to isolate patients, especially those from among the county's tens of thousands of homeless people.
There were 21 people staying there as of Monday morning.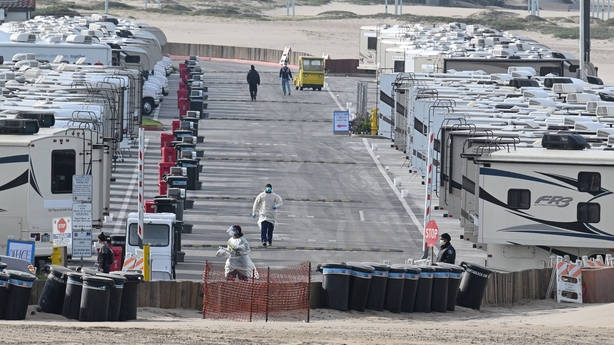 "We need places where people can be safely isolated from the public and even from their families," County Supervisor Janice Hahn said in a statement.
"We are using the Dockweiler RV Park for this purpose and we are actively identifying more sites like it for quarantine and isolation housing across the county."
There have been 2,505 Covid-19 cases and 44 deaths in Los Angeles County - the most populous in the US with nearly 10 million residents - according to a Johns Hopkins University tracker.