Up to a dozen Irish citizens are on board a cruise liner which is being refused entry to Panama after four passengers died from coronavirus and more than 140 others contracted the virus.
RTÉ News understands the Irish passengers are on board the Seattle-based Holland America cruise ship the Zaandam, which has been blocked from travelling through the Panama Canal due to the outbreak and is now rerouting to San Diego.
The Zaandam embarked from Buenos Aires in Argentina on 7 March with 1,243 passengers and 586 crew on board.
However, after concerns emerged during its voyage, it was stopped from travelling on its original route, forcing it to base itself off the coast of Panama and to request permission to reroute to California.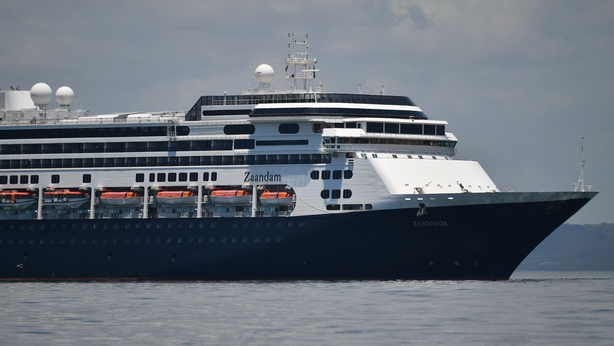 It is understood that in an address to passengers on Friday morning, the captain of the cruise ship confirmed that four passengers on board the ship had died from coronavirus.
In the address, the captain also said 138 other people on board, including 53 passengers and 85 crew members, are also sick with flu-like symptoms.
On Thursday, the Zaandam met with its sister ship the Rotterdam to receive additional medical staff and supplies.
The second ship is expected to take hundreds of healthy passengers off the Zaandam as part of a humanitarian mission while anchored off the coast of Panama.
However, before doing so all passengers will be tested by the Centers for Disease Control and Prevention, with only those who test negative for coronavirus allowed to leave the ship.
One Irish family on board the Zaandam told RTÉ News on Friday: "The passengers in this cruise are largely in the over-65 category. They are all confined to their cabins and are all extremely anxious, as you can imagine.
"My family and I have been in touch with the foreign affairs office and the embassy in Washington, and we are hoping for some positive news soon.
"These are exceptional times and we appeal to anyone who can help to repatriate our families and loved ones."
In a statement to RTÉ News, the Department of Foreign Affairs said it was "aware of the situation of the MS Zaandam, which is currently off the coast of Panama and expected to dock in the United States".
"We are in regular contact with all of the Irish citizens on board and are providing all possible consular assistance," the statement added.