Eight unaccompanied minors who were due to come to Ireland in the next few weeks can no longer make the journey here due to the Covid-19 pandemic, as borders close and flights are grounded across Europe.
They had been assessed, screened and approved for resettlement here following a Tusla-led mission to Athens in September last year and the young people had only been waiting for some final paperwork from the Greek authorities before resettling here.
The Department of Children and Youth Affairs said: "This decision is as a result of the many restrictions by governments, airlines and services. Tusla will re-engage with these young people when it is safe to do so."
More recently other European countries including Finland, France, Portugal, Luxembourg, and the German city of Berlin had all agreed in recent weeks to take unaccompanied minors from Greece after thousands of refugees and migrants arrived in the EU member state, including those fleeing violence in Syria.
UNICEF has said that European Border restrictions will "inevitably impact" planned transfers of children from refugee camps in Greece. Hundreds of children will now have to remain in what are described as "dire and dangerous" refugee camps in Greece.
A spokesperson for the UN Refugee Agency UNHCR in Ireland said today:  "COVID-19 has brought many aspects of life to a standstill - both in Ireland and abroad - but wars and other crises have not stopped; humanitarian action to save lives and alleviate suffering remains imperative…. With respect to Ireland we are encouraged by the response of the Department of Justice and Equality to mitigate the risks to asylum seekers living in Direct provision as referenced in the Irish national action plan.
"We welcome the efforts taken by the Department to brief UNHCR and NGOs in the sector on the steps they are taking to protect refugees and asylum seekers and we continue to liaise with the authorities on their plans.
The statement added: "Communicating with communities is now key, and translating public health information in to languages such as Arabic is of critical importance."
The UNHCR and the International Organisation for Migration have both temporarily suspended sending all refugees to resettle in new permanent homes abroad because of travel disruptions caused by the coronavirus.
However the UNHCR appealed to countries to "ensure that movements can continue for the most critical emergency cases wherever possible."
Together we can ensure refugees do not become targets of discrimination because of the #COVID19 pandemic.#coronaviruspic.twitter.com/HeCo4pXymg

— UNHCR Northern Europe (@UNHCR_NE) March 18, 2020
"Refugee families are being directly impacted by these quickly evolving regulations in the course of their travel, with some experiencing extensive delays while others have been stranded or separated from family members," the agency said.
The suspension means more people will be left in displaced persons' camps and other temporary settlements - places that often present significant safety and health risks of their own - until placement in permanent new homes can resume.
In a statement the UN High Commissioner for Refugees Filippo Grandi warned that refugees and asylum seekers are particularly vulnerable during the coronavirus crisis.
A critical message at a critical time.

As the world changes to fight #Coronavirus, our High Commissioner @FilippoGrandi's message on our collective responsibility to protect refugees. #Covid19 https://t.co/UhWVNxA6WX

— UNHCR Northern Europe (@UNHCR_NE) March 20, 2020
He said: "With the world mobilising to combat the spread of Covid-19, many countries are rightly adopting exceptional measures, limiting air travel and cross-border movements.
"And for many people around the world, everyday life has come to a standstill, or is being transformed in ways that we had never envisaged.
"But wars and persecution have not stopped - and today, across the globe, people are continuing to flee their homes in search of safety. I am increasingly worried by measures adopted by some countries that could block altogether the right to seek asylum."
He said that all states must manage their borders in the context of this unique crisis as they see fit, but he said the measures should not result "in the closure of avenues to asylum, or of forcing people to return to situations of danger." He urged countries to put in place screening arrangements including testing a quarantine in order to ensure the safe arrival of refugees and asylum seekers.
"In these challenging times, let us not forget those who are fleeing war and persecution. They need - we all need - solidarity and compassion now more than ever before."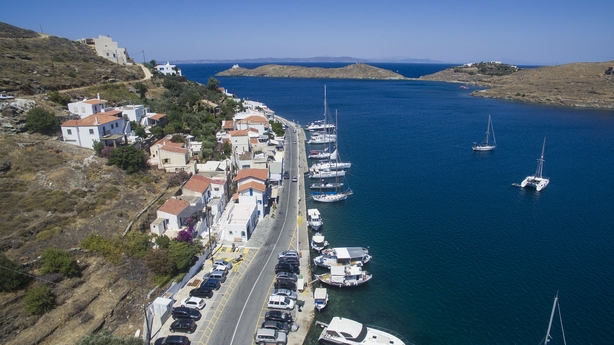 The Covid-19 crisis is already impacting asylum seekers on the Greek islands. Close to 190 migrants have been stranded on the Greek tourist island of Kea where they are being quarantined in an abandoned hotel due to a suspicion that some had contracted the coronavirus.
The group was on a Turkish-flagged freighter that ran aground in Kea's port during a storm on Monday. 38 minors who were in the group and one person with a fever was evacuated to Athens for testing - according to the town's deputy mayor who spoke to AFP. Most of the group is from Afghanistan, Iran and Somalia.
Concerns have also been expressed about how the Greek health system will cope following years of austerity. Social mixing has been drastically reduced there and many businesses and public spaces have been shut. Greece has reported 464 cases of Covid-19 and 6 deaths.
However in tightly packed refugee camps such measures will be hard to implement. Moria camp on Lesbos island is the most overcrowded camp in the country, housing more than 22,000, but with only a capacity for just 3,000. And overall more than 40,000 asylum-seekers are living in camps on five Greek islands, operating far beyond their capacity and under unsanitary conditions.
Medical charity Medicins Sans Frontieres has warned that a coronavirus outbreak in the Moria migrant camp on Lesbos in Greece would spread quickly and would be the "perfect situation" for an outbreak.
The UNHCR, meanwhile has repeatedly called on the Greek government to alleviate the critical overcrowding and dire conditions, in particular on Samos and Lesvos and to urgently address the situation.
The Greek government says it has imposed restrictions on the movement of migrants living in the camps and they are only allowed to exit facilities now in small groups every hour between 7am and 7pm and only in order to obtain food supplies in nearby towns and villages. New arrivals have been  already been banned since the 1st of March - with migrants reaching Greek shores now being transferred to the mainland.
Greece has been warned previously by the EU executive that it must uphold the right to asylum and today Ylva Johansson, the EU commissioner for home affairs tweeted that she has been in touch with the responsible Ministers for migration or asylum in Cyprus, Greece, Italy and Malta "to make absolutely sure that the health of asylum seekers and migrants in camps on EU territory is being protected."
She added: "In crisis, applying our European Union values is even more essential."
Today I have been in touch with responsible Ministers of migration\asylum of 🇨🇾 🇬🇷 🇮🇹 🇲🇹 to make absolutely sure that the health of asylum seekers and migrants in camps on EU territory is being protected.
In crisis, applying our 🇪🇺 values is even more essential. pic.twitter.com/yvwo2Yo2NP

— Ylva Johansson (@YlvaJohansson) March 19, 2020
Many of those in displacement camps on the Greek islands have made the journey there from war-torn Syria. 
Syria has delayed its parliamentary elections, shut schools and cancelled most public events in a bid to prevent any spread of the coronavirus.
So far officials in the war-ravaged country have said it is still free of the virus, despite reports it was hiding cases.
The Britain-based war monitor, the Syrian Observatory for Human Rights has said that Syrian doctors have detected cases of the virus in Damascus and at least three other provinces but they were under orders to keep quiet. The Education Minister Imad al-Azab has denied this.
Syria had already suspended flights to and from several countries hit by the virus including Iran, with which it has extensive ties.
In a tweet UNICEF expressed its gratitude to all aid workers who are working hard to educate people and to keep things clean in the face of Covid-19.
We're grateful for every health worker, humanitarian and teacher who is working hard to stop the spread of #coronavirus today.

This volunteer is disinfecting a UNICEF-supported classroom at a camp for displaced people in Idlib, Syria. pic.twitter.com/gH9UlG6Vc7

— UNICEF (@UNICEF) March 20, 2020
Medical workers in the Kurdish region of Syria's Aleppo province have also been stepping up coronavirus checks and sanitising measures. The area is home to three large camps for internally displaced people from Syria's nine-year war and a member of the region's medical council, Hevin Hussein has said: ''We are worried that the virus might affect this region.''
Across the border in Lebanon Syrian refugees in a settlement in the city of Akkar, in the north of Lebanon have been voicing their worries about the lack of soap and sanitiser there.
Syrian refugee Mohammed Al-Bakhas, who fled from Homs in Syria to Lebanon eight years ago, said: "they gave us an awareness session and one bar of soap each, but this is not enough".
Lebanon has recorded 149 cases of coronavirus and four people have died from the virus so far.
No cases have been recorded yet among Syrian refugees, who number around 1 million of Lebanon's population of six million.
Jordan's army yesterday sealed off the capital from the rest of the country as the kingdom puts its ten million inhabitants under a lockdown to try to combat the spread of coronavirus, according to witnesses and officials.
The government has yet to announce a formal curfew but has asked people to stay in their homes and move only for emergencies. Security forces have threatened prison terms for violators.
Jordan has closed land and sea border crossings with Syria, Iraq, Egypt and Israel, and suspended all incoming and outgoing flights since Tuesday. Only cargo flights and commercial overland shipments are entering or leaving the country.