Spare a thought for older people in these extraordinary times.
Covid-19 has meant residents of Nursing Homes who are vulnerable to the virus, cannot receive visitors.
John Colbert is a resident in Belmont House Nursing Home in Stillorgan. Betty, his wife, has been unable to visit him for two weeks.
"And this is just the start of it," she says. "I'd hate to think if we went into lockdown".
Betty and John talk on the phone every day or they connect via Facetime. Betty has also encouraged John to call friends he may not have spoken to in many years.
Video calls from John's children and his grandchildren also mean a lot.
"It's an opportunity for them to see their grandad", she says "and to see me".
Betty is in her full health but given that she is also in the vulnerable age category she is undergoing her own isolation.
She looks on the bright side, noting that it would have been worse if the coronavirus hit the country in winter.
Key for her is getting out and going for a walk. While she may not be able to engage with others, she's seeing people, which helps.
But what about older people who cannot get out, are fearful and greatly isolated.
We need your consent to load this rte-player contentWe use rte-player to manage extra content that can set cookies on your device and collect data about your activity. Please review their details and accept them to load the content.Manage Preferences
The organisation ALONE says it has received 2,000 calls to its helpline which was launched a week ago.
According to its Communications Officer, the calls are mainly from older people who are concerned about what will happen if they had to stay in their homes for a longer period of time.
"When we launched last week, it was things like 'Should I still be going to mass? Should I still see my grandchildren?', but people are now concerned also about what support will be available to them," according to the spokesperson.
ALONE is encouraging older people who need advice or support to call their support line, 0818 222 024 from 8am-8pm, which is available seven days to all older people - including those who have not used the service previously.
Back at Belmont Nursing Home, staff are trying to ensure residents maintain regular contact with friends and family.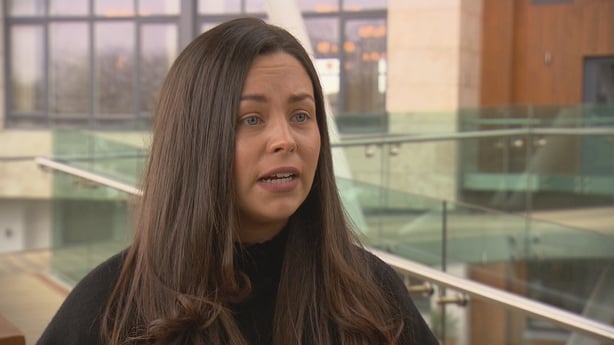 Jane Connaughton, who is the Social Policy Co-Ordinator at Belmont House, says residents need to be "love bombed" with calls right now.
She is also encouraging families to drop off memory boxes with photos and letters into reception which are taken to residents by staff.
It is a small gesture which means a lot to those on the receiving end.
"Staff are doing what they can to keep residents occupied", Ms Connaughton says, "so activities are continuing where possible. Skype is being used to facilitate exercise classes".
In the meantime, Nursing Homes Ireland (NHI) is busy with contingency planning.
Its CEO, Tadhg Daly, is concerned that the current recruitment drive by the HSE in response to Covid-19 will impact on the service.
The fear is that it may end up taking nurses from the private and voluntary sector which, he says, is not a good approach because it would "denude the nursing home sector of vital staff at this particular time".
Nursing Homes Ireland have written to the HSE and the Department of Health expressing this view, but given the huge response to the HSE's 'Be On Call for Ireland' campaign which launched this week, perhaps Nursing Homes will not be hit as hard as envisaged by NHI.
Despite that, the organisation has begun a recruitment campaign which will involve launching a website in the coming days.
It is targeting those whose jobs in the hospitality sector that may have been impacted by Covid-19.
People in housekeeping could be very useful in a nursing home setting for example, according to Mr Daly.
Meanwhile, when asked if she has any advice for people in these strange times Betty Colbert says people just need to do as they are told by the Government and take it all "one day at a time".