All Leaving Cert students studying languages will receive marks of 100% in lieu of oral assessments that were due to be held in Irish and modern European languages, Minister for Education Joe McHugh announced.
The measure has been announced by Minister for Education Joe McHugh.
Oral exams were due to begin on 23 March, but have now been cancelled.
The oral assessment is worth 40% of overall marks in Irish, and 25% of overall marks at higher level and 20% at ordinary level in modern European languages.
The deadline for submission of practical and coursework for the Leaving Cert has been extended to 15 May.
Mr McHugh said the cancellation was the fairest response that could be taken in the circumstances as "it guarantees that no student will score less than they would have if schools had been operating as normal".
"I hope this decision will ease some of the pressure that students are feeling and allow them to focus more clearly on completing project work and preparing for written exams," he added.
The minister said that officials were working on the basis that the Leaving Cert written exams would go ahead in June.
No decision has been made in relation to the Junior Cert exams, according to Mr McHugh, and "all contingencies" were being looked at.
The Taoiseach Leo Varadkar has also told his Fine Gael party colleagues that restrictions on schools opening could extend into May.
We need your consent to load this rte-player contentWe use rte-player to manage extra content that can set cookies on your device and collect data about your activity. Please review their details and accept them to load the content.Manage Preferences
Minister McHugh said his officials were also examining how to continue providing free school meals to vulnerable children, thousands of whom rely on the scheme for nutrition.
Speaking on RTÉ's Six One News, Mr McHugh said that the welfare of young people was at the heart of the decision announced today.
He appealed for students to stay focused on the written exams, as the department is still working towards them taking place in June.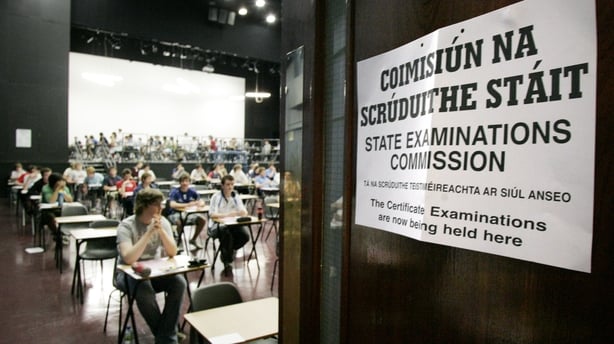 The change to the 2020 State examinations means that all Leaving Cert students who were due to take oral and practical performance tests in Irish, French, German, Spanish, Italian, Russian and Japanese will be given full marks for this part of the exam.
The move also affects practical performance tests in Leaving Cert Music and Junior Cert Music and Home Economics.
Mr McHugh also confirmed changes to deadlines for students to complete project work and coursework in a number of subjects.
Leaving and Junior Cert students will now be given until Friday, 15 May to complete this work.
Mr McHugh said: "We know we are asking a lot of people in order to stem the spread of Covid-19.
"In response to that I want students and their parents or guardians and teachers to be given flexibility as they work towards the exams."
He said the Department of Education will continue to work with the State Examinations Commission to monitor the Covid-19 situation in terms of its potential impact on other later scheduled components of the State examinations.
All schools have been asked to continue to plan lessons and, where possible, provide online resources for students or online lessons where schools are equipped to do so.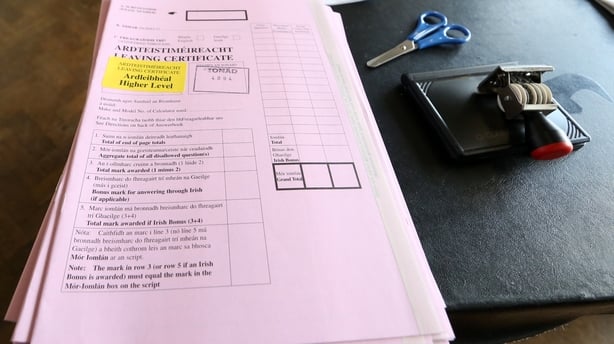 Schools have also been asked to be conscious of students that may not have access to online facilities and to consider this actively in their responses.
Junior Cycle Music and Home Economics practical exams have also been cancelled.
Students who were due to sit the orals or practical performance tests in the affected subjects will take their final written examinations in these subjects at the level they have indicated when confirming their subject choices to the State Examinations Commission earlier this year.
There are 126,000 students due to sit the State exams in 2020.
ASTI welcomes Leaving Cert oral exams move
The President of secondary teachers union ASTI has welcomed the decision to cancel the Leaving Cert oral exams.
Deirdre McDonald said that students generally do well in the orals and the move gives them the opportunity to focus on the written exams.
Speaking on RTÉ's Today with Sean O'Rourke, Ms McDonald also said that she had heard varying reports from teachers who are teaching remotely.
It can be difficult to engage with some students in the classroom, she said, and that becomes more difficult when working remotely.
Ms McDonald urged parents to play their part and encourage students to continue to learn.
The Education and Training Boards Ireland, which represents ETB schools, also welcomed the fact that some clarity had been given to students, parents and teachers.
John Curtis, head of the Joint Managerial Body (JMB), which represents the managers of religious run schools, said while it was regrettable that the orals would not now take place, "our students and schools now have more direction on this and can plan their work accordingly".
He said it was important that the collective focus on students and their needs continued. 
Mr Curtis paid tribute to those in school communities "who are doing such innovative work to try and ensure that this is the case".