"Good morning," Leona Matthews half sings as she gazes into her phone, "are any of yiz there yet?"
As greetings from her students begin to scroll up on the screen Leona greets them back, "Hi Zuzanna, hi Vitalina, hi Dylan," she says.
"I'm going to give it a couple of minutes for everyone to join in, and then we can get on with what we want to do."
In the strange new reality we all find ourselves in, this is Higher Level Maths for 5th years at Drogheda's Ballymakenny College. Some of Leona's 6th years too have decided to join in, to help with their revision.
Leona Matthews is using Instagram. I am sitting in on this class, from my kitchen in Dublin. The topic is differentiation. Leona swings her phone around to show an equation written out on paper. Her pen moves across the equation as she explains its features.
"Send me a cactus if you understand it." Cactuses scroll up the screen. To Leona's amusement Dylan sends two. Then the students get to work and send the answer to their teacher. Its '-1'.
It looks so simple. Teachers at Ballymakenny already use Microsoft Teams to send notes and homework to students, and Leona has chosen Instagram as the most suitable medium for live classes in the current circumstances.
She and her students are all using their phones, and its working fine.
"It's brilliant," Leona tells me after the class. "I'm just sitting at my kitchen table. I put my phone in a holder."
Leona teaches Maths and Chemistry to mostly 5th and 6th years. She is delivering around three classes a day.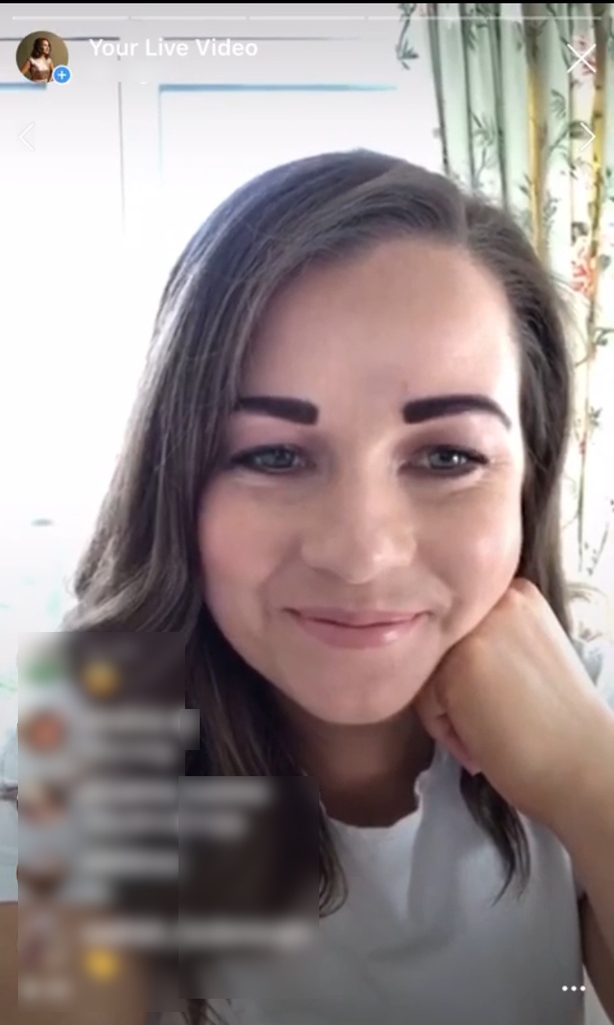 "It's as good for their wellbeing as anything else," says Leona "and for myself as well to be honest. This is a scary time. At least this helps keep their anxieties and their worries down. It's great that I can just keep teaching, and just even check in with them and have the craic."
In Limerick Dr Tríona Hourigan is using Zoom to teach her 6th years. Laurel Hill, where she teaches French, was already using online platform Edmodo for notes and homework.
"I decided to have a look at Zoom because I'm teaching French and this is oral season," Tríona tells RTÉ News. "I have decided to keep the kids ticking over on their orals to allow them to practice their one to one."
Tríona talks me through setting up my own Zoom account. This - and figuring out Instagram live with Leona - is a learning curve for me. As soon as I am up and running we switch over to Zoom and continue our conversation.
Like Instagram, Zoom is free, at least the first 40 minutes are, and that's generally enough for a class.
"It's been very, very easy," says Tríona, "they can send you chat -little messages".
"It's early days yet but already I have had full classes of third years, and first years.
"I think it has lifted their spirits," she continues, "they feel part of a community".
"Even for myself" Tríona says, "just to keep myself working and focused, it's good."
But not all teachers are as tech savvy as Tríona and Leona.
Leona advises less experienced teachers to remember the basics.
"The big things to remember are: don't use your private Instagram account, set up a special school one, and don't follow the students back."
"Don't be overly ambitious," advises Tríona Hourigan, who has a PhD in the use of technology in the classroom. "It depends on your level of comfort. You may be happier emailing material."
"We are all pioneers in remote teaching now," she muses. "Over the next week or two teachers will see how it works best for them, and they will grow in confidence."
As remote learning settles down, other more traditional methods may also come into play. Not all students have access to wifi, or a computer. Schools will begin to better understand the emerging needs of their students. "They may decide to post out work," says Tríona.
It is a question of whatever works best.
Leona and Tríona are part of a bottom up movement in remote learning that has erupted in recent days. But there's a top down one too. The country's two largest educational publishers, Edco and Gill and Macmillan have this week moved to provide free access to their online educational resources.
Dr Ann Marcus-Quinn, lecturer in Technical Communication and Instructional Design at UL, says it is really important that teachers don't get caught up designing and developing new resources themselves from scratch.
This, she says, will be a waste of their time and energy. She advises teachers, who "know their students best, and what will work for them," to use existing resources from reliable sources, such as the Department of Education's education portal, Scoilnet.ie.
Scoilnet contains a database of over 20,000 free online resources that include websites, lesson plans, notes, video, audio, games, and other multimedia.
Ann Marcus Quinn says Scoilnet is "brilliant". "It has the potential to take teachers out of a really difficult place," she says. "All its content is from trusted sources - teachers. It has been designed by teachers for use by teachers."
On Monday the Department of Education's Professional Development Service for Teachers (PDST) posted curated content to support schools on its website.
It includes links to video content from a variety of sources, as well as information on popular education platforms such as Edmodo, G Suite, Microsoft Education, Schoology, Seesaw and IrishHomework.ie.
But technology can only do so much, and there are serious problems when it comes to equity and accessibility. There are students living on halting sites, in homeless hubs, in Direct Provision.
There are students with no wifi or no computer. There are students with Special Educational Needs.
Without the structure and support offered by schools they are facing into great difficult.
"I really feel for children who will fall behind over the coming months," says Tríona. "All this will exacerbate divisions between the haves and the have nots."
After Leona's Maths class I chat - via Instagram - with some of her students. Our conversations zig-zag between how they find the class to how they are coping in general.
"You can only take it day-by-day," says Jonathan who is in 6th year. "The Instagram lives are really helpful for keeping a sense of normality as best we can."
Other students agree, although some say its "weird" to see their teacher of all people on Instagram.
"I'm stepping into their territory!" jokes Leona. "We tend to bash social media, and tell kids all the bad things about it, but now it's become so important. It's coming into its own."