The Chief Operations Officer of the HSE has said there will be a "significant" surge in the number of people to be tested for Covid-19 over the coming week.
Speaking on RTÉ's This Week programme, Anne O'Connor said in terms of testing to date, tests have been carried out by the national ambulance service in people's homes, arranged by GPs.
She said from tomorrow, GPs will be able to order tests electronically through health links and she expects a significant surge in the number of tests ordered.
Ms O'Connor said they will continue with the ambulance service calling out to people's homes in some cases, but they are also setting up a number of community testing sites, which people will need an appointment to attend.
She said they have seen a very high number of calls to both their 1850 24 1850 HSE Live number and to the ambulance service.
Ms O'Connor said the 1850 number was an information line for the public, which cannot refer you for tests.
She said there were also problems with people ringing their ambulance service line, and the GP out-of-hours service, which she said was for people in need of urgent GP care.
Ms O'Connor said the ambulance service was there as an emergency service for everyone.
From tomorrow GPs can order tests for #COVID19 electronically through their IT system. We have also enhanced the capacity for testing. Anyone experiencing normal cold and flu-like symptoms or if you believe you may have been in contact with #COVID19 please self-isolate.

— HSE Ireland (@HSELive) March 15, 2020
However, the risk they run at the minute is that such high volumes of people are calling just looking for information, that they are clogging the line.
She urged people to go to HSE.ie for information, and if people had concerns around having the virus, to ring their GP tomorrow.
She said it was important to know that people will not get a test just because they wanted one and they will only receive one if it is clinically decided.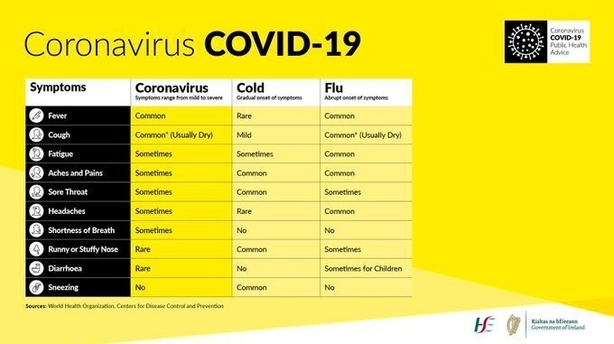 Ms O'Connor said what they had seen from other countries is informing them on what to prepare for in Ireland further down the line.
She said the high number of patients expected due to Covid-19 does not mean they can afford to stop providing services to non-coronavirus patients.
The real challenge for them, she said, was providing those essential services in addition to Covid-19 patients.
Ms O'Connor said currently we have more than 500 ventilators and 1,000 other respiratory machines in the health service already, but talks are ongoing to provide continuous supply.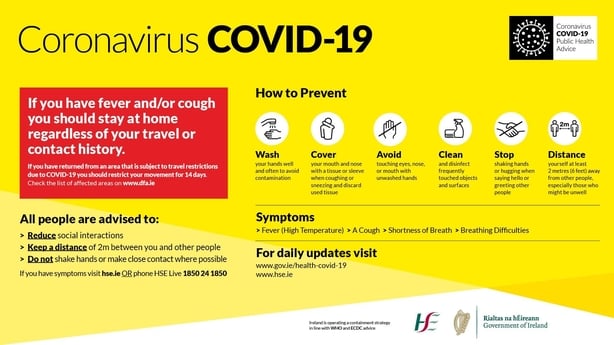 She said she was confident the health service would have what it needs to deal with the crisis.
She said no amount of machines would help them manage the crisis if people do not take some responsibility themselves.
Around 80% of cases of Covid-19 will be a mild to moderate illness, close to 14% have severe disease and around 6% are critical.
Generally, you need to be 15 minutes or more in the vicinity of an infected person, within 1-2 metres, to be considered at-risk or a close contact.