The World Health Organization has said that the coronavirus can now be characterised as a pandemic.
Speaking at a daily press briefing, WHO chief Tedros Adhanom Ghebreyesus said that he was "deeply concerned" by "alarming levels of inaction" over the virus.
He also said that the number of cases outside China has increased 13-fold in the past two weeks.
Dr Mike Ryan, the director of the WHO's emergencies programme, said that the organisation's use of the word pandemic does not change its response.
He said that the situation in Iran was "very serious" and the agency would like to see more surveillance and more care for the sick.
World Health Organization declares coronavirus outbreak a pandemic | https://t.co/T1pbxcW6gt pic.twitter.com/ULKCIQOeZ7

— RTÉ News (@rtenews) March 11, 2020
Earlier, a spokesperson for the organisation said said that the centre of the virus was now shifting to Europe and it was absolutely possible that Ireland could avoid the same scenario as Italy when it comes to controlling Covid-19.
Speaking on RTÉ's Today with Sean O'Rourke, Dr Margaret Harris said European countries need to take action to contain and delay the virus.
She said it was absolutely possible that Ireland could avoid the same scenario as Italy, pointing to Singapore as a good example where the disease has been successfully slowed.
She said that Singapore had learnt about the importance of social distancing and hand hygiene from SARS. 
Dr Harris said Covid-19 can be slowed and stopped and the WHO is hesitant about declaring a pandemic, in case people stop attempting to slow its spread. She said many countries have been able to control outbreaks, which is a very good sign.
Dr Harris reiterated that hand cleaning, social distancing and avoiding touching your mouth, nose and eyes was very important.
She urged people not to consider the virus as an age-related disease, saying it was something we all need to take seriously.
We need your consent to load this rte-player contentWe use rte-player to manage extra content that can set cookies on your device and collect data about your activity. Please review their details and accept them to load the content.Manage Preferences
Meanwhile, some companies in Wuhan, the Chinese city where the coronavirus outbreak emerged late last year, are to be allowed to return to work.
Businesses involved in providing daily necessities can resume work and production immediately, as can those that are key to "global industrial chains" after getting approval, said the Hubei provincial government.
Other companies are expected to resume production only after 20 March.
Similar rules apply in areas considered high-risk in the province outside Wuhan, where companies involved in epidemic prevention, public utilities and providing necessities may resume work.
In areas considered medium or low-risk, there is a broader range of companies allowed to return to work.
Passenger flights, trains, cars, ships and city buses in middle and low-risk areas, moving within the province and excluding Wuhan, will "gradually resume operations" as well, without giving any timeframe.
Authorities said they will continue strict control measures on channels out of Wuhan and Hubei.
China remains the hardest-hit by the virus overall with more than 80,000 cases and 3,000 deaths, out of a global total of 117,339 cases and 4,251 people dying across 107 countries and territories.
---
Read More:
First death of patient in Ireland with Covid-19
Bishops urge vulnerable people not to go to mass over virus
Latest coronavirus stories
---
Eight people have now died during the outbreak in the UK.
The Dudley Group NHS Foundation Trust said a patient in their 70s being treated for underlying health conditions had died after testing positive for Covid-19.
The George Eliot Hospital NHS Trust in Warwickshire said an elderly patient being treated for a number of serious underlying health conditions had also died.
Meanwhile, a national lockdown is continuing for a second day in Italy after a sharp rise in coronavirus-related deaths, and New York deployed the National Guard to contain the virus.
Europe's hardest-hit country said the death toll from Covid-19 has risen to 827. The total number of confirmed cases in the country now stands at 12,462, up from 10,149 yesterday.
Prime Minister Giuseppe Conte said all stores except for pharmacies and food shops to curb the spread of the virus.
At least 28 people have died in the US with 1,025 infected, according to a tally by Johns Hopkins University, which is nearly double the 550 total confirmed cases the day before.
The virus and the response to the crisis has prompted pandemonium on global markets with volatility not seen since the world financial crisis in 2008.
After suffering its worst session in more than 11 years at the beginning of the week, the Dow Jones Index in New York bounced back significantly, rising 5% yesterday.
Politicians around the world have scrambled to put together emergency packages to ease the significant financial hardships the virus is expected to cause for households and businesses.
Asian markets were relatively subdued today after two days of carnage but analysts warned of further volatility ahead.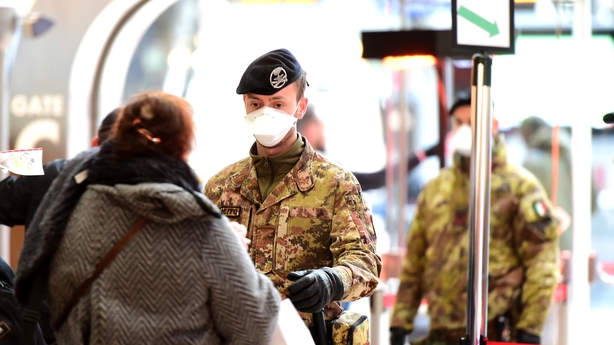 Meanwhile, weeks after Vietnam declared that all 16 of its coronavirus cases had recovered, the number of infected patients is on the rise following the reintroduction of the virus on a flight from Britain.
Vietnam's health ministry reported that a total of 35 coronavirus cases, more than double the original 16.
Thirteen passengers who were on a Vietnam Airlines flight from London to Hanoi on 2 March tested positive for the virus, most of them British or Vietnamese people who had travelled to other parts of Europe, including Italy, the ministry said.
Vietnam's latest coronavirus case, a 29-year-old saleswoman in the central province of Danang, had close contact with two infected British tourists from the flight on 4 March, the ministry said in a statement.
There have been no coronavirus deaths in Vietnam.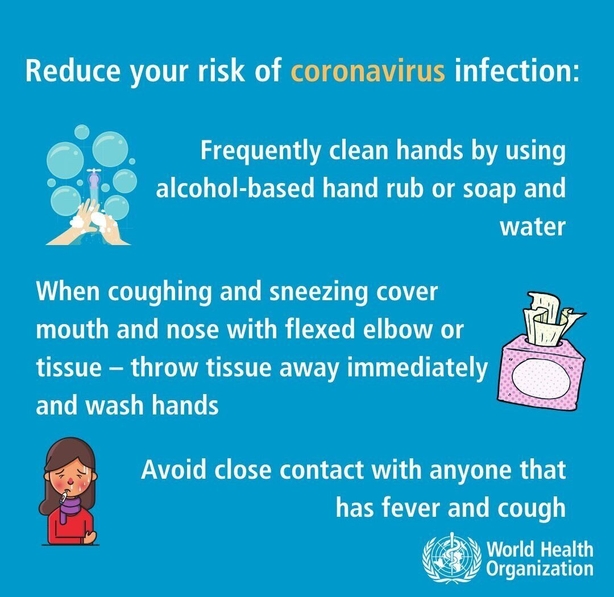 Indonesia has recorded its first death due to coronavirus.
A 53-year-old woman, a foreign national, who had already been in critical condition when she was admitted to a hospital has died.
Indonesia has 26 other confirmed coronavirus patients.