A woman with an underlying illness who contracted Covid-19 has died in the east of the country.
She was being treated in hospital. It is the first death of a patient in Ireland who had an illness and had also been infected.
It is understood the patient was an older person.
Chief Medical Officer with the Department of Health, Dr Tony Holohan said this was the first recorded death relating to COVID-19 reported in Ireland.
Mr Holohan said he wanted to extend his condolences to the family and friends of the patient.
"I urge the media and the public to respect their privacy at this difficult time.
"We continue our efforts to interrupt the transmission of this virus. It will take all of us, collectively to succeed. Please continue to follow public health advice."
Meanwhile, nine new cases of coronavirus have been confirmed, bringing the total number to 43. None of the latest cases reported are community related.
The nine patients include four men from the south of the country whose cases are associated with travel, one woman and a man from the south of the country who had contact with a confirmed case and three men from the east of the country, two of which are associated with travel, one is associated with contact with a confirmed case.
The Health Service Executive is working to identify any contacts the patients may have had.
It has been confirmed that 250 more staff are to be added to the number conducting contact tracing.
Health officials have also advised people to consider how they can limit social interactions and avoid indoor, crowded spaces.
Meanwhile, the Mercy University Hospital in Cork has confirmed that it is treating three in-patients who have tested positive for coronavirus.
All three are associated with travel to an affected region, and are understood to have returned from a trip abroad together.
We need your consent to load this rte-player contentWe use rte-player to manage extra content that can set cookies on your device and collect data about your activity. Please review their details and accept them to load the content.Manage Preferences
In a statement, a hospital spokesman said the three patients were diagnosed in the community and had a coordinated, planned admission to Mercy University Hospital.
The hospital said the patients are in a dedicated room in the hospital where they are receiving appropriate care. It said the correct protective measures have been used at all times by staff involved in caring for these patients.
All three patients, who are male, were tested in the community before being admitted to the hospital yesterday evening.
It is understood that they are already included in the figure of 43 confirmed cases of coronavirus in the Republic released by the Department of Health.
HSE chief executive Paul Reid said that Ireland is entering a new phase in relation to the coronavirus.
In a posting on social media, he said he fully supported HSE hospitals who have to make decisions on restricting visitors based on clinical risk, patient and public safety.
Yesterday, the Chief Medical Officer at the Department of Health Dr Tony Holohan said these general measures were not needed and should be lifted.
We are entering a new phase in #Covid19. I fully support our hospitals who have to make decisions on restricting visitors based on clinical risk, patient and public safety. Please do as we urge and our ask will increase as we progress. @HSELive

— Paul Reid (@paulreiddublin) March 11, 2020
The Department of Foreign Affairs has upgraded its travel advice in relation to Spain as there are a significant number of new coronavirus cases in mainland Spain and on the Balearic and Canary Islands.
Irish citizens are being advised to exercise a high degree of caution and are advised against non-essential travel to Madrid, Vitoria and Labastida in the Basque Country and La Rioja.
Those in Spain should monitor developments closely and to follow advice from local authorities.
TRAVEL ADVICE 2/2: re #COVID19 .This evening we are upgrading our overall security status in respect of Spain to "exercise a high degree of caution" & advising against non-essential travel to the following areas: Madrid, Vitoria & Labastida in the Basque Country and La Rioja.

— Simon Coveney (@simoncoveney) March 11, 2020
An unprecedented national effort will be required to respond to the public health crisis arising from the Covid-19 outbreak, according to the Government, unions and employers, who say they will work closely with stakeholders across society in response to the situation.
In a statement, the social partners call on both employees and the self-employed to abide by public health advice regarding appropriate self-isolation.
They also say that in doing so, employees would have their income protected to the greatest extent possible, following the agreement on measures to enhance state illness payments.
Employers are being urged to support the national health objectives by continuing to pay employees who cannot be in work due the virus or the need to self-isolate the difference between illness benefit and their normal take home pay.
However the Government, unions and employers say they accept for some companies this will not be possible.
The bodies also say they recognise that some firms will face severe business and cash flow pressures and liquidity measures to help them have been announced.
Trinity College Dublin defends decision to cancel lectures
Trinity College Dublin has defended its decision to go further than current Department of Health advice and cancel all face-to-face lectures.
It has emerged also that the curtailing of teaching at the college is wider than originally anticipated with some departments cancelling not just lecturers but all teaching, including to small groups of student in tutorials.
Yesterday the university announced that it was cancelling all lectures, and closing all tourist attractions including the Book of Kells exhibition.
The Trinity College decision to cancel lectures, and some smaller classes, goes beyond current Department of Health advice, which is that schools and colleges should remain open and that teaching should continue.
Asked about this a spokesperson said the college had to follow "the best advice that is available to us".
He said Trinity College was listening to the Health Service Executive, and also to the World Health Organization, as well as to experts from within its own academic staff.
"We have informed the HSE, but we have to do what is best for us, and this is what we think is best", the spokesperson said.
He pointed out that 55 universities worldwide have done similar, including universities where no cases of the virus have been detected.
One case of Covid-19 was detected last week at the college's Biomedical Sciences Institute. This is where Trinity College's immunology research centre is located.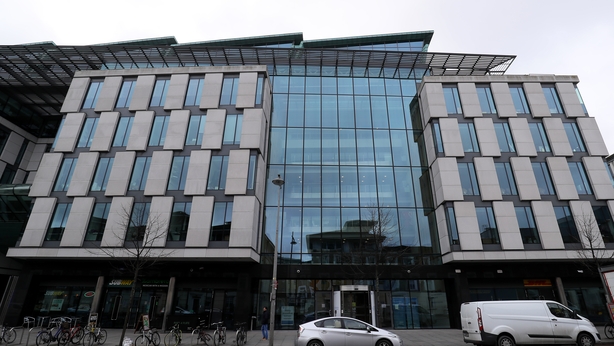 The Trinity spokesperson said the decision to cancel face-to-face lectures and other teaching also took into account the fact that the college has a population that is hugely international, with a high level of  staff, students, and visitors coming from abroad.
The college plans to deliver lectures online.
---
---
Meanwhile, the Government has appealed to employers for help while it deals with the challenges faced by people who have to stay at home because of the Covid-19 virus.
Minister for Finance Paschal Donohoe called on all employers to play their part in what he said will be a national response to the national public health crisis we face. 
Speaking at a press conference he said it was critical individuals follow public health advice in terms of self-isolating, but that the Government understands decisions can have consequences for businesses.
He called on employers to continue to pay employees who may need to go into self-isolation, and that funds will be available to help.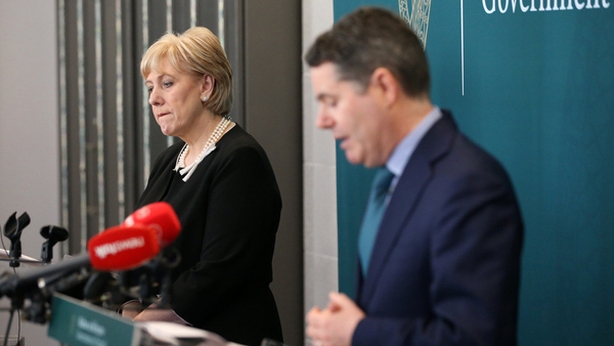 His colleague, Minister for Business Heather Humphreys, said there was cooperation from opposition parties, trade unions and business representative bodies in terms of the supports being given to businesses.  
She referred to the €200m Strategic Banking Corporation of Ireland Working Capital scheme for businesses where they can avail of loans of up to €1.5m if they are impacted by Covid-19.
Ms Humphreys also said there is a rescue and restructuring scheme available as part of the €200m Enterprise Ireland fund, and local enterprise offices can provide vouchers from €2,500 - €10,000 to help with planning for businesses.
Ms Humphreys also urged people not to panic buy over Covid-19 fears.
She said she had met retailers and grocery distributors and that she was very satisfied there is a significant supply chain.
She said she had previously had these meetings in terms of a no-deal Brexit and that she was very happy there were plans in place. The minister said people should not panic buy because "that in itself causes shortages".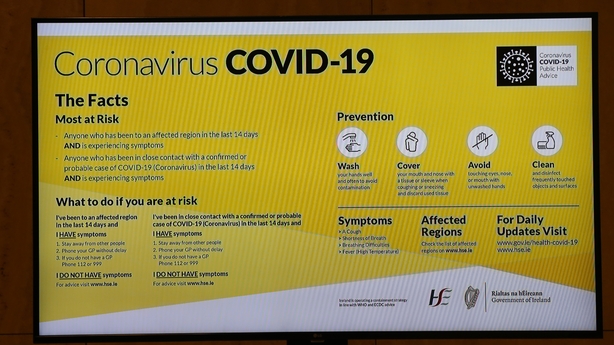 ---
Around 80% of cases of Covid-19 will be a mild to moderate illness, close to 14% have severe disease and around 6% are critical.
Generally, you need to be 15 minutes or more in the vicinity of an infected person, within 1-2 metres, to be considered at-risk or a close contact.
The latest figures show that more than 66,500 people have recovered from Covid-19. 
Additional reporting Emma O Kelly, Maggie Doyle, Fiachra Ó Cionnaith