Three more cases of Covid-19 have been confirmed in the Republic of Ireland, bringing the total number to 24.
The new cases involve a female in the south of the country and a female in the west, both of whom were in close contact with a confirmed case.
The third involves a female healthcare worker in the south who was also in close contact with a confirmed case.
The Health Service Executive is working to identify any contacts the patients may have had to provide them with information and advice to prevent further spread of the virus.
At a news briefing, the Department of Health's Chief Medical Officer, Dr Tony Holohan, said: "While Ireland remains in a containment phase, we will eventually move to delay phase and then on to mitigation phase.
"Containment is about identifying and containing all cases no matter how mild. The delay phase will focus on minimising the spread of the virus. Ultimately, in mitigation phase, we prioritise the cases that are most unwell.
"The decision to move to delay phase will be based on a number of factors, including the amount of confirmed cases in Ireland, speed at which they are occurring and the profile of transmission.
"Ultimately all of the decisions we take are focused on limiting the impact of this disease on our population and our health service."
Dr Holohan said that officials have to ensure the measures they deploy in Ireland are the right ones and are not deployed ahead of time.
He said that if stricter measures are enforced too soon, there is a likelihood that the compliance rate with hygiene measures will reduce.
Dr Holohan said it was important that people are not fatigued by restrictions that have a big impact on them and then not complying with those measures as a result.
The update from the Department of Health comes after Taoiseach Leo Varadkar said that Ireland would stay in the containment phase regarding Covid-19 for as long as possible, but would move to the delay and mitigation phases in the coming weeks.
He was speaking at a news briefing following a meeting of the Cabinet sub-committee on Covid-19.
The Government has announced an aid package of €3 billion euro to deal with coronavirus.
Most of the funding (€2.4 billion) has been allocated for sick pay, illness benefit and supplementary benefit changes.
A €200m package has been earmarked for businesses to deal with the fallout from the virus, while €435m has been allocated to the HSE to deal with increased demand on services.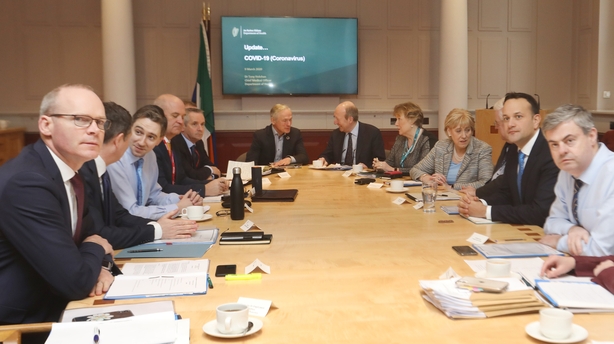 In another development, the committee has decided to cancel all St Patrick's Day Parades around the country on the advice of health officials.
They include the main event in Dublin, which attracts up to half a million spectators to the capital each year.
Mr Varadkar said there is a lot about coronavirus that we do not know and while it cannot be stopped, it can be slowed. He said that 50-60% of the population could contract Covid-19.
The Taoiseach said that Ireland would have to cope as best as possible, but warned this would not be an ordinary situation. He said that even if the health service was twice the size it is now, it would still struggle.
Mr Varadkar said that if the worse predictions come true, it would be like nothing that Ireland has experienced in living memory.
He said it was important the Government responds at the right time over the coming weeks and months.
Opposition party leaders met the Taoiseach in Government Buildings this afternoon to discuss the situation.
More than 1,000 people have now been tested for the virus in the Republic.
Northern Ireland Health Minister Robin Swann said 222 people have now been tested in the North for Covid-19, with 12 positive cases.
Of the five most recent cases announced last night, he said two of the patients had recently travelled in northern Italy.
The remaining three cases "can be traced to previously reported cases that involved recent travel to northern Italy".
One of the patients is a secondary school pupil. Mr Swann said the pupil's school, and a primary school that shares the same site, have received advice from the Public Health Agency.
In a statement to the Northern Ireland Assembly, the minister said contact tracing for all five individuals "is at an advanced stage".
Due to the evolving situation, he said his department will now move to daily reporting of cases.
Around 80% of cases of Covid-19 will be a mild to moderate illness, close to 14% have severe disease and around 6% are critical.
Generally, people need to be 15 minutes or more in the vicinity of an infected person, within 1-2 metres, to be considered at-risk or a close contact.
---
Read more:
Threat of coronavirus pandemic now 'very real' - WHO
Movement to be restricted all across Italy, prime minister announces
France v Ireland postponed, French sports minister confirms
Latest coronavirus stories
---
Fianna Fáil leader Micheál Martin has welcomed the announcements made by the Government, but said that a government "needs to be formed, with a solid majority, that is to be able to take the type of decisions that will be need to be required" in relation to coronavirus.
He added that significant resources need to be allocated to dramatically increase critical care capacity if numbers affected by Covid-19 increase.
Following an interview with Fianna Fáil justice spokesman Jim O'Callaghan on RTÉ's The Week In Politics yesterday in which his position on Sinn Féin seemed to soften, Mr Martin said neither his, nor Mr O'Callaghan's position, had changed.
Mr O'Callaghan indicated that he would "go along" with the idea of a national government to deal with coronavirus.
Mr Martin said he believed that a "centrist" government was needed.
Mr Varadkar said the country does have a functioning government until there is a majority to elect a new one.
The two men held talks on a range of policy issues tonight and have agreed to meet again tomorrow morning.
Meanwhile, Sinn Féin leader Mary Lou McDonald has said that politicians should be providing leadership during the coronavirus outbreak, and that discussion of a government of "national unity" was a "bit of distraction".
Speaking on RTÉ's Today with Sean O'Rourke, Ms McDonald said it was necessary that political leaders are fully informed and fully engaged, and that it was not enough for leaders of political parties to be informed "through press releases and the media".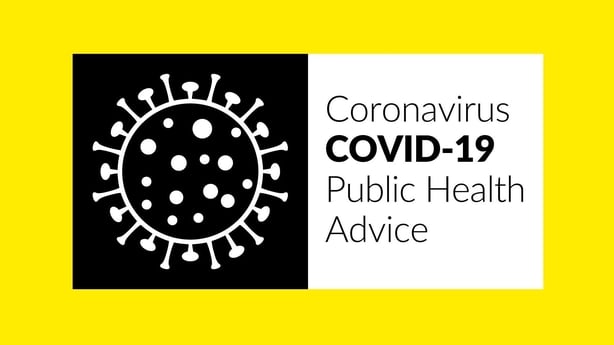 Wash hands regularly
Maintain at least 1 metre distance between yourself and anyone coughing/sneezing
Avoid touching your face
Practice cough/sneeze hygiene
---
The latest data from the World Health Organization is that Covid-19 has an estimated global mortality rate of 3.4%.
Yesterday, the HSE said that it cannot dispute projections that 1.9 million people in the Republic of Ireland may fall ill with coronavirus. But it said that the modelling scenario is not completed yet.