A female in the east of the country, who travelled here from northern Italy, has been confirmed as the second case of coronavirus in Ireland.
The Department of Health said it was notified this evening of the new case and the process of tracing contacts and notifying those contacts has begun.
It did not give any more details.
Up to yesterday, 397 people had been tested and the results have been negative. The exceptions are the two confirmed cases.
The first confirmed case was on Saturday when a male teenager from a school in the east of the country was diagnosed. He had just returned from northern Italy.
At a Department of Health press briefing this evening, Chief Medical Officer Tony Holohan said he saw no reason why, as things stood, that the St Patrick's Day festival should not go ahead.
He also said the Government was changing advice on non-essential travel to northern Italy. It was now advising against travel to the four affected provinces, previously it was to nine named towns.
Anyone travelling to Italy in the next few days is advised to consult the Department of Foreign Affairs' website.
Dr Holohan said the expert group was looking at stepping up preparations in acute hospitals and protections for healthcare workers.
He said arrangements were now being made for the testing of people in the community to take pressure off the hospitals.
He said there will be a senior officials' group meeting of a new Cabinet sub-committee tomorrow.
Around 80% of cases of Covid-19 will be a mild to moderate illness, close to 14% have severe disease and around 6% are critical. 
Generally, you need to be 15 minutes or more in the vicinity of an infected person, within 1-2 metres, to be considered at-risk or a close contact.
Updated travel advice for Northern Italy reflecting local developments in regard to #COVID-19. We advise against non-essential travel to the Lombardy, Veneto, Piedmont and Emilia-Romagna regions. https://t.co/2ff28O7gIe

— Irish Foreign Ministry (@dfatirl) March 3, 2020
More cases could have impact on economy - Taoiseach
Earlier, Taoiseach Leo Varadkar said there was a moderate to high risk of an outbreak of more cases and it could have an impact on the Irish economy.
He said it could result in a slowdown in growth in Ireland and a slowdown in global growth, but he said this would rebound or bounce back.
The Taoiseach said the impact on the Irish economy would depend on what happens in China because it makes up 10% of world tourism and 10% of world trade.
He said the indications are that the Chinese economy is slowing down and may even go into recession, which would have a knock-on effect on Ireland.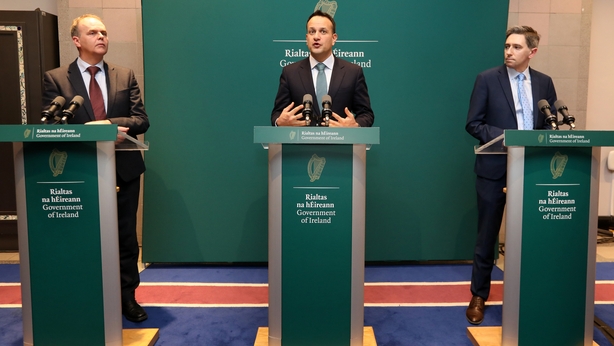 Mr Varadkar said the Cabinet made three decisions today. The first was to set up a Cabinet sub-committee chaired by himself.
There will also be a stakeholder forum to engage with people working in the area.
He said the Minister for Finance and the Minister for Health will work together to identify resources needed.
Minister for Health Simon Harris said that a study of around 81,000 cases in China had found that 72,000 were mild illnesses. Mr Harris said the situation was happening in real time.
Earlier, the Health Service Executive wrote to members of a small musical group asking them to self-isolate until Sunday 15 March as a precautionary measure linked to the first confirmed case of Covid-19.
The precautionary measure arises from a community band session last Saturday over a two-hour period, attended by the patient.
The HSE letter says that to prevent the possible spread of infection, all members of the band practice session are being treated as possible contacts of this case and are being asked to self isolate until 15 March.
It applies to members of the band only and not to members of any other bands who practice at the location, such as the under-10s or under-18s.
The band members will be monitored by public health staff over the next two weeks.
Earlier reports circulating that the letter was a hoax were untrue.
We need your consent to load this rte-player contentWe use rte-player to manage extra content that can set cookies on your device and collect data about your activity. Please review their details and accept them to load the content.Manage Preferences
Expert casts doubt on St Patrick's Day events
Elsewhere, an expert virologist said it is quite likely the coronavirus is spreading around Ireland and St Patrick's Day celebrations around the country should be cancelled to prevent a "big outbreak".
Speaking on RTE's Today with Sean O'Rourke, Professor John Oxford, a virologist based in the UK, said that with infection you cannot sit around and take chances while keeping your fingers crossed.
He said Covid-19 "needs to be taken a bit more seriously" in Ireland.
---
Read more:
Latest updates on Covid-19
World in uncharted territory over coronavirus - WHO
Twitter staff asked to work from home over virus fears
---
He said it was "pretty infectious, it's not like measles and it's not quite as infectious as flu but it does move quietly, that's the difference with this virus".
In relation to large gatherings, such as St Patrick's Day parades, he said these events were all around the country with a lot of visitors coming into these areas from abroad.
Prof Oxford said that he would postpone the events if he was making such decisions in Ireland.
 "It's not the end of the world for one year," he said.
Additional reporting Fergal Bowers, Paul Cunningham, Aisling Kenny