Protective gear such as masks and goggles used by health workers fighting coronavirus are running out, the World Health Organization has said, warning against "hoarding and misuse".
Speaking at a daily briefing in Geneva, WHO chief Tedros Adhanom Ghebreyesus warned that "supplies are rapidly depleting".
"We are concerned that countries' abilities to respond are being compromised by the severe and increasing disruption to the global supply of personal protective equipment ... caused by rising demand, hoarding and misuse," he said.
Mr Ghenreyesus also said that only 1% of new coronavirus cases registered in China were without symptoms, which appears to belie fears the virus spreads via people who appear healthy.
The WHO has warned that the world has entered uncharted territory in its battle against the deadly coronavirus, as new infections dropped dramatically in China but surged abroad, with the US death toll rising to six.
Globally, the number of cases rose to 92,722, including 3,155 deaths, across 77 countries and territories. 2,566 new cases were identified since 5pm yesterday. 
China - excluding the territories of Hong Kong and Macau - had 80,151 cases, of which 2,943 were fatal.
There were 125 new infections and 31 deaths there in the 24 hours since 5pm Irish time yesterday.
That is the lowest daily increase in six weeks, with all but 11 infections in Hubei province, of which Wuhan is the capital.
China has imposed draconian quarantines and travel restrictions to keep large swathes of the population indoors for weeks, a strategy that appears to have paid off as new cases have been generally falling for days.
While Italy has locked down towns, other countries have stopped short of imposing mass quarantines and instead have discouraged large gatherings, delayed sporting events and banned arrivals from virus-hit nations.
South Korea, Iran and Italy have emerged as major Covid-19 hotspots, which is believed to have started at a market that sold wild animals in the central Chinese city of Wuhan late last year.
With concerns growing about its impact on the global economy, G7 finance ministers and central bank chiefs held talks on the issue today.
South Korea, the biggest cluster outside China, has more than 5,186 cases as 374 new infections were reported.
"The entire country has entered a war with the infectious disease," South Korean President Moon Jae-in said.
We need your consent to load this rte-player contentWe use rte-player to manage extra content that can set cookies on your device and collect data about your activity. Please review their details and accept them to load the content.Manage Preferences
---
Read More:
Latest coronavirus stories 
---
China is even importing infections now, with 13 confirmed so far, including eight Chinese nationals who had worked at the same restaurant in northern Italy's Lombardy region.
"We are in uncharted territory," Mr Ghebreyesus said.
"We have never before seen a respiratory pathogen that is capable of community transmission, but which can also be contained with the right measures."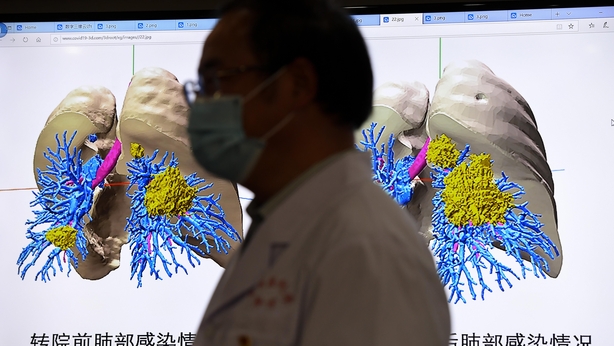 Community transmission means infections within a population are not imported from another virus-hit area.
Japan reported a fresh coronavirus infection in Yokohama city close to Tokyo, a woman in her 20s who is the granddaughter of a woman earlier confirmed to have the virus, Kyodo news wire reported.
In Germany, the RKI Health Institute said the number of confirmed cases has risen to 188, from 157 yesterday.
Ukraine has reported its first case of coronavirus, in a man who travelled there from Italy via Romania. He was hospitalised on Saturday in western Ukraine, a health official said.
French officials have closed about 120 schools in areas that have reported the largest numbers of coronavirus infections, and more could be shuttered in the coming days, Education Minister Jean-Michel Blanquer said.
Both primary and secondary schools have been shut in the Oise department north of Paris, where the main cluster of French cases has emerged, and where two people who have died of the virus lived. 
Officials have reported 191 coronavirus cases in France so far, and three deaths.
The United States is now facing a potential epidemic, with nine people dying in the northwestern state of Washington, where officials warned residents the battle against the disease was shifting from containment to mitigation.
"The risk for all of us of becoming infected will be increasing," said Jeff Duchin, a health officer in King County where five of the deaths occurred.
The county has more than two million residents and is home to Seattle, a major commercial and transportation hub.
Nationwide, there are more than 100 confirmed cases, on both coasts and in the Midwest.
Vice President Mike Pence declared that a treatment "could literally be available by this summer, or early fall".
He was likely referring to Remdesivir, an antiviral drug developed by the pharmaceutical firm Gilead that has already been used to treat one US patient and was moving toward two expansive final stage trials in Asia.
Mr Pence also announced US pharmaceuticals were forming a consortium to fight the virus, and that South Korea and Italy would screen all their airline passengers bound for the US.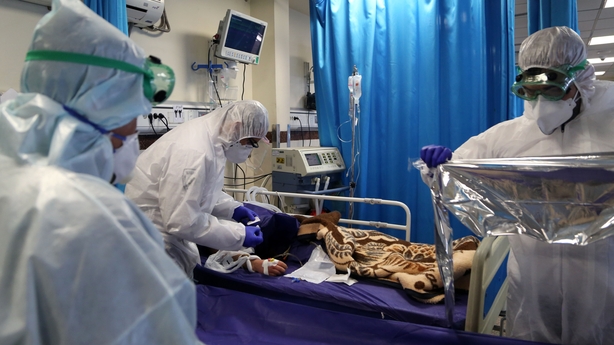 The virus is well-established in Iran, UN health officials have said, warning that a lack of protective gear for healthcare workers was complicating efforts to control the outbreak.
"It is not an easy situation," Michael Ryan, who heads the World Health Organization's emergencies programme, told reporters in Geneva.
The outbreak which has claimed 77 lives and infected more than 2,300 people across the country is affecting multiple cities, he pointed out.
"Like in some other countries, the disease is now well-established," he said.
Mr Ryan said rooting out the virus in countries where it has become established "is not impossible" but "it is difficult".
Jailed British-Iranian Nazanin Zaghari-Ratcliffe is in good health, Iran's judiciary spokesman said, after her husband issued a statement on Saturday saying she is suspected of having contracted coronavirus in prison.
In Italy, tourist hotpots including the Duomo in Milan reopened to visitors but access was limited to avoid overcrowding.
Italy, Europe's worst-affected country, said its deaths from the virus had increased from 52 to 79.
The WHO says the virus appears to particularly hit people over the age of 60 and those already weakened by other illnesses.
The global health body said that around 3.4% of confirmed cases of Covid-19 have died, well above the seasonal flu mortality rate of under 1%.
But the WHO said that the new virus can be contained.
It said that Covid-19 spreads less efficiently than flu and transmission does not appear to be driven by people who are not sick.
It causes more severe illness than flu and there are currently no vaccines or therapies.