A blackberry festival will take place this weekend on Inis Meáin, the most remote island of na hOileáin Árann.
Féile na bPuiteachaí is named for the islanders' unique Irish word, "puiteachaí", which is used on Inis Meáin instead of the more commonly heard word for blackberries, "sméara dubha".
The festival will see a wide range of events taking place at the community hall, Halla Naomh Eoin, including a "blackberry bake off" and workshops in ink-making, jam-making and blackberry gin-making.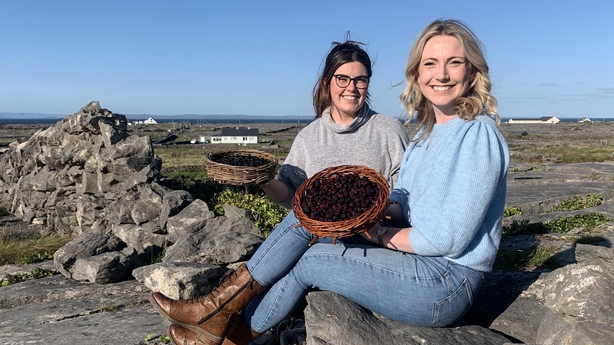 Visitors and islanders will also be able to learn how to crochet a blackberry.
"The puiteachaí are bursting off the branches and ready to go for this year's festival and so are we", said Aedín Ní Thiarnaigh.
"We are so proud of our festival and how all the community came together to celebrate the puiteachaí and all the wild and wonderful things that we can do with them.
"We are particularly excited to launch our new additions to this year's festival, especially our folklore collection project in partnership with the local primary school, Scoil Náisiúnta Inis Meáin."
The folklore exhibition, based on the theme 'Bíonn Blas ar an mBeagán - Wild Autumn Fruits on Inis Meáin' will be launched at the official festival opening at noon on Saturday.
The exhibition shows newly collected folklore about the island's wild fruits like blackberries, haws and sloes, and remembers life on the island long ago.
Orlaith Breathnach, former teacher at Scoil Náisiúnta Inis Meáin, plays a central role in the folklore project.
She said: "We are thrilled that the local school children are involved in the project. We call them our 'stairithe beaga', our little historians, and it's true.
"They have been collecting stories from their parents and grandparents about their memories from long ago. Those stories will now be preserved forever, for later generations to learn from.
"The island's wild fruits will be a source of inspiration for poets young and old at this year's poetry competition, which welcomes poems and song lyrics inspired by the wild fruits of the island."
The poems will be displayed in the hall on the day of the festival and competitors will have an opportunity to perform their newly composed work at the Irish singing session at Teach Ósta Inis Meáin on Saturday evening.
Head baker at Inis Meáin Island Stays Meadhbh Ní Dhomhnaill will judge the blackberrry baking competition.
"It's a joy to see people coming together, and seeing all the creative ways we can have fun with one simple fruit."
Ms Ní Thiarnaigh said: "Féile na bPuiteachaí is a very special festival for us to have on Inis Meáin. We are celebrating the local language, with all our events run predominantly through Irish, and we are also celebrating the local natural landscape, local heritage and community.