A family chosen from more than 1,600 applications to live rent-free for a year on Inis Meáin have now decided to stay permanently.
The Mac an tSaoir family from Navan, Co Meath, were given this unique opportunity by Comhlacht Forbartha, a community organisation founded to promote the Irish language.
They say they have never been happier.
Inis Meáin is the middle of the three Aran Islands, with a population of just over 200.
Now, there are seven newcomers. Colette and Rónan Mac an tSaoir are here to stay with their five young children, including two-year-old twins.
The family say that being picked to live here was like winning the lotto.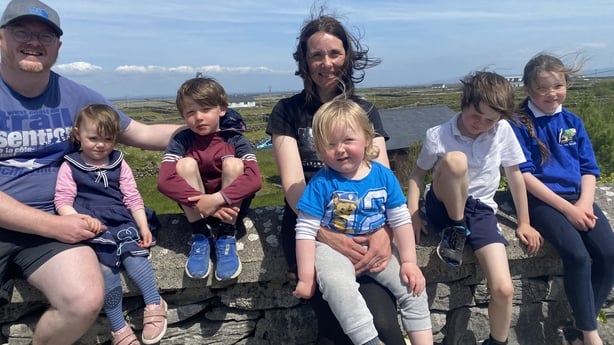 The immersion into Irish language and culture, along with small class sizes and minimal financial outlay, had massive appeal.
Colette and Rónan sit chatting on an old stone wall after the school pick-up, their young family playing around them in the sunshine with their pet golden retriever, Plúirín.
"We chant with the twins 'bhuaigh muid an Lotto' and they say it back now," said Colette. "There's nothing like it. Nothing else comes close."
Rónan agreed, adding: "Ní rud é gur féidir leat a cheannach le hairgead" - it's not something you can buy with money.
"The process of how it came about, it's actually mind-blowing," said Colette.
"It happened gradually, you know, from just starting with cúpla focal with the kids and trying to stay a page ahead of them. I never dreamed we would be living in the heart of a vibrant Gaeltacht."
'Strength to strength'
Rónan remembers the wording of the ad, which said 'Is it your dream to come and live in Inis Meáin?'
"We looked at each other, laughed and said 'yes'," he said.
The Mac an tSaoir family said they made the whirlwind decision to accept the offer from the Inis Meáin Community Development Organisation, Comhlacht Forbartha.
They said everything was more constrained and rigid before the pandemic in terms of work, but this move shows how anything is possible.
A new purpose-built hub on Inis Meáin was key to the family being able to move there permanently. Rónan is a software engineer and works there remotely.
There is a naíonra pre-school there as well, and Colette is hoping to apply for a teaching job on the island.
Rónan urged people with an appetite for change to make the leap of faith like them.
"You know, things are much better connected now than they were even ten years ago," he said. "So it's not something I think that people need to be afraid of coming to live in a place like this.
"The hub is beside our home and it makes a huge difference to our quality of life here.
"I think without the hub it would have been extremely difficult to move here permanently. So yeah, I know that the local Comhlacht Forbartha are after joining a pilot scheme to get the National Broadband Plan out here earlier.
"And that will make a huge difference, especially in the summer when things become a bit busier. So we're going from strength to strength."
Fluent and fully immersed
The Mac an tSaoir family always had a grá for the Irish language but now they are fluent speakers and fully immersed in island life.
Rónan coaches primary school hurling teams and his own children have settled into island life with great enthusiasm.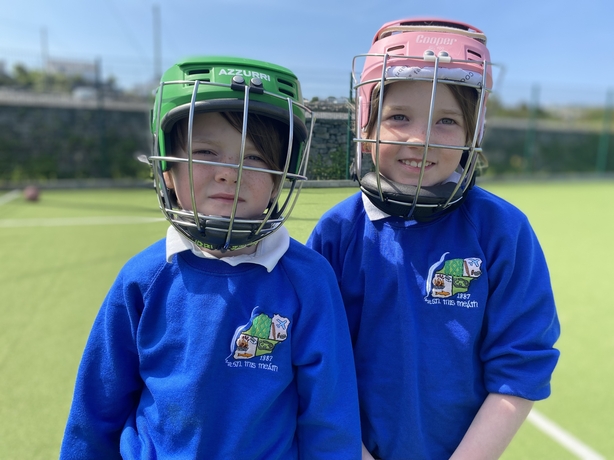 Róisín Nic an tSaoir peeps from under her sports helmet and begins chatting away as gaeilge without stopping for breath.
She explains how her parents wanted her and her younger siblings to be among people who speak Irish as a first language.
Her own level of fluency in just under a year is testament to how this approach has paid off.
Inis Meáin also offers a unique educational experience for second-level students from the mainland who avail of a boarding scholarship scheme at Coláiste Naomh Eoin.
Mairéad Ní Fhátharta is principal and said this influx of students from around the country is a wonderful addition to the island.
Coláiste Naomh Eoin currently has more than 40 students from around Ireland.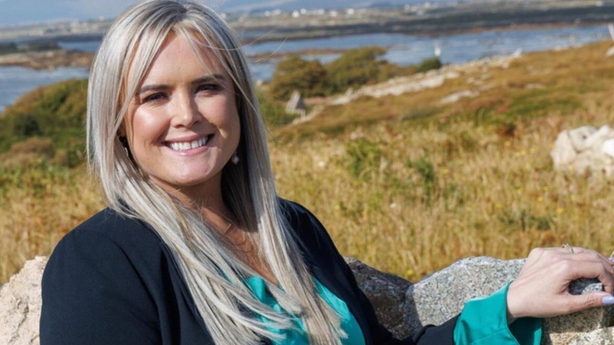 "These young people who are walking and having fun on the beach come from all over the country," Ms Ní Fhátharta said.
"They come to Inís Meáin to attend Coláiste Naomh Eoin, the secondary school on the island. This residential aspect helps to boost numbers in the school."
Callan Ó Cleirigh is from Dublin's northside and Solomon Gleeson is from Elphin in Roscommon.
Both students are loving the Inis Meáin experience and say their Irish has improved tenfold.
"We even have the blas now and sound like native speakers," they joked.
Adrian Ó Coincheanainn is a member of Comhlacht Forbartha and a teacher at Coláiste Naomh Eoin.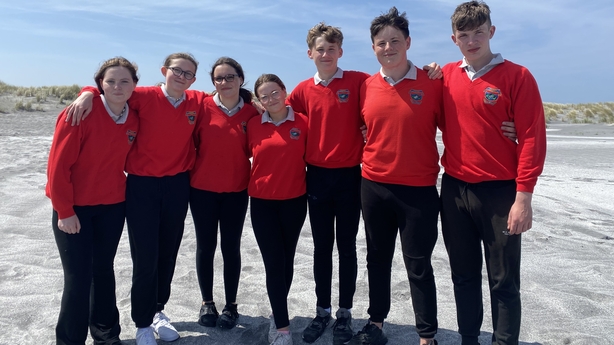 "We're thrilled here on Inis Meáin that we have all these students coming to stay for at least a school year," he said.
"They add so much to the islands within the context of culture and sport.
"I'm also over the moon that the Mac an tSaoir family have decided to join our close knit community on a permanent basis.
"I've young kids myself and I see the benefits first-hand that families like this bring to the island."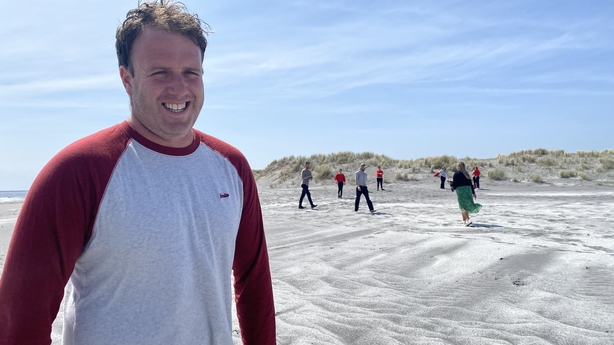 The Mac an tSaoir family say there are some things they miss like occasional takeaways, but overall they appreciate everything so much more.
Colette said her parents call Inis Meáin 'Tír na nÓg' because they think she looks ten years younger.
"You have to think about things you know, life is slower but you've time to think, time to work things out," she said.
"And you need each other so you work together, you need the community and they need you.
"Often I think you put all your skills and talents into your own little families and you build them up at the cost or expense of everyone else.
"Here if you invest in the community you raise the whole community.
"You know that way like, if you do an extra football lesson or a German lesson, you give everybody the chance to get involved, which just feels nicer to me."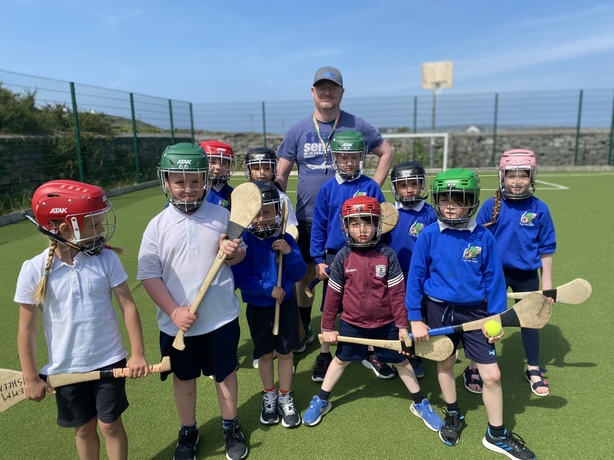 Rónan said everybody does ten different jobs.
"It's a fabulous place to live because everybody's contributing to the community and everybody wants to take part," he said.
"We have all our needs met here. There's even online shopping arriving on the ferry every morning but we also have the wonderful Siopa Ruaidhrí Beag and post office, which caters for our needs really well."
They say life is calmer than it was in Navan, being close to Dublin and all the hustle and bustle that makes up urban life.
They knew there were pros and cons leaving for the Aran Islands, but ultimately they decided it is now or never.
Colette has been reflecting on the whole experience so far.
"One thing I've noticed since living on an island is that you have to be okay with a little uncertainty, but things work out," she said.
"It's not like on the mainland where we're very good at planning, thinking we're in control.
"But I think the biggest lesson we've learned this year is that it's okay if things aren't perfect. It's okay if we don't have the answer immediately.
"It's okay if we don't know where we'll be this time next year, but things were going in the right direction, day by day, more than anything else, there's a beautiful community ready to open itself up to people like us.
"It's just a wonderful place to live."