The Afri Famine Walk, which commemorates those who made the journey in search of food during An Gorta Mór, has returned to Co Mayo after a two-year absence.
Walkers retraced the steps of several hundred people through the spectacular landscape of Doolough Valley.
Joe Murray is one of the main organisers of today's event. He said people were keen to do the walk after two years and to remember those experiencing the devastation of war today.
This year, Mr Murray said, participants especially remember those oppressed by war in Ukraine, as well as in the many other wars around the world.
"Our walk is a statement of our intent to continue our work for peace and justice in the world," he said.
"It is a walk like no other, abounding in memory, music, history, solidarity and spectacular beauty, retracing the steps of the dispossessed of the past and forging solidarity with the banished and oppressed today."
The walkers gathered first at Louisburgh, where acclaimed musician and writer Patrick O'Laoghaire played at an informal ceremony of stories and song.
The walkers then began the 18km journey.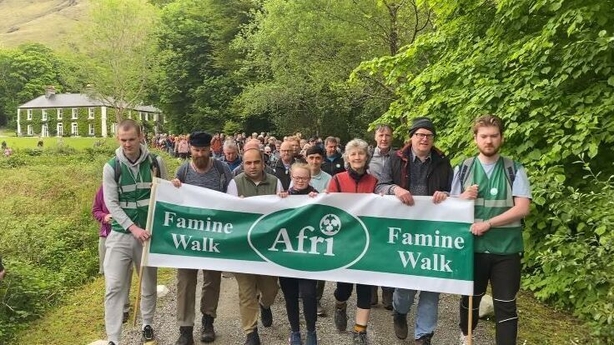 Amongst those leading the way were Independent Galway West TD and Leas-Cheann Comhairle of the Dáil, Catherine Connolly. She was joined by author and activist Robbie McVeigh.
Mr McVeigh has worked internationally on issues of race, equality, peace and self-determination. They were accompanied by humanitarian community worker Homayoon Shiraz, who arrived in Ireland from Afghanistan five years ago. He is Deputy Coordinator for Places of Sanctuary Ireland.
"When you are trying to improve inclusivity and integration of newcomers, it is critical to increase the whole community's understanding of the kind of issues newcomers have faced back home, on their way to Ireland and what issues they face here," Mr Shiraz said.
The walk has previously attracted notable figures from communities which have faced similar struggles to Ireland, including Nobel Laureate Archbishop Bishop Desmond Tuto.
In 1991 he joined the walk and spoke of "injustice, exploitation and oppression" and the lessons that can be learned from the Irish famine.