The hospitality and entertainment industry have welcomed the full reopening of the sector but say they need further clarity on some of the measures announced.
The Galway Comedy Festival kicks off tonight and the planned late bars and full capacity crowds for the weekend will now go ahead in a controlled manner.
British comedian Tom Binns brings his Hospital Radio DJ Roadshow to Galway and he's getting ready for his sold-out gig in the Róisín Dubh tonight.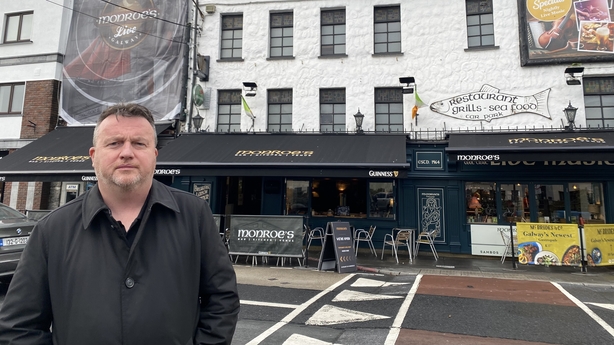 There are 80 performers and 45 shows in the week-long Galway Comedy Festival.
Organisers welcome the decision to reopen at full capacity crowds with late bars but say the detail needs to be ironed out.
Kevin's Healy owns a number of venues in the city including the Róisín Dubh which is one of the best-known venues for live music and comedy acts.
"We will work within the spirit of the guidelines with covid certs and masks but there are so many anomalies surrounding today's announcement.
"The rules seem to be different around night clubs and live gigs. You can dance and stand in a club but not at a gig.
"You have to be sitting. There's table service only in pubs and restaurants but not at a live gig it would seem. There's a lot of detail that hasn't been explained. It will take a few days and by that stage we'll be at the weekend."
Gary Monroe runs a gastro pub and late-night venue for techno music events and live bands in the city centre.
He says the lack of clarity from the Government has created a lot of stress.
"It was the waiting around that really caused the greatest headaches and mental stress. We needed a decision last Friday and now we're still at sea about what we can and cannot do.
"It's such a grey area around whether you're allowed to dance, stand up or go the bar. We're in no man's land."
The comedy bus travels around Galway City every day this week featuring some of the big names at the festival and a message that resonates with many people after a long 18 months without love comedy.
"We deserve a good laugh after a year-and-a-half."