A multi-agency meeting has taken place in Galway to discuss public health concerns after hundreds of students congregated in the city last night.
The Mayor of Galway, the presidents of GMIT and NUI Galway, the Chief Executive of the Saolta hospital group and students' union representatives from both colleges took part in a video conference with gardaí and the chief executive of Galway City Council.
The meeting was called after a number of large house parties and public gatherings at locations around Galway, on the night the new academic year resumed.
While students' lectures are mostly taking place online, many have returned to the city in recent days.
Footage shared widely on social media shows hundreds of people congregating in and around the Spanish Arch, Shop Street and the Claddagh.
Gardaí were alerted to other gatherings in Ballybane and Renmore and responded to reports of around a dozen house parties overnight.
We need your consent to load this rte-player contentWe use rte-player to manage extra content that can set cookies on your device and collect data about your activity. Please review their details and accept them to load the content.Manage Preferences
Concerns about the public health implications arising from the large crowds in both indoor and outdoor locations were voiced at today's meeting.
All present committed to redouble their efforts to reinforce guidelines aimed at stopping the spread of Covid- 19, with sanctions in place for third-level students found to be in breach of guidelines.
However, there are no plans to close off access to public amenities in the city.
Spanish Arch, Galway tonight. Numbers will inevitability continue to rise. I'd expect Level 3 restriction before the end of the week.... pic.twitter.com/cBLUoJOfj9

— Cllr. Eddie Hoare (@EddieHoareFG) September 28, 2020
---
Latest coronavirus stories
Student house parties continue in Cork during Freshers' Week
---
During the summer, some of the areas in question were blocked in an effort to prevent crowds gathering, but this only served to move the problem elsewhere.
It is understood that third-level colleges have pledged to work with gardaí to implement disciplinary measures, up to and including expulsion, while students' unions are to take further steps to encourage compliance with public health advice.
It comes as concerns continue to grow in Cork over house parties being organised by students as part of Freshers' Week.
Call for off-licences to close early
In Galway, the City Council has said it will increase co-operation with gardaí in the imposition of on-the-spot fines for the consumption of alcohol in public places.
Fines of up to €1,500 can be administered but the by-laws are considered largely unenforceable when significant crowds gather in one place.
A number of councillors have called on off-licences to close early to reduce the supply of alcohol in the city centre. In recent years, such businesses agreed to open later on St Patrick's Day.
It is understood the introduction of such measures at this time could only happen on a similar, voluntary, basis.
Several city councillors have expressed alarm at the scenes, saying they could contribute to increased restrictions being imposed in the city and county.
Every person who broke Covid restrictions in the Galway crowds tonight should be ashamed. Not only are you putting the whole city at risk but you are sacrificing the experience of the next entire college year for your class mates and yourselves. Bitta common sense and cop on. pic.twitter.com/XZaFdDuTHw

— Cllr. Owen Hanley (@OwenHanleyLives) September 28, 2020
The incidents follow appeals and warnings by the two third-level institutions in the city, ahead of the resumption of classes yesterday.
NUI Galway has warned that any student found to be in breach of the university's code of conduct faces sanctions up to and including expulsion.
In a statement today, NUI Galway said the scenes involving students and other young people in some parts of Galway city last night were "deplorable".
It said: "NUI Galway has repeatedly appealed to the better judgment of our students and reminded them of their responsibilities under the Student Code of Conduct.
"The University has also worked to ensure this year's experience of university life is safe, supportive and enjoyable, despite the limitations that the pandemic places on us.
"NUI Galway leadership is this morning meeting with the Gardaí and Galway City Council about these incidents.
"While the vast majority of our students are doing their utmost to stay safe and helping to prevent the spread of Covid-19, we won't hesitate in dealing with any breaches of public health guidelines in line with our Student Code of Conduct (which has penalties up to and including expulsion)."
GMIT has appealed to people to adhere to guidelines and observe physical distancing, even when not on campus.
Chief Superintendent of the Galway Garda Division Tom Curley said that those involved in the incidents last night were putting the lives of people at risk.
He appealed to them to heed the increased concerns about the spread of Covid-19.
Mayor of Galway Mike Cubbard has described the scenes as "a slap in the face" to everyone who had worked to support frontline health care workers in the city in recent months.
He said he had been contacted by constituents in the Claddagh area who had to deal with people urinating and defecating on their property late last night.
Mr Cubbard has called for discussions about restricting the sale of alcohol from off-licences, in an effort to curb such anti-social behaviour.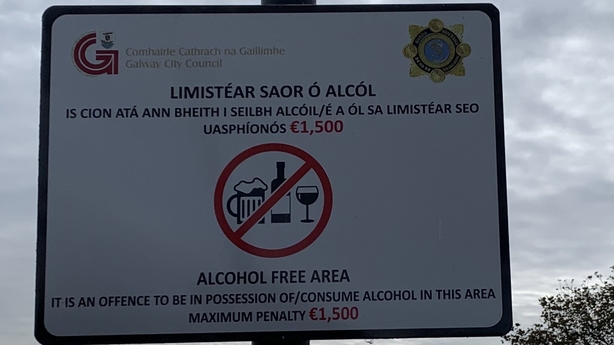 Meanwhile, the Executive Director of the World Health Organization Health Emergencies Programme has said "finger wagging and finger pointing is not going to help the situation".
Speaking on RTÉ's Drivetime, Dr Mike Ryan, who is a former student of NUIG, said he understands the instinct of those who gathered in Galway last night, but said "we have to change the behaviour".
He said it is understandable that young people want to go out, as they have been locked inside for six months but he said people "do not want to be part of a transmission cycle that leads the country back into lockdowns and potentially exposes older people with underlying conditions".
He said the vast majority of young people are very committed to trying to stop this disease but it is really difficult when small numbers of people want to ignore what is good practice adding "it is difficult to coerce people into doing something they don't wish to do".
Senator suggests army could assist gardaí
Speaking on RTÉ's Today with Claire Byrne, Fianna Fáil Senator Ollie Crowe has called on people who gathered in Galway last night to "quarantine for 10-14 days".
He asked them "to assume they have Covid-19" and urged those who are not from the area not to return home to their families.
Mr Crowe suggested that the army is drafted in to assist gardaí in the city as they "are under resourced" and they are "under enormous pressure".
Speaking on the same programme, Johnny Duggan, from Taylor's Bar in Galway, called for off-licence opening hours to be limited in order to reduce informal gatherings, similar to those seen at Spanish Arch in Galway last night.
Mr Duggan said that his bar is around a minute's walk from the area where hundreds of students gathered last night.
There is very little point, he said, in shutting down pubs and restaurants and limiting their operating hours when people can buy alcohol elsewhere until 11pm or midnight and then drink it outside.
Galway restaurateur JP McMahon described the scenes as "very depressing" and said he cannot comprehend the actions.
He said business owners are "doing everything they can to stop the spread of Covid-19, but they cannot control people outside their restaurants".
He urged the Government to close off-licences, or significantly restrict their opening hours, as he said "another lockdown will not work if they stay open" until 11.30pm. 
Padraic Toomey, NUIG Student Union President, condemned the behaviour and said there are nearly 30,000 students in Galway between NUIG and GMIT and most of them are staying safe and following guidelines.
If public health officials recommend that students who gathered in Galway city centre last night should quarantine, he said, then he would support that.
He urged students to watch out for any symptoms and said that we need to get rid of any stigma associated with the virus so that people will go for tests if they feel unwell.