Hundreds of people gathered by the banks of the River Moy in Ballina, Co. Mayo, this afternoon, to pay tribute to Jack Charlton.
The former Republic of Ireland manager forged strong links with the town over more than a quarter of a century.
He first travelled west in the late 1980s for a fishing expedition on the salmon rich waters of the Moy. He liked the place so much, he eventually bought a house there.
In the decades that followed, Big Jack and his wife, Pat, were regular visitors to north Mayo, taking part in a range of community activities, enjoying local hospitality and always stopping to chat with people, many who went on to become good friends with the Charltons.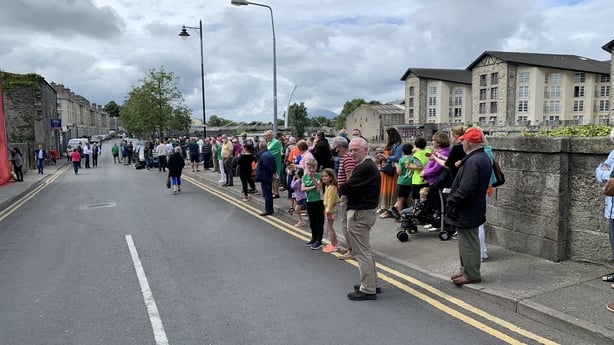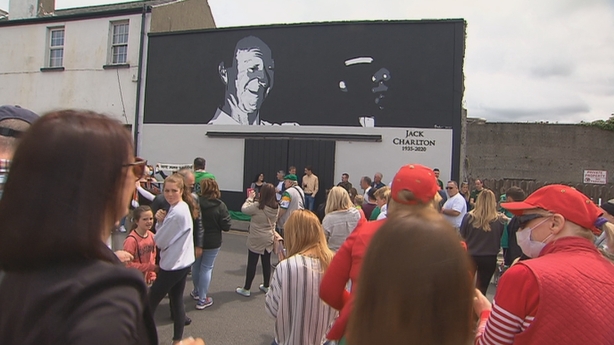 In the early 1990s, Jack Charlton told the late Derek Davis that while his wife did not like fish she was happy to potter around the house, meet friends and enjoy the town, while he indulged in his favourite pastime.
Today, many of those who knew him were out to remember the 85-year-old, who died earlier this month.
Phil Henry, who ran a Bed and Breakfast in the town, spoke of how she used to accommodate him on his early visits.
One morning she suggested he buy a property of his own in the town.
He initially batted off the suggestion, only to change his mind ten minutes later and subsequently put a deposit down on a house.
Mrs Henry's link with the Charlton family went from strength to strength in the decades that followed and she has been a regular visitor to their home in the north of England.
This afternoon, a minute's silence was observed at the Ridge Pool where Charlton fished the Moy. Afterwards, a new mural of the decorated player and manager was unveiled.
It is a temporary tribute but plans are already in place to have a more lasting memorial in Ballina.
Local Independent Councillor Mark Duffy is proposing that a footbridge be named in Charlton's honour and there is talk of a special hologram being projected on to the river, to mark the spot where the town's adopted son spent many happy hours waiting to hook a catch.