The group campaigning against proposals to site a Direct Provision centre in Oughterard, Co Galway has criticised "negative outside influences" which it says have tried to hijack an ongoing protest in the town.
Hundreds of people have been taking part in a round the clock demonstration outside a former hotel, amid speculation that it will be repurposed to provide accommodation for asylum seekers.
Organisers say the protest is aimed at raising awareness of the problems in DP centres and what they claim is a lack of consultation with locals by the Department of Justice.
They say that some far-right and far-left activists have tried to infiltrate the group, since a public meeting was held in Oughterard a fortnight ago.
Patrick Curran of the Oughterard Says No to Direct Provision group said attempts had been made by far-right campaigners to join a Facebook page administered by him, while others had offered to come to the town and address future gatherings.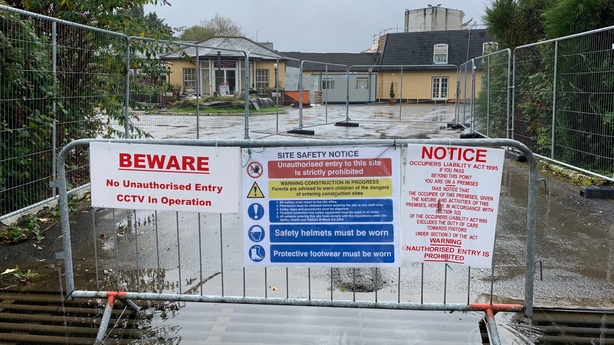 Mr Curran said the protest was not about the ethnicity of asylum seekers but was a campaign for social justice. He said the main aim of locals was to draw attention to the conditions in which those seeking refugee were housed and to highlight the lack of Government consultation with people in communities were DP centres are situated.
He rejected suggestions that the demonstration was in any way racist. Mr Curran said locals were keen to have an inclusive message and that they did not want to alienate people.
He said he suspected that some of those in attendance at a public meeting earlier this month had been "planted" to sow division.
The group says its protest will continue until it gets assurances that a Direct Provision facility will not be opened in the town.
In recent days, piles of rubble have been placed at the entrance points to the former Connemara Gateway Hotel, to block access by machines to the site.
---
Read more
Protest in Oughterard over possible Direct Provision centre
Concerns former Galway hotel may house asylum seekers
Grealish under fire for alleged 'spongers' comments
---
Protesters say they hope any effort to bring construction workers or equipment back onto the premises will be blocked by their demonstration.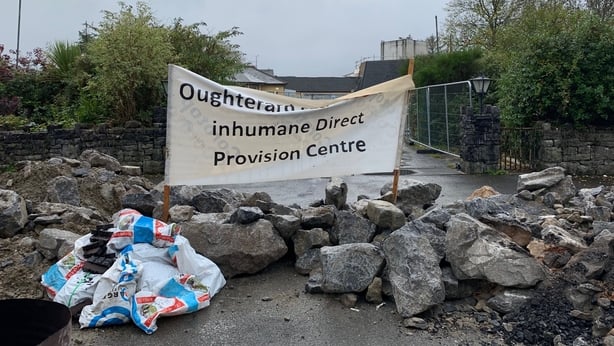 The Department of Justice has not commented on speculation that the hotel is being considered as part of an ongoing effort to find sites for new DP centres. It says a tender process is ongoing and that discussions will take place with local communities when this is completed.
Local businessman Rory Clancy said the protest being staged outside the hotel had no political ideology and was a community effort to raise awareness of the impact direct provision had on residents. He said organisers had been "completely naive" about the risk of external influences, which had "smothered" their real aim in recent days.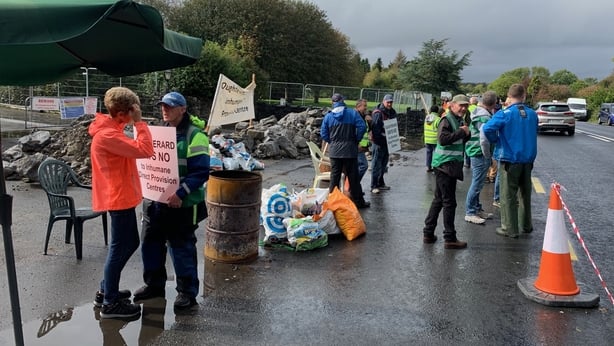 Mr Clancy said people in Oughterard were willing to welcome asylum seekers to the town, in "the right numbers". He said this would mean they were properly assisted and integrated into the community, instead of living in camp like conditions on the outskirts of the town.
He said protesters were wary of strangers who arrived to take part in the demonstration and were being encouraged to be aware of their possible motives. He said this had thrown up "some concerns" over the last ten days.
A number of Galway West TDs met the Minister of State for Integration in Leinster House last night. David Stanton briefed elected representatives on the process to select new DP centres.
A second protest march will take place in Oughterard this weekend, to draw further attention to the campaign against proposals to repurpose the hotel.