Two former US Olympic Gold Medal winners were among hundreds of swimmers taking part in a charity event on the River Corrib in Galway this afternoon.
The swim was organised to highlight the benefits of the sport for mental wellbeing and to raise money for suicide prevention services in the west.
Swimmers from all over Ireland took part came to take part, as well as Gold Medal Olympians Peter Vanderkaay and Davis Tarwater.
Peter won gold in Athens 2004 and Davis in London 2012, as members of the 4x200 freestyle relays.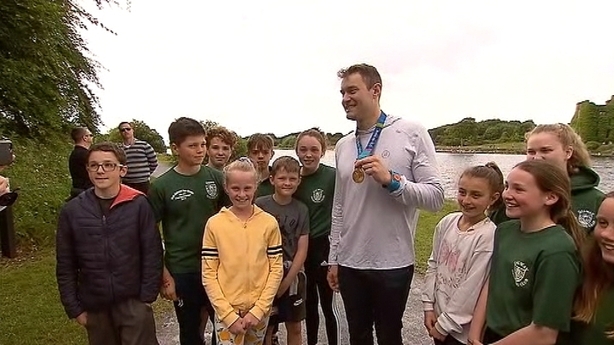 Davis was captain of his team which included the most decorated Olympian of all time, Michael Phelps. Phelps won a total of 28 medals in both individual and team events, 23 of them gold.
They were there to promote the physical and mental health benefits of swimming and led the 4km swim.
Many more swimmers joined the elite athletes at a later starting point on the river which runs through the NUI Galway Sports Campus. They completed a distance of 2.5km.
The event was organised by the Galway Swimming Club in partnership with the suicide prevention charity 3Ts - Turn the Tide of Suicide.
All money raised will go towards making the Corrib a safer river and providing more services for the prevention of suicide.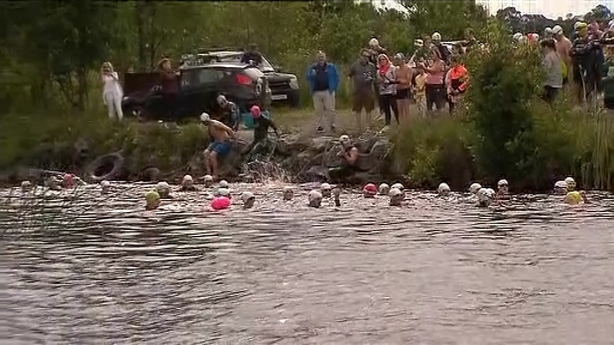 Speaking about the event, Daragh Sharkey of Galway Swimming Club said "Whilst the River Corrib is a great natural resource for our club, unfortunately, it is the same body of water in which many have lost their lives over the years, both through water-based accidents and by suicide.
"Thankfully, steps are being taken by both Galway City Council and voluntary groups to make the Corrib a safer waterway.
"Meanwhile, we see this longest day swim as a symbol of extended light and hope for people with depression and suicidal ideation".