In 1981, Dennis Connolly told RTÉ about how Christmas was a lonely time of the year for him.
"You walk up the town there … and you see everyone singing hymns and going for presents. I have no present I can give to anyone," he said.
Aged 25 at the time, he lived in a shed with other homeless men at the back of the old Claddagh Palace in Salthill, Galway.
Fast forward 38 years to the present day, and Mr Connolly becomes emotional while watching the archive footage.
Having battled his addiction issues, he is now sober for over a decade. For the past six years, he has been living in social housing and credits Galway Simon Community with both his recovery and rehabilitation.
However, he says very little has changed in the past 40 years, except that more families and children are now victims of the homelessness crisis.
"If you go around Bohermore, Woodquay, even Salthill there's empty houses there. Now Simon [Galway Simon Community] has tradesmen to do up all these houses, but they're not getting any support from the Government," he says.
"The only support Simon has is to do everything themselves."
His criticism of the Government echoes the message delivered by other homeless men he lived with 38 years ago, in living conditions which were "not fit for animals".
All of the men filmed at the time have since died.
"It's not fit for cattle, sheep or horses this life," Kevin Gibbons said. "You'll be as well dead anyway."
Pat Brady told RTÉ that they would be able to pull themselves together if they were "given a chance".
"I mean if you were sleeping here tonight," he told the interviewer, "would you be able to get up and go to work in the morning?"
The Galway Simon Community says that the housing and homelessness crisis in the west of Ireland is growing eight times faster than the national average.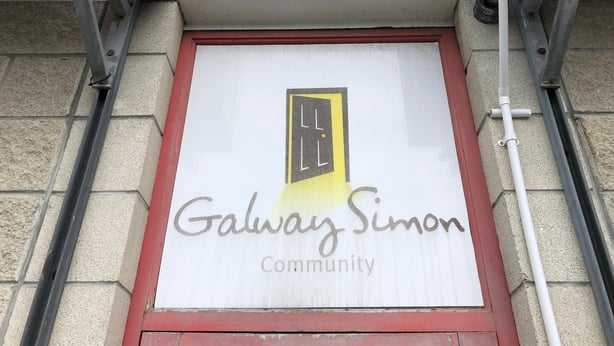 There are now close to 600 people living in emergency accommodation and 200 of those are children.
The charity is marking its 40-year anniversary with the launch of its #JourneyHome campaign.
It was set up in 1979 by a group of students from NUIG and is now a key provider of homeless services in the region.
Karen Golden is CEO of Galway Simon and says hundreds of people in the west of Ireland are experiencing the trauma of homelessness on a daily basis.
"Men, women, families, young people and children who have had to put their lives on hold while they face every day without a home to call their own," she said.
Ms Golden said these people have no constituency and no door to open to canvassers in the forthcoming local elections.
The charity has created a campaigning booklet: 'The Journey Home: Galway's homelessness and housing crisis, and what you can do about it'.
The charity is calling on people to ensure homelessness and housing is a central part of candidates' campaign manifesto. "We urgently need the support of our local community, through campaigning and fundraising, to help people at risk of, or experiencing homelessness, on their journey back to independent living", she added.