Concerns over a housing shortage in Galway are the focus of a demonstration in the city this afternoon.
The event in Eyre Square has been organised by a coalition of trade unions, to draw attention to the different ways in which people are being impacted by rising rents, homelessness and a shortage of rental properties.
The Raise the Roof rally is the latest in a series of demonstrations being staged around the country.
More than 4,000 people are on Galway City Council's housing waiting list.
Since 2015, the local authority's spend on emergency accommodation has increased from €25,000 to €250,000 each month.
The council will this afternoon consider a motion calling for a more coordinated approach to dealing with the accommodation crisis.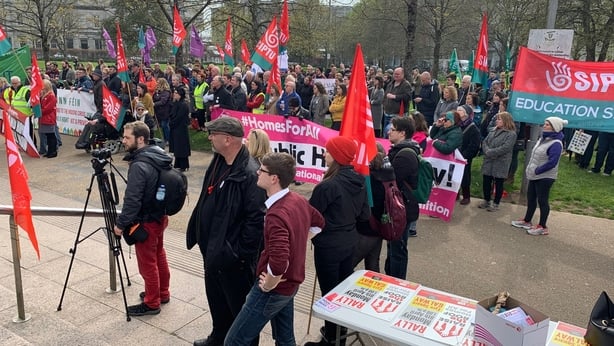 Speakers at today's rally have been critical of local and national government action to tackle the problem to date.
In Galway, an increase in the number of properties available for short term letting has put further pressure on an already tight supply of housing.
COPE Galway, which handles emergency accommodation on behalf of the city council says the problem shows no sign of easing. Last night, more than 250 children were put up in hotels and B&Bs.
The Raise the Roof coalition says radical action is needed. It wants investment in public housing, action on evictions and rent certainty, plus the creation of a legal right to housing.