A bill aimed at resolving difficulties around planning permission in the northwest of the country was due before the Dáil this evening.
Leitrim County Council says Environmental Protection Agency guidelines are preventing local people from building one-off houses in the area.
The guidelines were adopted as part of measures to prevent ground water pollution from septic tanks.
Francis McSharry from Kinlough, Co Leitrim, has spent four years trying to get planning for a home on his family farm.
However, the strict EPA rules on effluent treatment have made obtaining planning permission extremely difficult.
Given its often boggy, wet nature, 87% of rural Leitrim land does not meet EPA T90 standards.
This means it takes more than five hours for water to drop four inches in a percolation hole, so it struggles to deal with septic tank run-offs.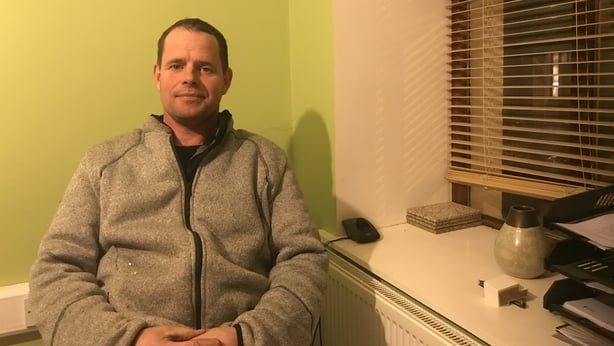 Mr McSharry said: "Myself and my partner, we've three kids and I'd always like to go back and live on the land. I was reared there, my granny lives there, I was there the whole time with my father.
"I'd like to bring my own family back to the land and get the kids out of the town and out into the country.
"I first applied four years ago next May and the soil in Leitrim is heavy so it won't pass the T test so that leaves me now that I can't get planning in Leitrim.
"I have sisters living on the land but I think the planning laws changed in 2010 and they had their planning before that. Now they're living on the land but I'm farming the land and I can't get my planning."
Local civil engineer Frank Davitt says the EPA rules have brought one-off construction to a standstill in the county: "In Co Leitrim, approximately 90% of the land is an impermeable type soil which generations has been poor agriculturally but now we're finding that what's been poor agriculturally isn't going to pass this T test.
"This is going to lead to couples hoping to develop family farms and build on their family land not being able to do that."
An average of ten houses per year, with their own waste water treatment plants, were given planning permission in Leitrim over the past three years.
Joseph Gilhooly is Director of Services in Planning in Leitrim County Council: "We are in ongoing engagement with the EPA and there's currently a review of the code of practice which will then go for public consultation.
"Codes of practice rules and regulations have to be made and we accept that totally.
"Only on this occasion unfortunately one piece of policy has militated against Leitrim greater than may have been expected given the soil types we're dealing with here in this county."
Sinn Féin TD from Sligo/Leitrim Martin Kenny is bringing a bill to the Dáil which would amend the current legislation.
"Another part of the EPA guidelines allows people to apply for a waste discharge license so I've looked at the legislation around that and I've found where in the 1977 Waste Water Discharge Act, we can put an amendment to that act which would allow for a waste discharge license for a single house.
"This would mean a person who would fail the percolation test could apply for a license and then they could put in a high quality water treatment system.
"This would treat the water to practically bathing water standard and that water could be released into a stream nearby."
In a statement, the EPA said it is aware of the need to continuously ensure that the guidelines reflect all available technologies and techniques.
It said there is a steering committee chaired by the EPA currently reviewing the code which will then be circulated for full public consultation.
In the meantime, Mr McSharry is losing hope that his dream of building a home on his family farm can become a reality.
"We've sat tight a long time, it's four years... and at the minute we're looking to buy a house out in the country to see if we can buy because we can't wait," he said.
"If it's out in the country you'd pay big money for a house if I was building my own I'm a carpenter so I could do a lot of the work myself which would cut down on a lot of costs."