More than 100 events showcasing Irish produce are taking place in Galway this weekend as part of the city's food festival.
Galway has been designated European Region of Gastronomy for 2018.
Over the coming days the Spanish Arch will feature ongoing cookery demonstrations from culinary experts.
Award-winning chef JP McMahon brought the best of local produce to the table - Galway Bay oysters, herbs and freshly foraged sea lettuce from Barna.
He said the aim of the festival is to showcase the gastronomic excellence of the west of the Ireland. An estimated 80,000 people are expected to visit Galway over the bank holiday weekend.
The old printworks at the Connacht Tribune have been transformed into a vibrant indoor market. Halla Bia is showcasing products from counties all along the western seaboard.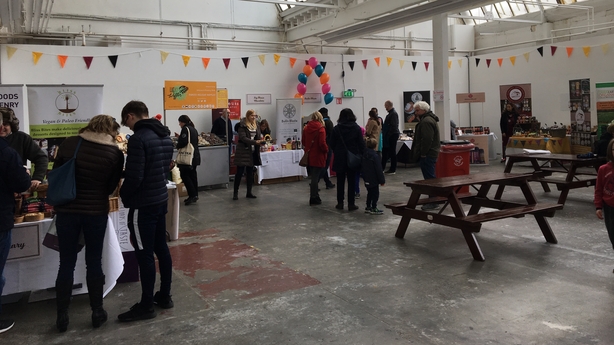 Festival organiser Fiona Flaherty said farmers, fishermen, cheese mongers and confectionary producers have collaborated to make Galway a highly regarded food destination.
She said the city was being described in some culinary quarters as a second Copenhagen.
Inclusion and diversity are big themes at this year's festival as Galway celebrates its modern multi-cultural community.
Breaking Bread is the title of an event taking place in Halla Bia on Monday to highlight authentic cuisine from countries including Mexico, India, Poland and France
As well as the indoor market and cookery demonstrations at the Spanish Arch, there are daily and nightly food and wine tours taking place across the city.
The festival continues until Monday.