Ireland's homes are not energy efficient and fewer than one in five has one of the higher ratings, according to the Comptroller and Auditor General (C&AG) report.
It also identified issues with the standard of some retrofitting work and recommended the adoption of a system or random inspections to sit alongside the existing one based on risk factors.
At the end of 2022 only 39% of the housing stock - 827,634 homes - had a valid energy efficiency (BER) rating and fewer than 20% had scores of B2 or above.
The report finds that homes built post 2015 are much more energy efficient - a reflection of tighter building regulations.
Over a decade to the end of 2022 the Department of Environment, Climate and Communications has provided funding of around €1.2 billion for sustainable energy programmes - the vast bulk of it to the Sustainable Energy Authority of Ireland (SEAI) - the agency charged with supporting the retrofitting Ireland's homes.
In that period around half that money has been directed into two schemes - one for people on welfare benefits - the "Better Energy Warmer Homes" scheme and the "Better Energy Homes" scheme available to all homeowners and landlords.
Most of the money has been spent on so called "shallow" retrofitting, putting in extra loft or cavity wall insulation.
The report identified issues with the standard of works in both schemes, although it pointed out that installations were identified for inspection on a risk based approach which may not reflect wider standards.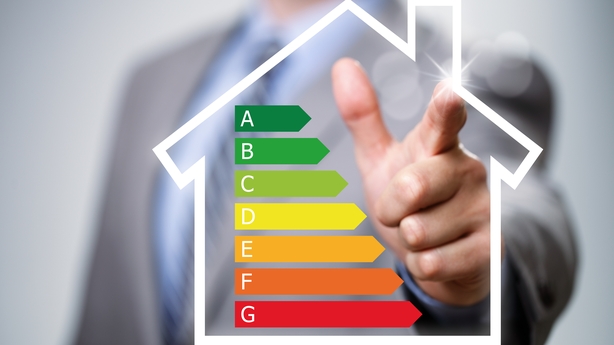 It found a pass rate of 45% in one scheme and 54% in the other - though virtually all were certified after additional works.
"On both schemes, the initial pass rate on the work inspected is low, with around half of the projects inspected on the better energy homes scheme requiring some re-work.
"Because the inspections are carried out on a targeted basis, the results are probably not representative of the standard of works overall.
"Nevertheless, they do indicate that there is a substantial risk of non-compliant work being carried out under both schemes." the report says.
The C&AG recommends that the inspection practice is reviewed and random inspections as well as targeted ones should be considered.
The report also questioned how the Sustainable Energy Authority of Ireland could reach a target of supporting the retrofitting of 65,000 properties to BER B2 standard by the end of 2025.
It had achieved just over a quarter of the target level by end 2022.
"At that rate it is not clear how or if the SEAI will deliver the balance of targeted retrofits in the three years 2023-25" the report says.