Google has officially opened the first phase of its Bolands Mills development in Dublin.
The historic Flour Mills building at the complex has been restored and adapted into a dedicated collaboration space for Google, with the ground floor opening to the public in 2024.
The new Bolands Mills development will become an engineering hub with over 1,000 engineers moving into the offices upon their completion.
Google bought the mills in 2018.
The complex and surrounding area have major historical significance.
During the 1916 Easter Rising, the buildings were occupied by rebel forces.
The nearby Boland's Bakery, which is now the Treasury Building, was the headquarters of the 3rd Battalion of Irish Volunteers under Éamon de Valera.
"The Flour Mills building is steeped in history and our real estate teams have worked hard to ensure we respect its past, while equipping it for the future," said Adaire Fox-Martin, Head of Google Ireland.
"When Bolands Mills opens fully next year, a mix of shops, eateries, public squares, and community and cultural spaces will bring new energy to this historic site," Ms Fox-Martin said.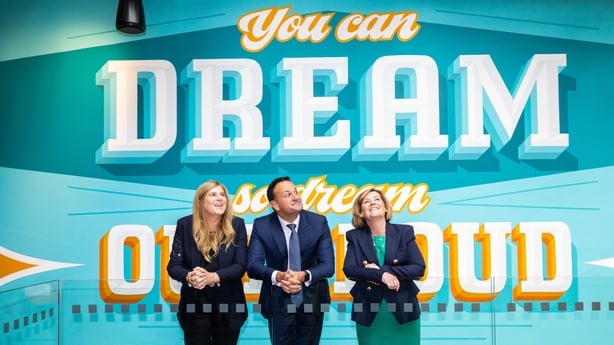 The opening of the development marks the 20th anniversary of Google's arrival in Ireland.
The company's European Headquarters are based here with a total workforce of more than 9,000 people, around 5,000 of them are directly employed by Google.
In February, Google cut 240 Irish-based jobs as part of global layoffs.
Earlier this month, the company announced further cuts in its recruitment teams.
The Financial Services Union (FSU), which represents some of Google's staff, has accused the company of trying to implement compulsory redundancies.
The Taoiseach Leo Varadkar attended today's official opening of the Bolands Mills development.
"The opening of this historic building is good for Dublin's civic heritage and represents a major milestone for Google Ireland driven from their innovative new centre of engineering," Mr Varadkar said.
Also today, Google announced the establishment of a €1.5 million scholarship fund for students from under-represented communities to study in the area of artificial intelligence (AI).